The DEKOR® Difference | Landscape Lighting
Illuminate your yard like never before with DEKOR®'s shining collection of pathway lights that add ambiance, visibility, and security to any space. Discover our newest release to the pathway lights collection, including our Mushroom Pathway Lights, Well Pathway Lights, and Stepped Mushroom Pathway Lights. For low-maintenance homeowners, our stress-free EZ YARD DOTs complete any pathway with ease and accessibility. Or, choose our adaptable Ginny Landscape Light, which doubles as both pathway lights and garden lights, depending on the lighting angle. All DEKOR® Landscape Lighting is backed by our industry-leading warranties.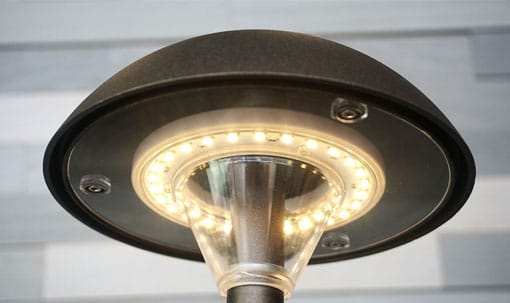 The Mushroom Pathway Light is our unique take on classic pathway lights. By designing the light with a classic dome shape, the brilliant Cree LEDS cast a striking shine that smoothly cascades from the dome, filling the air with a warm, ambient glow. Ideal for lining stone, wooded, and cement pathways, the Mushroom Pathway Light was designed with the added convenience of Plug-N-Play™ technology. Create a custom connection of pathway lights by simply plugging each male cable into its female counterpart, creating the ultimate lighting experience. Choose from our 6 classic powder coating finishes, including the dimensional Oil Rubbed Bronze and Brown Speckle.
Shop Mushroom Pathway Light
STEPPED MUSHROOM PATHWAY LIGHT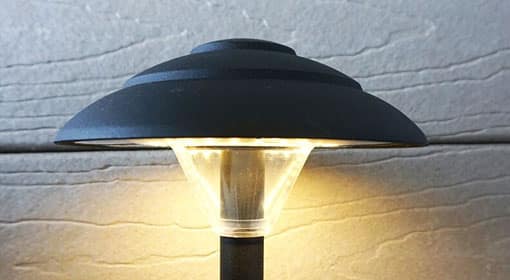 The Stepped Mushroom Pathway Light takes the classic light a step further. By adding smooth and refined lines around the dome top, the mushroom shape is transformed into a dimensional piece for not only illumination, but decoration. Incorporate your favorite accent colors by choosing from one of our 6 classic powder coating shades, designed to stand the test of time. This brand new addition to the pathway lights realm was developed for those looking for a classic shape with a contemporary twist. This dimensional creation illuminates any outdoor pathway, adding elegance, charm, and innovation.
Shop Stepped Mushroom Pathway Light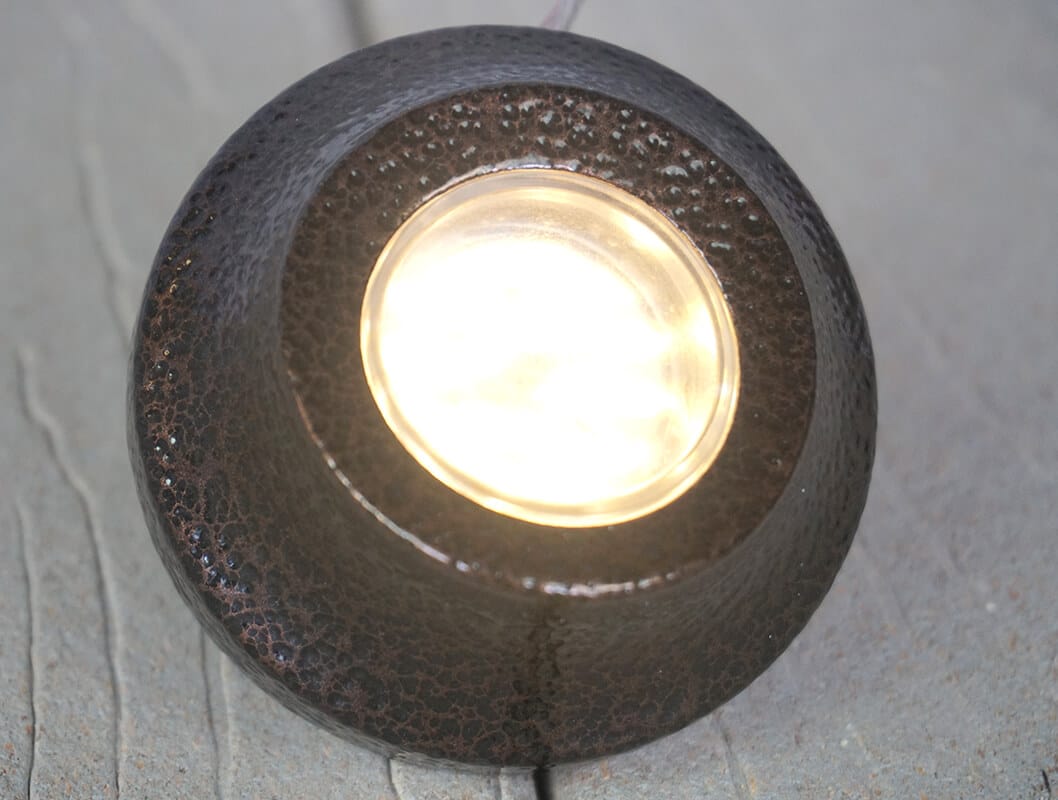 The Well Pathway Light is our newest compact creation with full-force shine. Adding to the compact lighting category as well as pathway and garden lights, this tiny light has unmistakable impact. This multi-functional light is small enough to find its home under a tree, in a garden, on a lawn, or along a pathway. These small-scale LED pathway lights are made with aerospace-grade aluminum and long-lasting powder coating, ensuring these tiny additions will keep your home shining through the years. With a spike embedded on the bottom of the component, this Well Pathway Light illuminates any yard with a simple, tool-free installation and a little elbow grease. Choose from our 6 classic powder coatings, all backed by our unwavering 30 year warranty.
Shop Well Pathway Light
The Ginny Landscape Light is a unique addition to the DEKOR® Pathway Lights collection, being that it extends far beyond the limits of pathway lights. With innovative design and unmatched versatility, these pathway lights double as garden lights with their 180º swiveling head. With 180 degrees of positioning possibilities, you can shine a light on your pathways, lawn, garden, trees, deck, or home itself. Bend the Ginny fully back to illuminate your favorite tree, angle it completely down for one-of-a-kind pathway lights, or position it anywhere in the middle for distinct accent landscape lighting. With a waterproof powder-coated housing available in 6 distinct and classic shades, you can smoothly integrate these pathway lights while adding style and flair.
shop ginny landscape light
If you're looking to let your outdoor garden bloom with shine and sparkle, our versatile and dimensional LED Garden Lights achieve all that and more. Choose from beaming spot lights that highlight the beauty of your yard, puck LED garden lights that can be smoothly camouflaged, and high output lights that leave a lasting shine.
Landscape Multipurpose light
EMPRESS LED LANDSCAPE LIGHT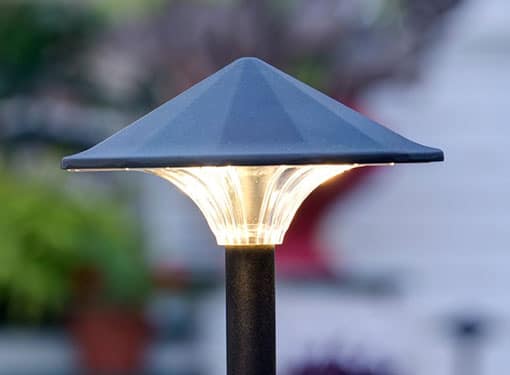 Considered the crown jewel of our landscape lighting collection, the Empress light is sure to leave a lasting shine for all to see. These accent LED garden lights enhance and elevates any space, creating a warm white glow with ease and accessibility. Available in 6 powder coated colors that complement your home's decor and style, you can create a customized garden lights experience. These low-voltage garden lights are traditional in form, but contemporary in setup. With a diamond-faceted structure designed to shed water, your garden lights will avoid water accumulation and rust for years to come. And, the transparent Lexan shield prevents bugs, dirt, and water from building up and blocking the shine. With 3 groups of 4 LEDS strategically arranged to create a full 360º of light, your Empress garden lights are sure to impress and intrigue.
SHOP EMPRESS LANDSCAPE LIGHT
HIGH OUTPUT LED LANDSCAPE SPOT LIGHT
These small, but mighty garden lights pack a stunning shine in a compact creation. Measuring only 1.7" in diameter and 3" in length, the High Output LED Landscape Spot Light produces an incredible 500 lumens of light. Built using CREE's second generation XLAMP technology, this energy-efficient illumination shines using 82 individual LEDs on a single chip. With a fully rotational articulation, adjust the angle of your garden lights a full 130º from its pivot point, and an additional 45º in both directions to find your perfect shine. Designed with robust construction, cutting-edge innovation, and user-friendly installation, the High Output garden lights are a shining example of DEKOR®'s mission at work.
SHOP HIGH OUTPUT LED LANDSCAPE SPOT LIGHT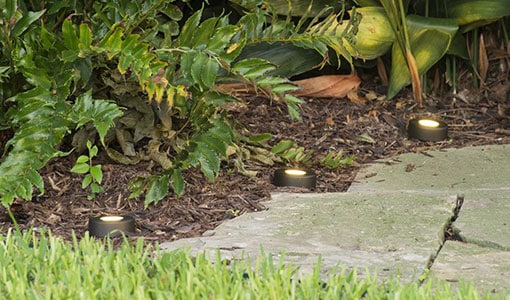 With beginner-friendly Plug-N-Play™ technology, robust housing, and compact sizing, the Puck LED Landscape Light is uplighting made easy. Because all DEKOR® products are made with authentic processes and heavy-duty materials, these garden lights are solid and stable enough on their own to stand strong on any yard surface. From mulch to grasses to stones, simply slide the compact puck garden lights onto any surface to start shining in no time. Choose from 6 natural powder coating finishes to accentuate any home design.
SHOP PUCK LANDSCAPE LIGHT
SPOT GANG LANDSCAPE LIGHT WITH 2 / 3 LIGHT MODULES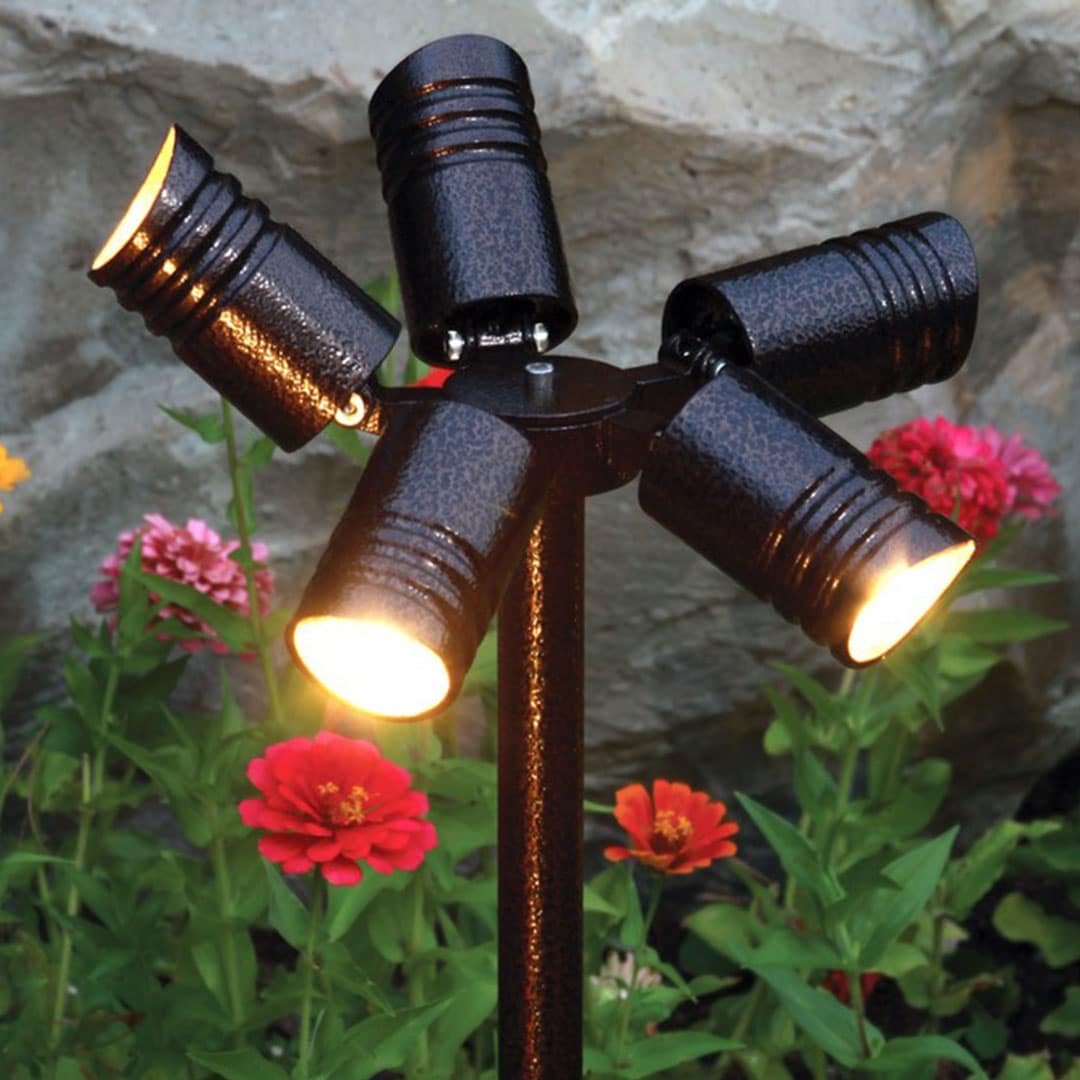 Our Spot Gang Landscape Light is a one-of-a-kind creation. With 2 or 3 lighting modules shining from the aluminum housing, you can spotlight multiple elements of your home with the cascading LEDs. But, these versatile garden lights were designed to support up to 5 modules or light heads themselves, extending the lighting possibilities and shine. Each light housing is fully directional, with a 130º articulation from its pivot point, as well as a 45º rotation in both directions. Adjust and direct the dimensional garden lights to your ideal lighting angle, effect, and shine. With second generation XLAMP technology, a whopping 82 individual LEDs are packed in a single light, providing a gorgeous glow for all to see. The Spot Gang garden lights are offered in 6 classic powder coating finishes that stay polished through heavy rain, snow, ice and sun. All LED garden lights are backed by our 5 year / 30 year warranty, as is all LED landscape lighting.
SHOP 2 LIGHT MODULE SPOT GANG LIGHT
SHOP 3 LIGHT MODULE SPOT GANG LIGHT
TREE GANG LANDSCAPE LIGHT WITH 2 / 3 LIGHT MODULES
All DEKOR® LED landscape lighting is backed by our unwavering warranty, which protects you from flaws or errors in workmanship and design. All LED pathway lights and garden lights are backed by our 5 year / 30 year warranty. For 5 years, you're protected in the case of defective or failed DEKOR® products when used with a DEKOR® transformer. And for 30 years, your powder coating is protected from cracks, splits, or tears in finish. The EZ YARD DOT, however, is protected for 10 years when used with a DEKOR® EZ transformer.
Learn more