---
PURPOSE OF POOLSIDE LIGHTS
Swimming pools offer a great way to entertain family and friends right in your own backyard. Just like the interior of your home, you want to create the perfect ambiance that promotes fun, conversation and everything in between. 
Pool deck and landscape lights are just as necessary as the lights underneath the water itself (Dekor does not carry underwater pool lights). The main reason being they will help to improve the safety of the space. Adding outdoor lighting to your pool area also gives owners a chance to create their own backyard oasis. 
Whether you're placing spotlights on a water feature, lining the railing of your deck with LEDs, or creating a lit pathway to your pool house, this is the perfect space to let your creativity flow.
BENEFITS OF DEKOR'S POOL DECK LIGHTING
Added light helps to create a safer environment around the water. When the sun starts to go down, if the pool area is still being used, your guests need to be able to see where they are going. Slipping and falling around this area is one of the biggest safety concerns. The proper lighting design can help to prevent these accidents.
CALL US: 1-800-258-0344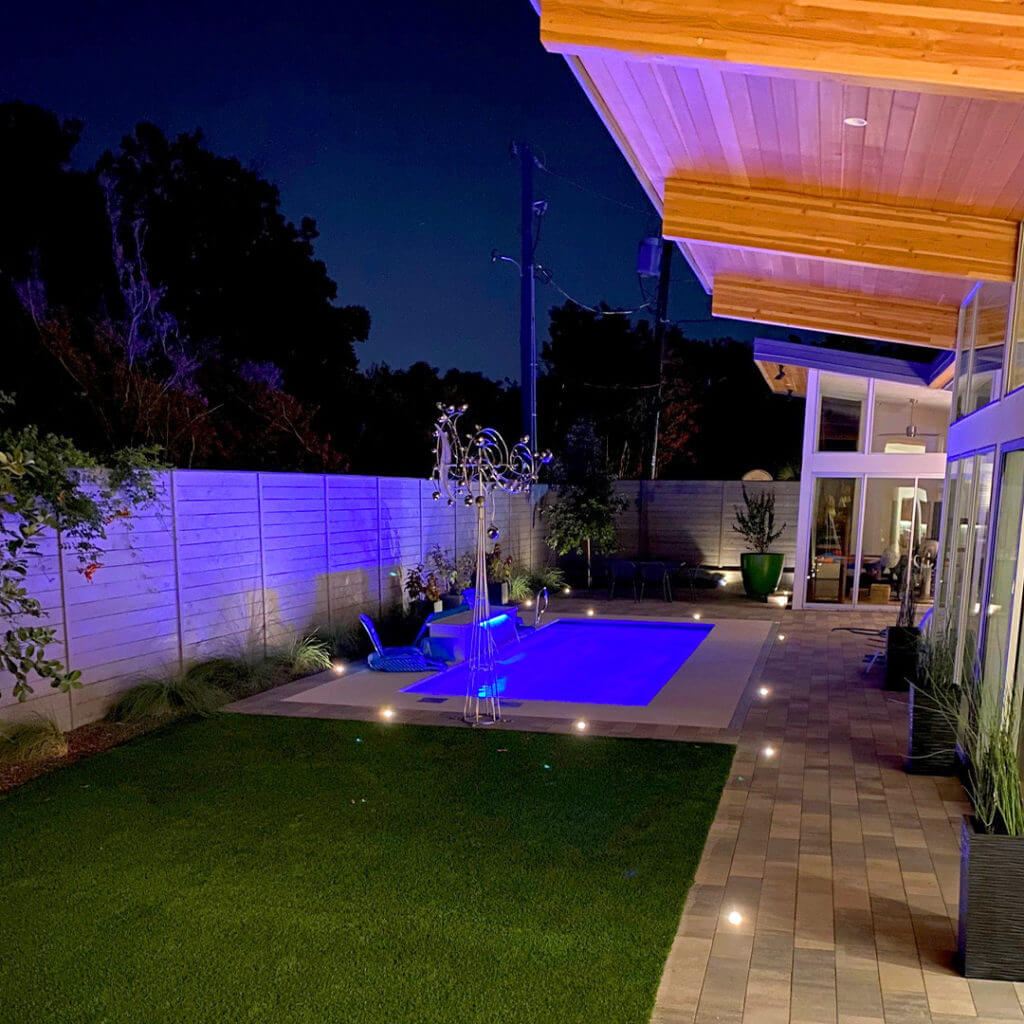 Here are some other benefits of our products: 
Safe to touch –Regular 120V incandescent bulbs pose the risk of burning someone if touched. Our products are designed with energy efficient, low-voltage (12V) LED bulbs, so this doesn't happen.
Easy installation –Our products come with DIY installation instructions. However, when installing our products around the pool area, there are some added precautions to take. Never install DEKOR products in areas where water collects or pools. Also, make use of the dielectric grease in the connectors. This will ensure that the connections are secured long term working to keep conductivity, while keeping water out.
Water resistant and weatherproof- All DEKOR™ LED lights are water resistant to at least IP65 standards. This means chlorinated water, sprinkler water, or a rain shower will not damage the products.
Recessed design options –We offer a variety of products that install flush to their surface. This allows you to brighten up stairways, railings, riser areas, and the edge of the pool / deck without creating an additional tripping hazard.
Different Ways to Brighten Up Your Pool Area
When adding pool/landscape lighting, the options are endless. Here are a few ideas of ways to illuminate the space:
Pool Deck Lighting
The deck is a heavily trafficked area that requires proper lighting. If you have guests at night, the different parts to consider illuminating include the floors, stairs and railing.
Edges of the deck or risers can be lined with our Dek Dots that fit flush on the top of your deck and are designed to be walked on.
Stairways get a lot of use and are often the most dangerous spot around this area. Adding LED lighting can increase both elegance and safely. Mini Recessed and Step & Stair Paver Dots Concrete options are a few of our many choices.
Our NOSEEEMs, Rope Lights, Lit Post Caps, and Lit Balusters are all options to consider for the railings. Contact our experts for additional ideas.
CALL US: 1-800-258-0344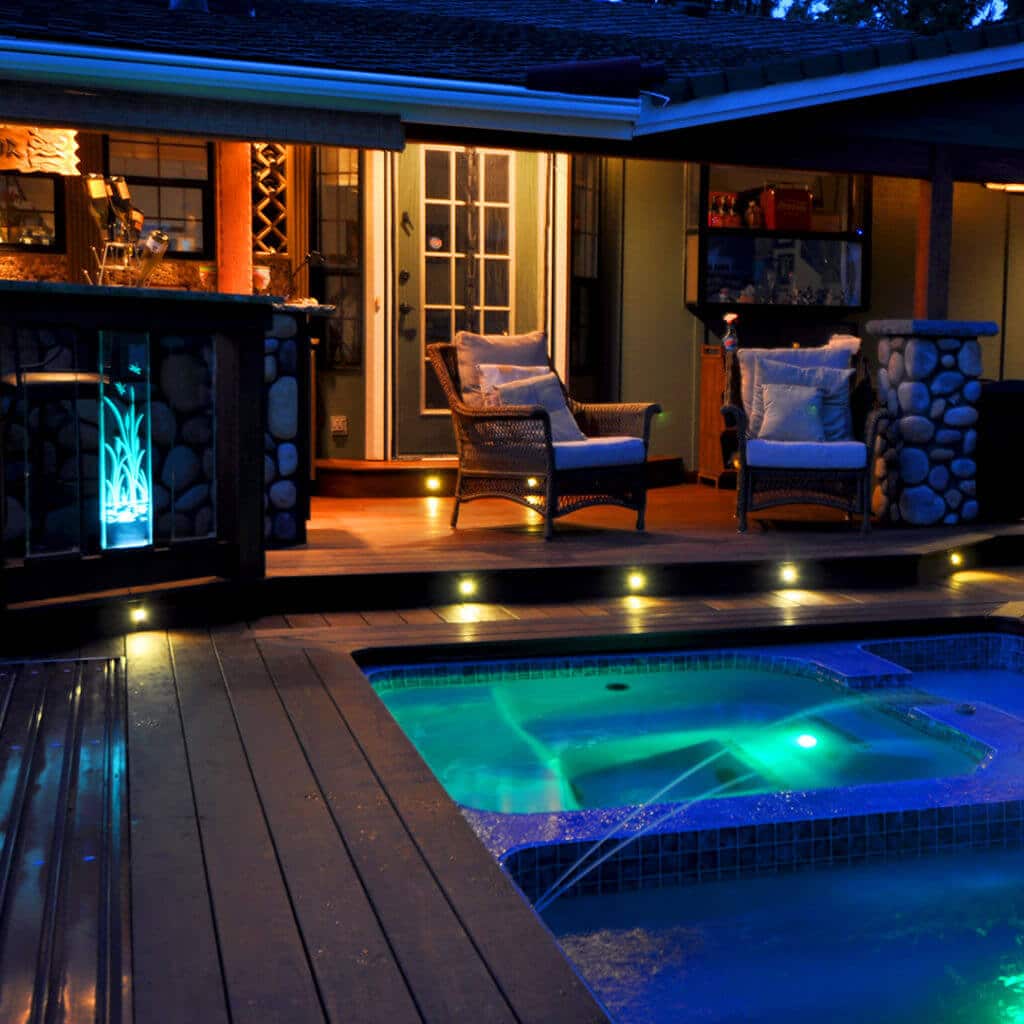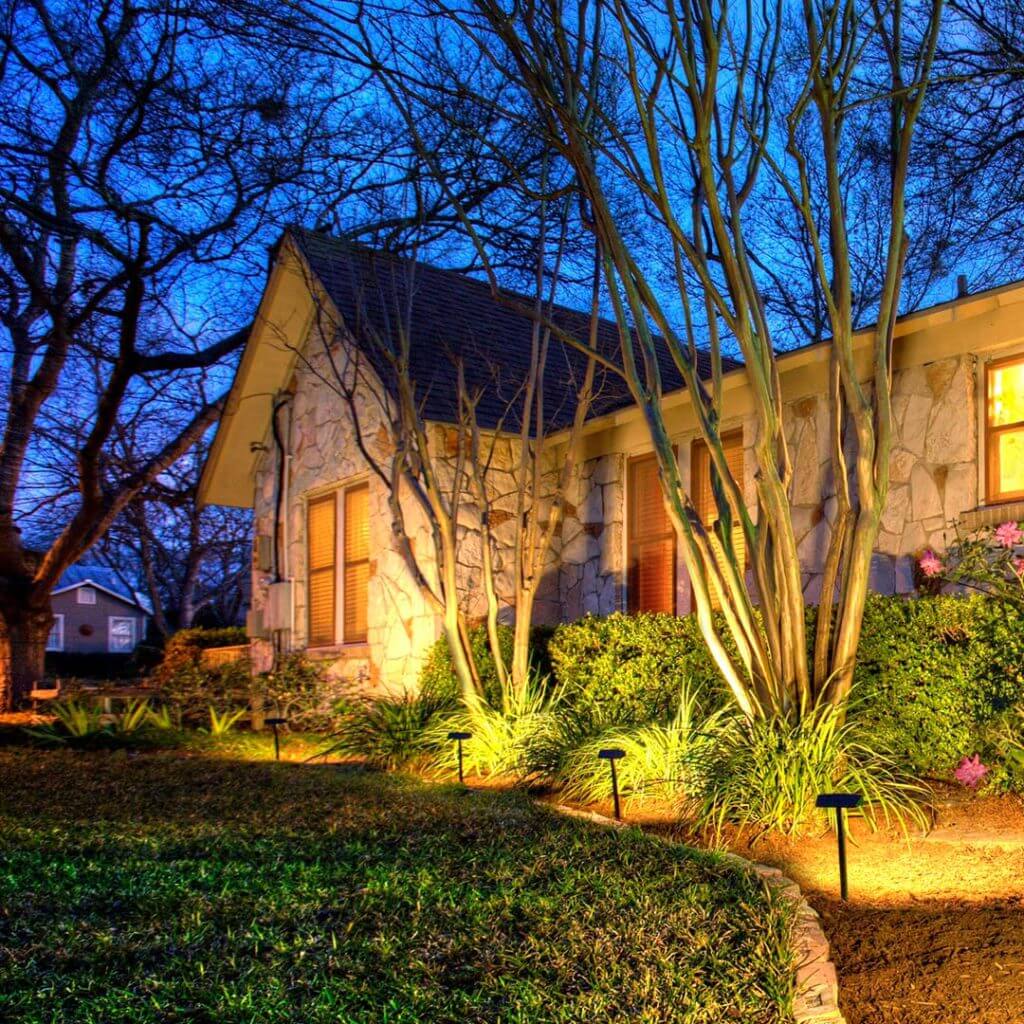 Landscape Lighting Around the Pool
Adding light fixtures to your surrounding landscaping will not only brighten up your backyard pool area, but will showcase the beauty of your trees, plants and flowers.
For garden beds and large trees, consider the Radiance or Ginny options which can easily swivel and adjust to shine on whatever you want to highlight.
For clusters of trees, consider the Tree Gang. This multiple fixture product can provide up or downlighting, depending on the look you're trying to accomplish. Another great solution for uplighting is our LED Puck lights, which can be used on areas such as the architecture around the pool.
If you have a pathway leading to this area, brighten up the walkway with our EZ Yard Dots, or create a nice ambient glow with our Pathway Lights.
CALL US: 1-800-258-0344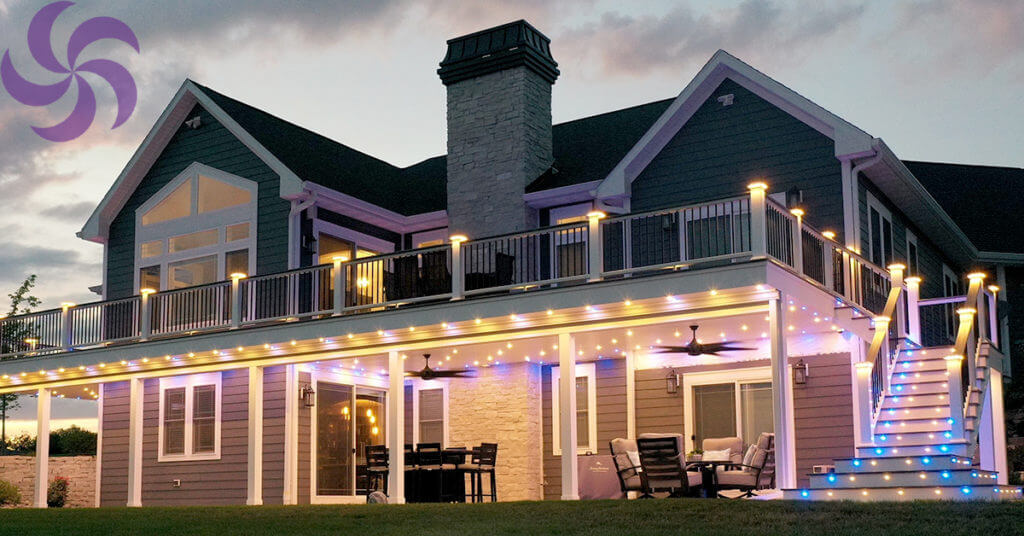 Colored Options
The pool area is all about fun. If you're looking for something different than our warm white options, take a look at our colored LED options. 
Our Dek Dots, stair and puck lights are all available in blue, green, red, and amber. Use them to add pops of different colors to the surrounding area.
CALL US: 1-800-258-0344
Outdoor Kitchen and Grill Area
The outdoor kitchen and grill area is always a popular place for guests to gather. While you want ample lighting so you don't burn the burgers, you also want your guests to enjoy the ambiance of this space. Soffit or recessed downlighting is often a popular choice for this area.
Turn your swimming pool space into one that easily transitions from day to night with high-quality LED pool deck lighting. Contact our experts at DEKOR for help with choosing the right products to fit your needs.