Xtreme Bond Commercial Grade Adhesive
Xtreme Bond™ masonry adhesive is a high-quality, premium polyurethane construction adhesive that tackles any outdoor project with ease. This adhesive is specially designed for construction, landscape, and hardscape pros to bond nonporous materials such as masonry, concrete, brick, stone, metal, and cement blocks, as well as porous materials such as untreated wood and fiberglass.
Commonly used when building structures or making repairs, Xtreme Bond adhesive glue can stand up to harsh, adverse weather conditions, and will not be affected by water. It still works on wet and frozen surfaces. Plus, this adhesive has a fast drying time as it creates a permanent, strong bond to any substrate.
Xtreme Bond Masonry Adhesive Features
Can be used on wet and frozen surfaces

Can be applied in sub-freezing temperatures and up to 250°F

Can be used in adverse weather conditions and extreme temperatures

Easy to use and offers a fast cure time

Quick adhesion while long open times allows for repositioning before permanently bonding

Durable bond up to 3 times the strength of conventional adhesives

Will not lose its bond over time or crack from different expansion rates of dissimilar materials

Creates a unyielding bond that's usually stronger than the two adhered materials
Masonry Adhesive Specifications
Heavy-duty Xtreme Polyurethane bonding adhesives are available in 10.5 oz cartridges to be used in 9″ caulking guns for small projects, and 29 oz sizes suitable for 13″ caulking guns for larger construction and contractor work

Meets ASTM D 3498 and FHA Bulletin UM-60 compliance while meeting or exceeding all requirements of the American Plywood Association Specification AFG-01: Adhesive for Gluing Plywood to Wood Framing

This premium quality adhesive comes with 6-month warranty from the date of purchase and has a shelf life of 1 year if properly stored

Working time of up to one hour as it creates a permanent bond overnight

Dries in a tan color
Xtreme Bond Masonry Adhesive Uses
Xtreme Adhesive creates a polyurethane bond between similar and dissimilar materials. It can be used in home improvement work, hardscaping/landscaping projects, construction projects, gap filling, and repair work. Xtreme Bond's adhesive formula is the easy solution when you want to create a sturdy and durable bond for capstones, brick walls, concrete walls, installation of cement paving stones, and other building materials.
Landscape Glue vs Adhesive
The terms glue and adhesive are commonly used interchangeably in the landscape industry, and there aren't any significant differences between the two words. As long as the product you're buying is specifically masonry glue (often called cement glue, concrete glue, brick glue, stone glue, etc), you have the right stone and concrete adhesive for your needs
Xtreme Bond masonry adhesive is a thicker, one-component polyurethane adhesive glue that can be used for both nonporous and porous materials. It is weather-resistant, can handle differing temperature conditions and a variety of moisture levels including cold weather applications, and can bond irregular surfaces.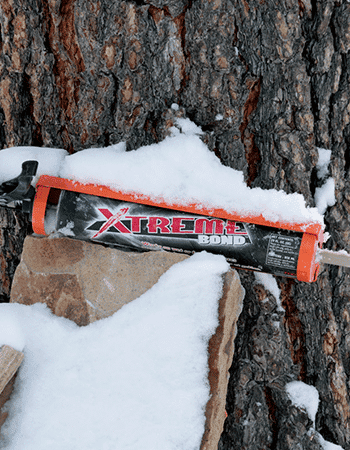 Landscape Adhesive Glue vs. Mortar
You can use landscape block adhesive instead of mortar though not in all situations and with some caveats.
Xtreme Bond Polyurethane adhesive can be used to caulk and fill in minor gaps on level, vertical surfaces in place of mortar. It can bond sagging stones as long as they are not weight-bearing.
Mortar, meanwhile, should be used for any weight-bearing walls, any floors that will be under pressure, or for large structural projects.
Construction adhesive is excellent for landscaping needs such as bonding brick veneer (thin brick), for exterior brick veneer on stone walls, and to bond on decorative capstones. Though be advised: this adhesive is not self-leveling for projects such as laying down tile work. In these cases, thin-set mortar is more appropriate.
How to Apply Masonry Adhesives
When performing paver work or other landscaping needs, always read over the manufacturer's instructions before use. Also, keep in mind the following:
Masonry adhesives should never be used for applications that require continuous submersion or where temperatures rise above 250°F

Always wear gloves during the application of the adhesive and perform a test application for materials when adhesion bonding is questionable or unknown
Prepare the Materials to Be Bonded
All surfaces to be bonded together should be clean and structurally sound. Always remove any dirt, oil, asphalt, grease, wax, rust, paint, tar, waterproofing compounds, curing compounds, part compounds, membrane materials, and loose particles.
Lumber materials

should have all paint scraped away to the bare wood

Metal materials

need to have rust, scale and other coatings removed to show the bright, shiny white surface

Concrete, masonry and stone surfaces

should be ground, wire brushed or sandblasted to remove contaminants and any laitance
Application & Curing
The amount of masonry adhesive needed for retaining walls, pavers, or blocks will depend on the brand of adhesive. Xtreme Bond Polyurethane Adhesive has high strength bonding capabilities, so it does not need to be applied as heavily and liberally as conventional adhesives.
To apply, cut the smallest possible opening into the cartridge spot to administer an appropriate bead size. Fill in all the gaps that are between the two materials and reposition the materials for up to one hour after the adhesive's application. While mechanical fasteners are not always necessary, they may be used to hold materials in place during the cure time.
Cure times will vary based on the temperature, the material's porosity, and humidity. Typically, curing times for Xtreme Bond will be 1 to 2 hours to create a firm bond, and overnight for a permanent, tenacious bond.
Other Uses for Masonry Adhesive
As we've said before, not only will polyurethane stick to concrete but masonry and landscaping adhesives can be used with a variety of other building materials. Use it in retaining wall projects, to replace missing veneer on exterior walls and foundations, or employ it for shaky chimney caps or wobbly concrete stair treads. Many other applications are possible!
Xtreme Bond Polyurethane adhesives are your solution for strong and permanent construction, landscaping, and home improvement bonding projects.