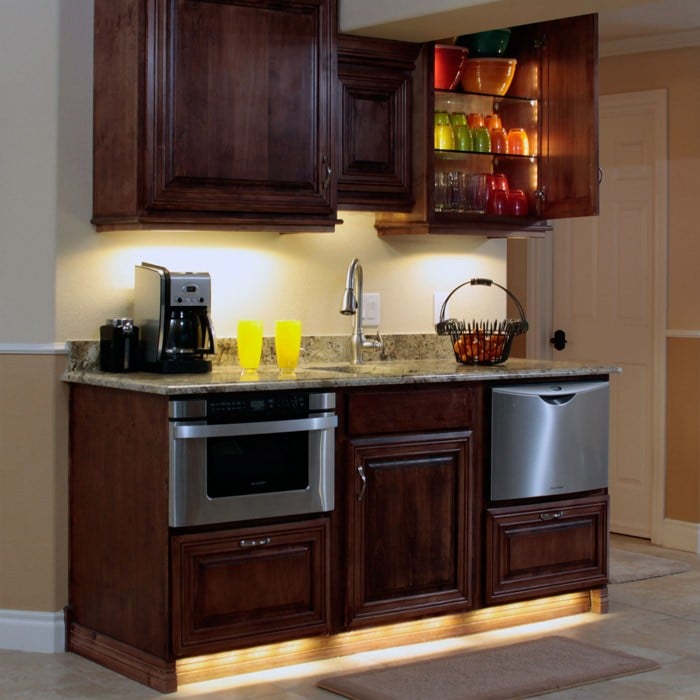 Under cabinet lights are useful in a wide variety of applications. They light up kitchen counters and surfaces. They make it possible to see what you have on your cabinet shelves in the dark. And they're a great way to add some indoor accent lighting to areas of your home you may not initially think to light up. 
There are also a wide variety of fixtures you can use to light the space inside of and below your cabinets. Strip lights are a classic solution. A light bar might also be to your taste if you're looking for a sturdy light with an adjustable angle. Of course, you can also install disc spot lights, directional spot lights, and other light fixtures to create different under cabinet lighting effects.
In this article, we'll focus on two of DEKOR®'s most popular under cabinet lighting products: the NOSEEEM Strip Lights and our Under Cabinet LED Light Bars. We'll walk through installation instructions for each product, step-by-step. You'll quickly see how easy it is to install your own under cabinet lighting.
How to Install Under Cabinet Strip Lights
The versatile NOSEEEM Strip Light (also available in a kit) can be used in a number of applications. Here, we'll talk about installing it under cabinets, but you can also install it inside cabinets, on top of cabinets, on steps, on the underside of stone caps, indoors, outdoors, you name it. Follow these steps to install strip lights under your cabinets.
Determine the precise positioning of the first NOSEEEM Light Strip under your cabinet before you start. 

Mark the intended location of the screws. Use at least 3 screws per light strip. 

Pre-drill screw holes with 1/16″ drill bit.

Attach the mounting bar with included adhesive strip ONLY unless conditions require you to use screws. 

Slide the light strip onto the mounting bar.

Secure the light strip with small sections of the retaining cord. 

Repeat the steps with each additional section until you have installed the desired length of light strip. If desired, you can cut light strips to fit custom lengths, but this will terminate power at the end of the light strip.

Connect the first NOSEEEM Light Strip to the transformer or power supply with a cable. Then connect every additional light strip with Plug N Play cables. 
If you're more of a visual learner, watch this installation video for DEKOR NOSEEEM LEDs.
How to Install Under Cabinet Light Bar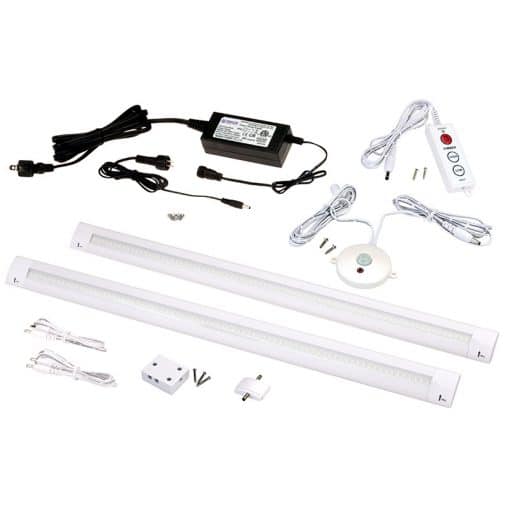 Light Bars are another classic option for under cabinet lighting. While they can't be customized quite as easy as strip lights to fit unique lengths and small spaces, they do come in a variety of different sizes. DEKOR® sells light bars in both 12″ and 20″ sizes, both available for individual purchase and in kits.
Follow the next steps to install your light bar under a cabinet.
Decide whether or not you'd like to install a dimmer and/or motion control for your light bar. The

12″ Light Bar Kit

and the

20″ Light Bar Kit

both come with a dimmer and a motion control device included.

Determine the desired location of your transformer. You'll want easy access to the transformer in case you need to service it for any reason.

You may want to pre-drill holes for the cables or wires to run through the bottom of cabinets or between cabinets.  

Each light bar has a mounting bracket. Open the bracket to 90 degrees. Then attach the mounting bracket to the underside of the cabinet with included screws.

Plug the light bar into the outlet or power supply, then tip the bracket to your desired angle. The mounting brackets are adjustable and can ratchet to shine exactly where you want them to. 
DEKOR®'s Top-Quality Under Cabinet Lighting
DEKOR® is the best option for your under cabinet lighting needs. Our LEDs are perfectly suited for indoor use: you will be amazed by the cabinet lighting projects you'll be able to complete with our products. Find lights for under, over, and inside cabinets here. We offer not just strip and light bars, but also spot lights, disc lights, and more.