Your home may have beautiful interior décor, a well-maintained lawn, a flower bed plantation, and a backyard barbecue. However, it's incomplete without proper landscaping and garden lighting. Outdoor landscape lighting adds charm, functionality, and safety to your home. When selecting landscape lights, you should choose energy-efficient options to save on your electricity bills.
You can add energy-efficient lighting to your property in a variety of ways. Luckily, you can always find light fixtures suited to your landscape's unique requirements that save on energy bills and help your family stay safe while having a fun time outside.
Want to know the best power-saving ideas for landscape lighting? Read on!
1. Install Energy-Efficient Bulbs
Nowadays, you have many more options than incandescent lights to illuminate your indoor and outdoor areas. The evolution of modern technologies has led to the emergence of LED bulbs, which are ten times more energy-efficient than the previously available options. They illuminate more extensive areas with an energy-saving bulb that casts a broader light. For both outdoor and indoor lighting requirements, LED, Compact Fluorescent (CFL) bulbs, and halogen lights are popular choices.
LED lights consume much less energy but require unique installation because of different energy requirements. They need 12 volts rather than 120. CFLs are four times more effective than incandescent bulbs. As the light dims when the weather gets cold, you should protect the fixtures from such weather.
Metal halide is another power-saving bulb that emits a natural-looking glow and is 3 to 4 times more effective than incandescent bulbs. Because the bulbs need warmth, they are inappropriate for any type of cold weather lighting in a yard. The energy-efficient bulbs have many benefits for the exterior landscape design, such as crisp lighting tint, cool bulbs, and long warranties. Pathway lights, such as the Empress LED Pathway Light, tiki-style torches, garden lights, such as the LED Landscape Spotlight, and outdoor lanterns, are some of the most popular choices for landscape lighting.
2. Choose Low Voltage Bulbs
Low-voltage bulbs are ideal for landscape lighting because they conserve energy and lower energy bills. If you install incredibly bright lights, they may irritate your neighbors.
The guests on your property may find it challenging to stay safe. The cars driving nearby your property also have accidents because of the flashy lights. Fifteen watts is usually enough for several landscape lighting implementations.
3. Invest in Motion Sensors
Security is one of the key reasons behind landscape lighting. You can do that by installing motion sensors, since this helps save energy. They activate once they sense motion and stay on until the movement stops. Such lighting also helps in boosting security by alerting you and your neighbors as soon as someone is in your yard.
Motion sensor lighting can be a great addition to the lighting framework surrounding your property's driveway, gates, doors, and corners. You should position them a little higher so they can cover a larger area.
4. Maintain a Proper Light Height
Think about how high you want to install your outdoor landscaping lights– the height dramatically impacts the light's energy efficiency. The lamp distributes evenly if you install lights of different sizes in a yard.
That way, you don't need to install more lights to compensate for the dark areas in your yard. The perfect landscape lighting is about placing different lights at different height levels to illuminate every corner of your home exterior.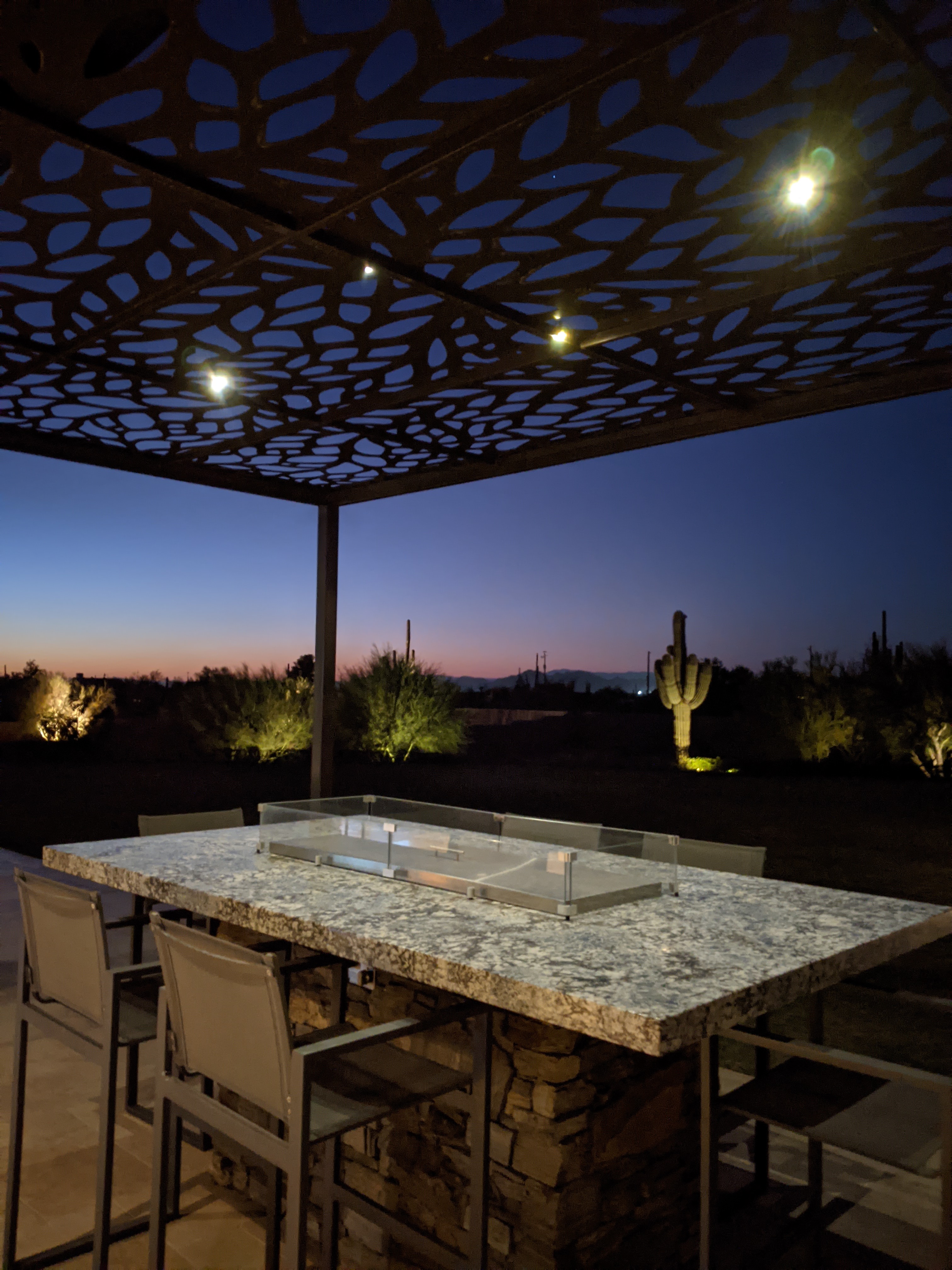 5. Set Timers On
Never keep your lights on when lighting isn't required, as this will unnecessarily increase your energy bills. When you use your landscape lighting only as needed, you'll have more control over when lights shine and therefore, the amount of energy they use.
Set timers on some, or all, of your landscape lights so you don't need to stay home to switch them on or off. You can program a timer system to switch lights on when required, or use a daylight sensor, which monitors the sun's rise and set. Using an intelligent hub to operate lights and save energy is even better.
We highly recommend investing in the DEKORKONNECT™ WiFi Light Controller if you are looking to control your lights when you're at home or away. With this fancy device, you can even set schedules for your lights, see the status of lighting zones, and change the brightness!
6. Add Solar Lights to the Landscape
Do you live in a location that tends to stay sunny most of the time? You could opt for solar lights, which are an eco-friendly and power-saving option. Such lights will soak up all the light during the daytime, which will power them all night if installed in the sunniest parts of the yard. Solar lights may not be the perfect solution, depending on the outdoor lighting requirements. It may take many days to accumulate enough energy. The light emission can be dimmed more than electric lights.
Outdoor solar lighting is usually free-standing and utilizes solar cells to energize lights separately. Solar stake lights are available in various styles, shapes, and sizes. They are widely used in garden beds and pathways. Some are designed more like lanterns or lamp posts, while others are mounted on fences and walls. Thus, you can install solar lights at any place you want.
Once you select a solar light, check how long it functions during the night to confirm if it fulfills your requirements. Solar lights are a lucrative option for navigation or decorative lighting purposes. They can also add security to your property if installed correctly.
7. Planning Time
To save the maximum amount of energy in landscape lighting, you must have a proper plan. When you have a well-laid-out plan, you can decide where to install low-energy lights, use elements like motion sensors, and position solar lights to get maximum sunlight. Draw your landscape and any other aspects to create a lighting plan.
Work on those elements in your property that you want to enhance. Focus your energy on the house framework, external entertainment areas, pathways, trees, flower beds, and garden. Decide which kinds of lighting options work best with the individual aspects depending on decoration, size, and required amount of illumination. You should consider the overall impression given by the landscape lighting plan.
If you're really stuck, we're here to help. We offer a free project planning service to help our customers reach their lighting landscape goals. Our Customer Care Team has years of both interior and exterior lighting design experience and will happily guide you on your next lighting project.
Power-saving landscape lighting can always be a wise investment to boost your property's visual appeal and security, yet also help save on energy bills. Dekor Lighting offers a diverse collection of lights for almost all types of landscapes. Explore our power-saving lights to pick the best products suited to your needs.