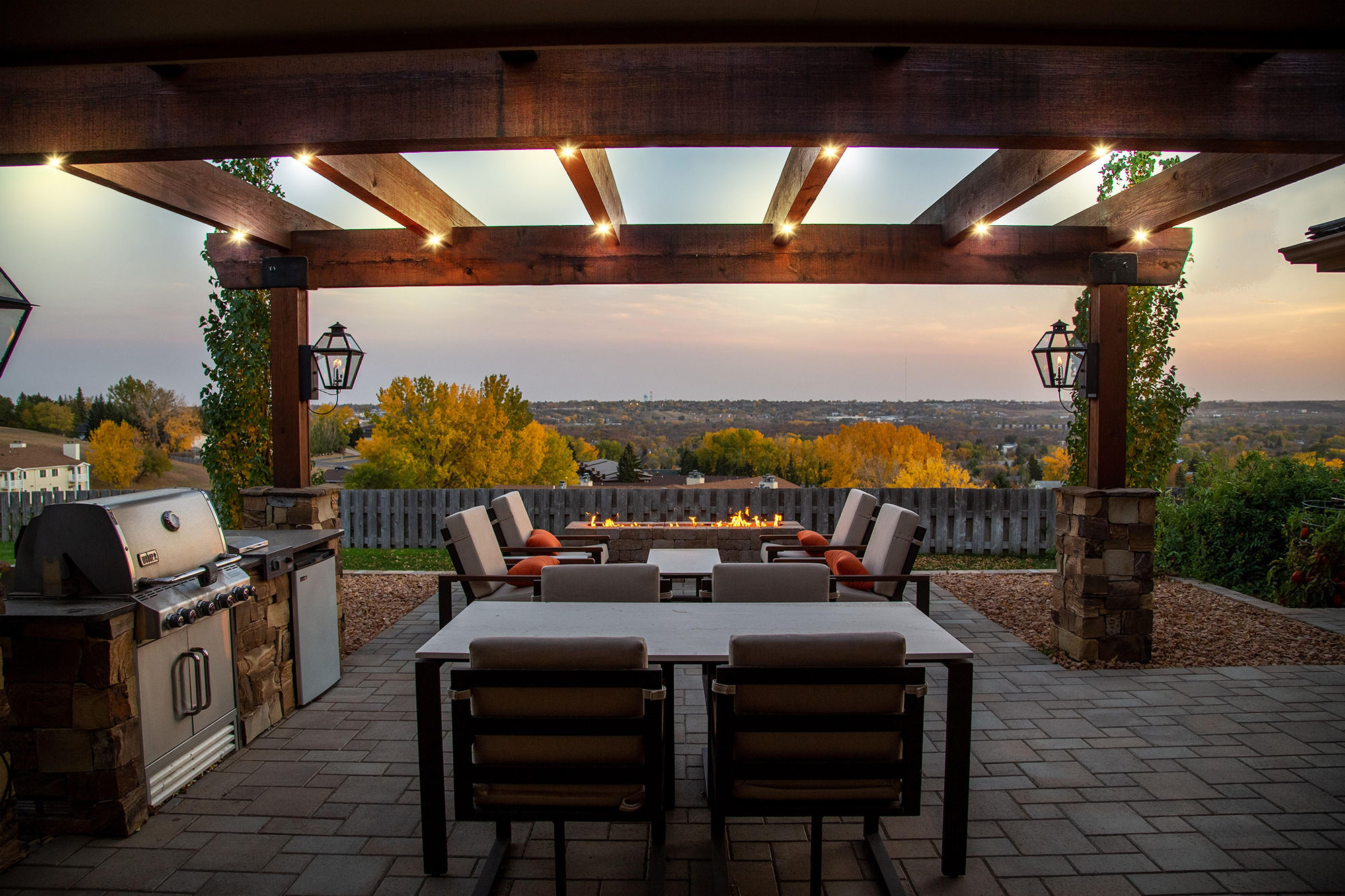 Be it dinners with loved ones, spending the night under the stars, and barbeque nights with your friends—your outdoor deck is where your summer memories are made. Perfectly illuminating your deck for the occasion will only add to the magic. Whether you're building a new deck or redoing an old one, lighting plays a vital role in setting the mood. Outdoor lighting helps your guests move around safely and instantly gives your deck a done-up look.
Keep reading to find terrific ways to decorate your deck and shine on!
Top Deck Lighting Ideas
When choosing the proper lighting, the first step is to decide the type of lighting you need. Temporary, semi-permanent, or integrated are your options. Temporary ones like LED candles are battery-operated lanterns that can be moved as required; semi-permanent ones need to be fixed like a built-in but can be moved whenever necessary. Built-in lights are embedded onto the porch or the deck, and a lot of work goes into moving them. Whatever type of lighting you choose, these lighting ideas are worth a try.
Style It with Railing Lights
Railing lights—built-in or strung along the perimeter—are a great way to define your deck. It can also illuminate areas of your deck where people frequently gather. There are deck post lights and under the rail lights that can also be used to add appeal while still providing enough light to move around safely.
Mount It on the Walls
Wall-mounted lights are mainly used to illuminate the pathways and access points. They typically can be operated from the inside, making them easily accessible before going out to your deck. There are many options for wall-mounted lighting; you can select one that complements your overall decor and serves your purpose.
Spotlight Your Landscapes
When guests are relaxing on your deck, they are bound to look around; this is the best time to show off your landscaping. Add spotlights to the landscapes, the outdoor dining area, grilling point, plants, or other areas of your deck. Don't let your hard work and creativity sit in the dark!
Add Some Fun with Overhead Lighting
Do you have a pergola, trellis or arbor? Lift the spirit of your outdoor space instantly with overhead lights. Create a warm ambiance using LED lights to complete the relaxing and welcoming feel of your home. Keep wires out of sight with our lighting options and wire covers that are  waterproof, exceptionally durable, and backed by a lifetime warranty when using our transformer. Please read our lifetime warranty for full details. We offer a variety of overhead lighting, including flood lights, rope lights and strip lights to transform any outdoor space you have.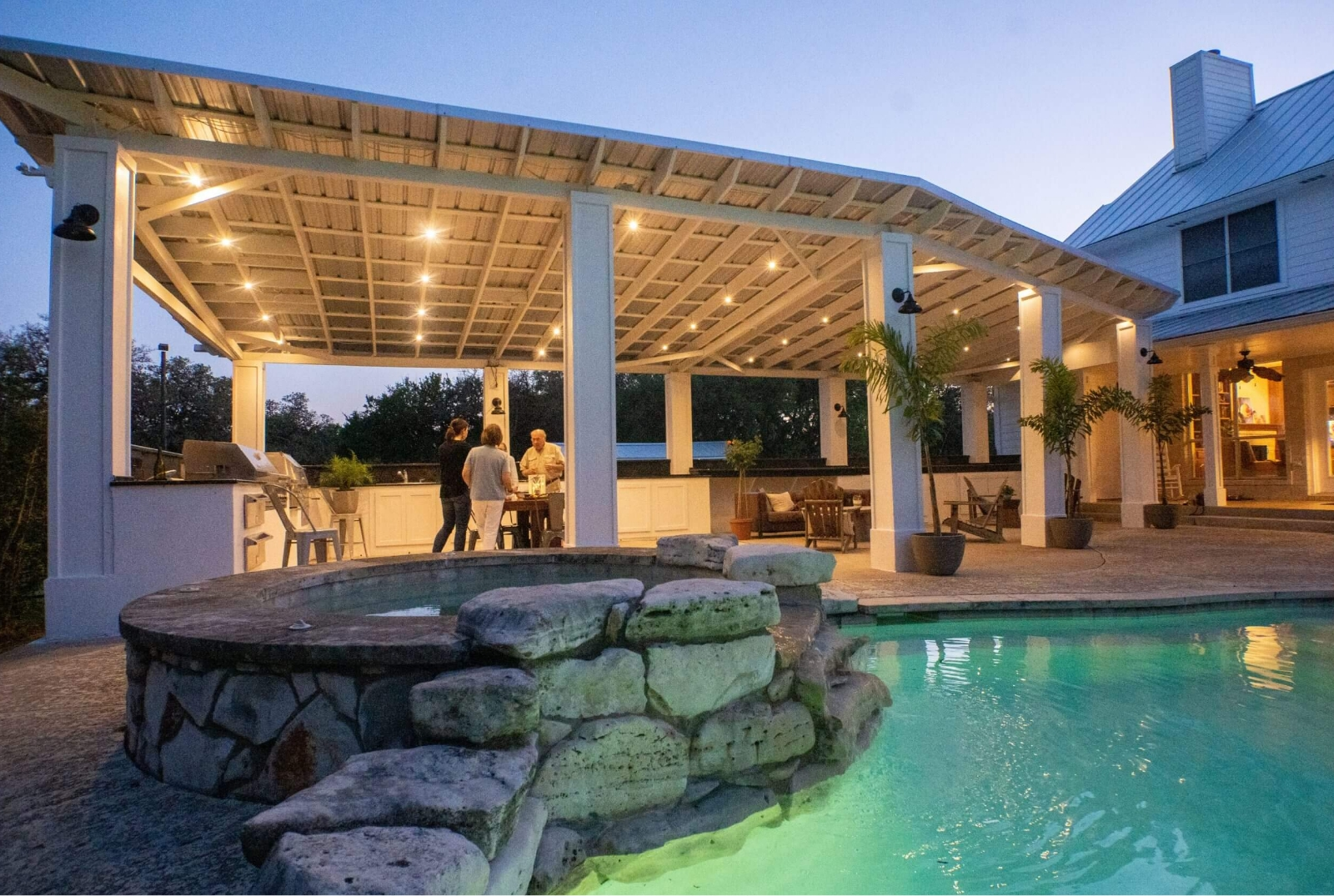 Step into Safety with Stair Lights
Well-lit stairs will add to your deck's appeal and make it safer to use. Avoid the stumbles and trip-overs with these recessed step deck lights. Before buying your recessed step lights, find out from the light manufacturer if the lights are safe to be walked over. Even if your deck is already built, installing these stair lights is still possible. Our Dek Dots are the perfect addition to help create the atmosphere you're going for!
Hang Them to Make an Easy Decor
Pendant lights that make a decor statement and provide enough light will be a good idea if your deck has a roof or is a pergola. Choosing a light that compliments the theme and gives a chic look will be the best option. There are also some cool ones with automatic dimmers, heaters, and Bluetooth speakers. Have you thought of adding a dramatic chandelier?
Want Some Cool Pool Lights?
While buying lights for the pool deck, make sure you check its water tolerance. You need to check the lights' IP rating code, which will give you a good idea of how much water, dust, and debris the light can withstand.
You could also use up-down lights and create a bow-tie pattern by the pool.
If you are super motivated and want to make this a fun weekend project, you could create outdoor lighting decorations to make your deck the place you love the most. You could use items like candles, mason jars, tea lights, led bulbs, and other household items and get creative.
Now that you have a good idea about the types of outdoor lights and how you can use them, there are a few things you should keep in mind before buying them.
Things To Consider Before Buying Deck Lights
Warranty
Outdoor light fittings are subject to harsh weather conditions and might need maintenance or replacement. Having a warranty will ensure that the supplier takes care of the damages.
Durability
LEDs are the best choice when it comes to outdoor lighting and durability. It reduces frequent replacements and maintenance costs as well.
Outdoor Rating
Look for terms like 'waterproof' or 'suitable for outdoors' when buying outdoor lights. Checking with the manufacturer is a good idea when you are not sure.
Wattage & LED Lighting
Consider the wattage of the bulb while buying outdoor lighting. Low wattage incandescent, fluorescent or halogen bulbs are suitable to be used for decoration lighting . However when it comes to efficiency, LED bulbs should be your go-to! When you provide power to an LED light, more energy is converted to light rather than heat, creating a brighter light at a lower wattage. This results in long-lasting, energy efficient lighting, that ultimately saves you money in the long run.
Color and Style
Before buying the lights, you need to decide if you want warm ambient lighting or fun, bright, peppy lighting. It's common to use warm colors for light to create an inviting and cozy look. Just go with what you want; the market is full of amazing choices.
Build a Theme
When shopping for lights and fixtures, make sure to buy the ones which follow a theme and suit the overall look of the house. Having a unified look will make your deck look more attractive.
If you are looking for a place to buy quality products with easy installations and extended warranty periods, Dekor Lighting is the place for you. Dekor Lighting is a one-stop shop for all your lighting needs. Contact 1-800-258-0344 or click here to place an order. It's time to deck it up with lights!