DEKOR® WIFI REMOTE APP 
Control your DEKOR LED lighting from your smart device
The DEKOR WiFi Remote brings home automation and smart control to DEKOR lighting projects:
On/Off
Brightness
Scheduling
The app is designed to work with the new DEKOR WiFi Controller.
DEKOR WiFi Controller Now Available
Our new WiFi Remote app has simple, responsive controls, so you can turn lights on, off, or get just the right level of brightness without a lot of fiddling.
Control your deck or landscape lights from the comfort of your deck chair. Schedule your lights to turn on and off overnight. Or do it all while looking out your bedroom window.
Change your kitchen and cabinet light settings automatically. Bring up the task lighting for prep, meal, and cleanup times, then dim or turn them off after.
It's practical, elegant, and convenient. Simply put, the DEKOR® WiFi Remote gives you the power to set your lights just the way you want them, then put them on a schedule so you can "set it and forget it".
View More Here
WI-FI REMOTE CONTROL
Our WiFi Remote app allows complete control of your DEKOR® smart lighting products using easily navigated screens and prompts. The app has additional features not found in our standard controllers, allowing you to control brightness, on and off times, with the granularity of minutes and even which days of the week lights are needed. Our WiFi Remote app controls virtually an unlimited number of lights or zones easily and effortlessly.
Customize with Creativity
At DEKOR®, we build lighting for life, with products that are built to last and built to enhance your lifestyle.
Artful lighting can transform your living space, both indoors and out. Used creatively, the DEKOR® WiFi Remote lets you use accent lighting as a design element in your home or garden, creating ambiance and lighting the way,
It's the little things that set the EZ WiFi apart, like automatically dimming stair lights at night so people can still find their way, or turning on your lights on just bright enough to create a welcoming glow before you come home from work.
With the DEKOR® WiFi Remote app and a little creativity, you can enhance your lifestyle every day.
Privacy Information
DEKOR® is conscious of customer privacy.
The DEKOR® WiFi Remote app does not collect or store any personal identifying information, including the WiFi password that is entered.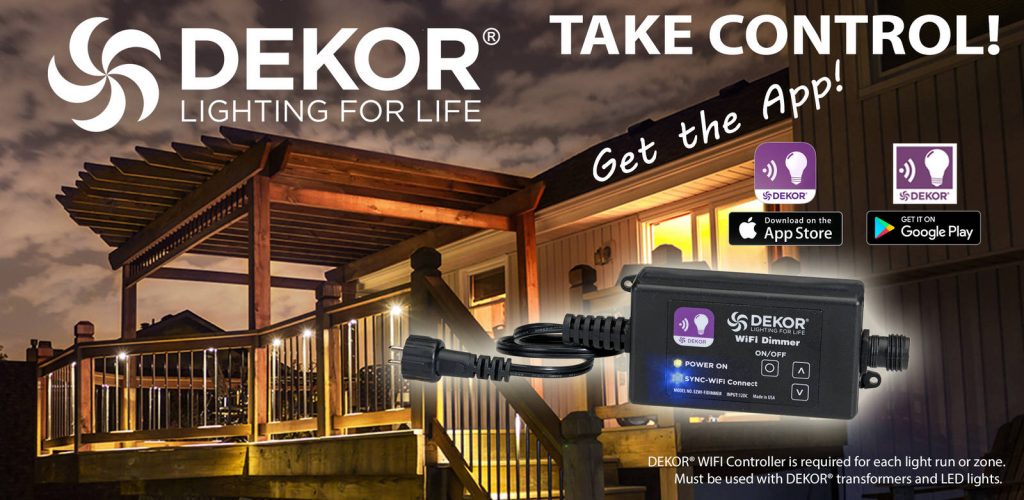 Android is a trademark of Google Inc. Apple, the Apple logo, and iPhone are trademarks of Apple Inc., registered in the U.S. and other countries. App Store is a service mark of Apple Inc., registered in the U.S. and other countries.