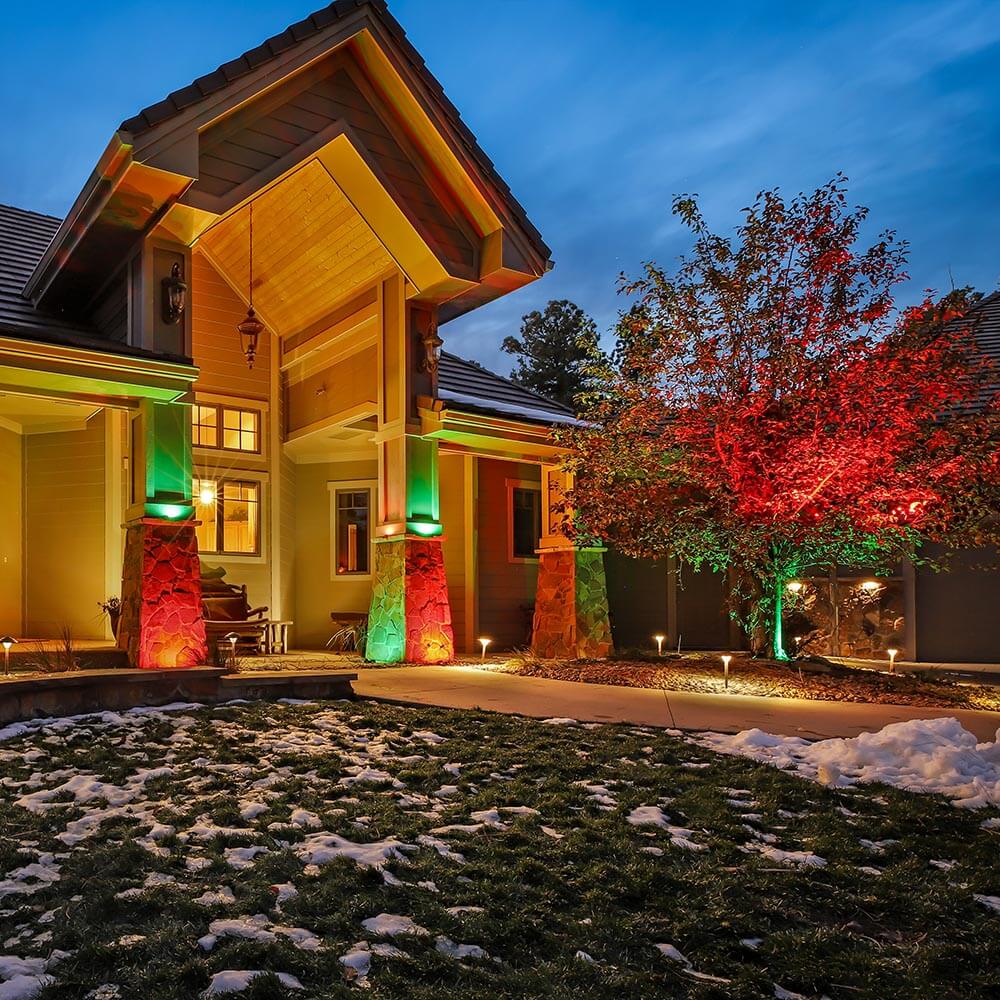 Want to give the front of your house a facelift? It's a great idea, given that outdoor lighting can deter thieves, aid in nighttime visibility, and make your home look like a million bucks! Unfortunately, with the myriad of outdoor lighting options available, it can be tough to know where to start. That's why so many go with the obvious option – generic porch lights. But you don't have to do that! You can get creative with some of the most unique options available anywhere. Here are 9 fantastic lighting ideas that'll make your house the best-looking one on the block!
Go Crazy with Rope Lights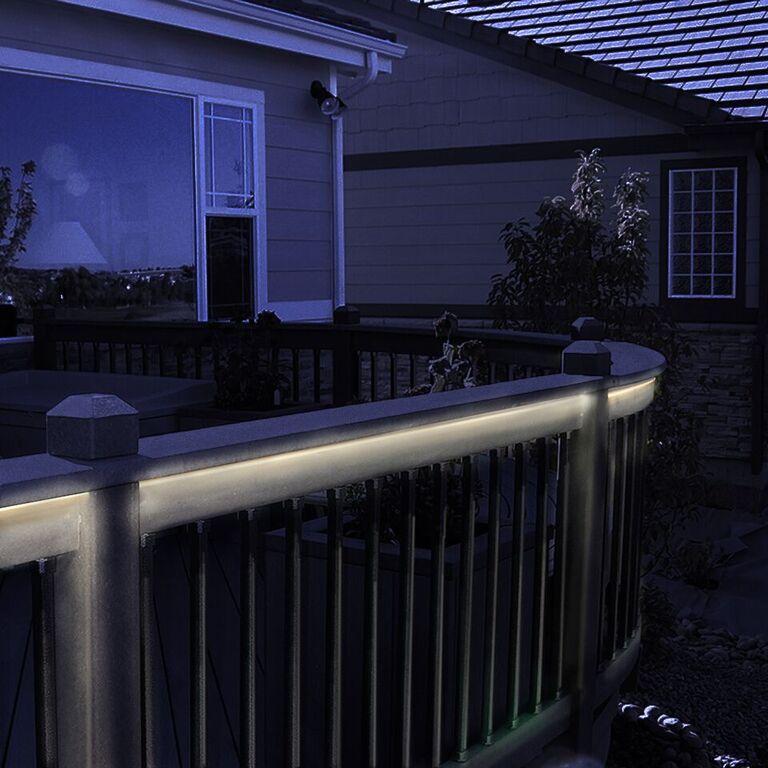 Most of us love using our string lights indoors during the holidays. Well, you can recreate that joy with outdoor LED rope lights, which add ambiance and personality to the front of your house. Simply wrap them around trees, railings, posts, or anything else you want to showcase. Or take things up a notch and get creative by spelling out words or phrases with the lights. Just make sure you buy exterior approved rope lights!
Illuminate Your Steps with Stair Lighting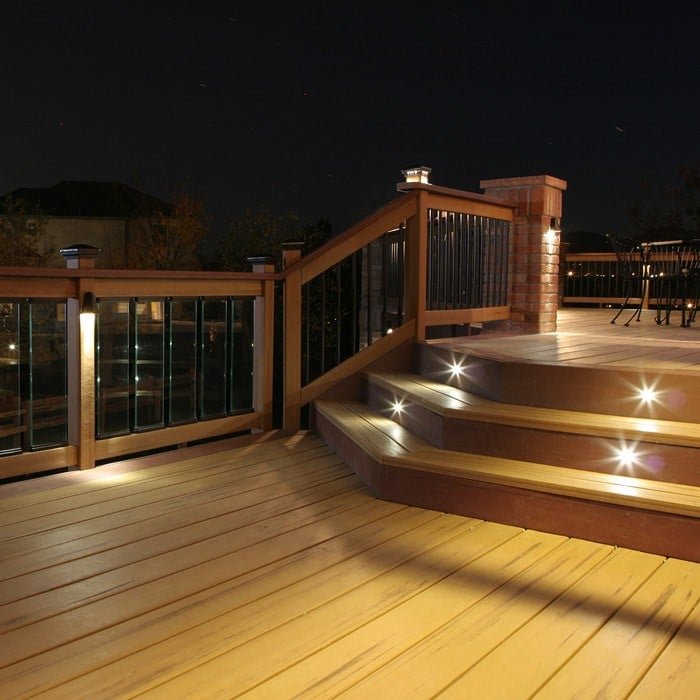 Looking for something practical and stylish? Porch step lighting is the way to go! LED recessed stair lights illuminate your front steps, making your outdoor living space safer and more attractive at the same time. 
And if you're feeling adventurous, decorate in color with some colored LED recessed stair lights. They are available in blue, red, green, and amber!
Add Landscape Lighting to Your Pathways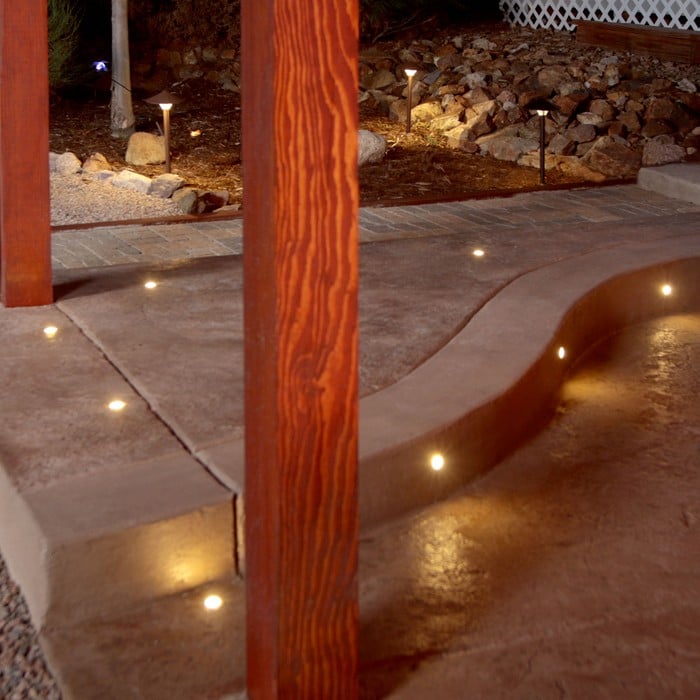 If you have any landscaping features that you want to highlight, doing it with landscape lighting is a no-brainer. You can use puck lights to showcase sculptures, fountains, or anything else in your front yard that brings you joy. But that's not all. Use Step & Stair Paver Dot™ Lights to light up your main pathways or concrete or brick steps.
Use Garden Lights to Add Interest to Your Front Garden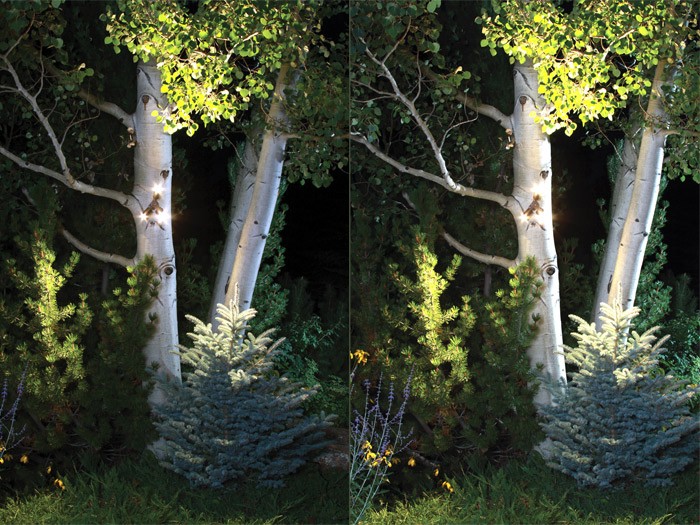 If you've been working hard on your garden, you owe it to yourself to play it up with some garden lighting. This is where well-placed telescoping LED landscape spotlights shine! They're an understated CREE LED lighting solution that puts your trees, shrubs, and plants on blast! When they're on, they add some real interest to your space, but when they're off, you won't even realize they're there. Another great option is the Tree Gang 2 Fixture Landscape Spotlight, which features 82 LEDs, a durable aluminum construction, energy efficiency, and two-way flexibility to light whatever object you want! 
Install Flood Lights to Illuminate Your Home's Exterior
Flood lights are outdoor lighting workhorses. For outdoor security and entertainment, mount them against your home's exterior or on your favorite outdoor structures. Place them high up and let the light wash down over the branches and trunk for a look that is out-of-this-world gorgeous! DEKOR® 's LED Soffit Flood Light Outdoor Kit is a fantastic pick, featuring deceptively tiny high-performance lights that are both weatherproof and extremely durable. They're sure to impress!
Put Up Outdoor Wall Lights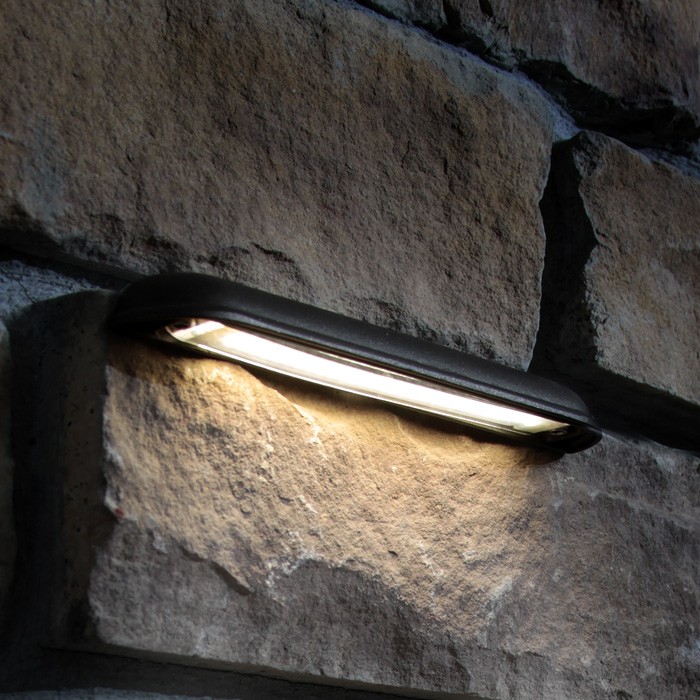 Outdoor wall lights are yet another terrific way to add light to the front of your house. They can be used to light up walkways, porches, decks, and patios for a touch of drama. And the DEKOR®  brand LED Hardscape & Retaining Wall Light is one of the best! It instantly adds an element of dramatic flair to your textured retaining walls, outdoor stairs, and hardscape projects. It boasts dimmable CREE LEDs, an anti-corrosion housing finish, Plug N' Play capabilities, and more! And if you're looking for an all-purpose outdoor wall lighting option, the Radiance Multifunction Light is the answer! Use it to light literally any straight wall, give your steps some character, or elevate your deck. The possibilities are endless!
Top off Your Posts with Post Cap Lights
If you have a deck or fence at the front of your house, your posts are practically begging for some attention. Give them just that with post cap lights! These are small lights that fit on top of your deck or fence posts. They come in all sorts of styles, but the best ones have some distinct features. DEKOR®  Pyramid Post Caps with LED Lights have energy-efficient LEDs, an elegant post cap design, and can be purchased in several lighting configurations – even a solar one! But the best part? They're made of extremely durable materials that can withstand virtually any weather conditions.
Dress Up Your Rails with LED Lights
Show your rails a little bit of love with some charming rail lights! These outdoor lights draw the eye to your deck, porch, or balcony for some serious curb appeal. You can't go wrong with a quality set, like these Diamond Post Medallion LED Accent Lights. They not only appeal to your fancy side with their luxurious diamond design, but they're super versatile. Use them to accent your stairs, add some oomph to your rails, or spruce up your balusters. 
Add Some Class to Your Deck with Baluster Lights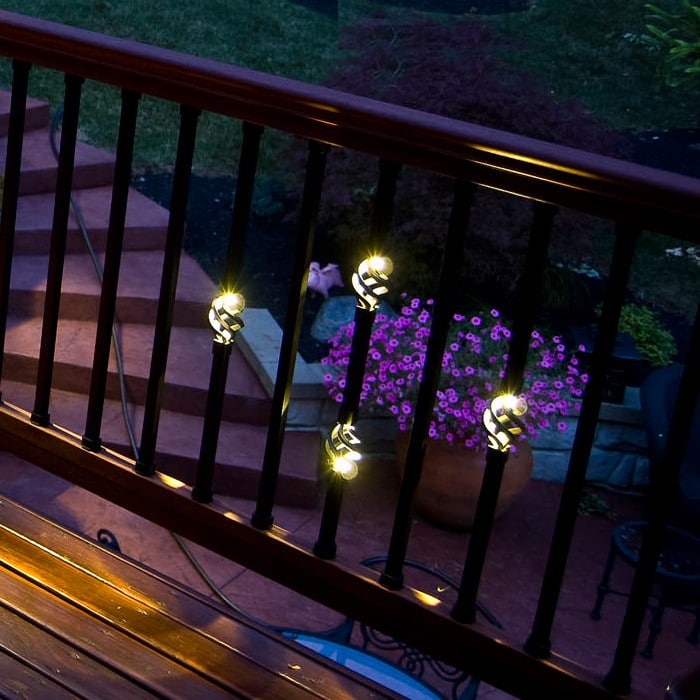 Baluster lights are the ideal accompaniment to any front deck. When crafted right, they can make your outdoor space look like something out of a magazine. If you want to take your deck to the next level, consider switching out your old balusters for these lighted ones.
As you can see, there are plenty of outdoor lighting ideas to choose from for the front of your house. No matter your style, you're sure to find an option that you'll love. We encourage you to check out the lights linked throughout this article for a glimpse of outdoor lighting perfection! Good luck with your outdoor lighting project.