Brighter, better… NexGen™ LED Lights by DEKOR®
When our customers asked for brighter lights in our current small fixture footprints, we rose to the occasion. With some clever design choices and even higher efficacy LEDs, we achieved a new peak in LED lighting.
We call this product line "NexGen­™" as they represent the next generation of DEKOR's LED lights. The light output is a dramatic increase over our standard product offering from the same light fixture footprints. This NexGen technology is an option for our recessed lights, Post Cap Lights, and many other product lines. All lights still use our standard Plug-N-Play cable system, making installation simple.
NexGen™ lights are perfect for soffit lighting in the house, on walkways, docks and even decks where that added punch of light is needed.
If you have an application where you need much more than mood lighting then this product is just what you need.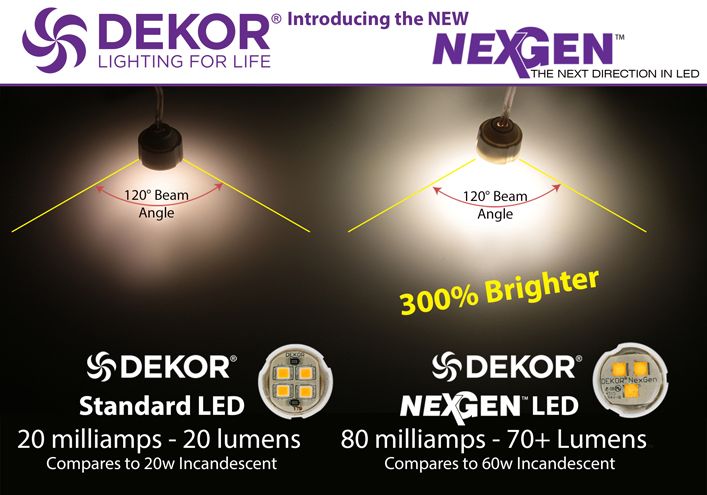 High efficacy CREE LEDs
Industry-leading warranty
Made in the USA
Dimmable
Add Your Heading Text Here
Up to 3x light output vs standard LEDs
3200K neutral white color temperature
Wide beam angle
High (90+) CRI for realistic colors
I have a 1500 sq ft house, I installed 24 NexGen down lights in my aluminum soffits, one Forstner bit required, they look great! I get many compliments. I had the soffit installer lay 14ga wire on the soffits as he worked, I came after he was finished, drilled holes, fish wire through hole w/coat hanger, made connections. Dimmer and transformer are installed in attic, the new wifi/app controlled dimmer w/scheduling is a welcome addition to Dekor products since I don't use a photocell. I no longer have spaces on the sides of my house that are in total darkness. The NexGen down lights function as enhancement lighting as well as security lighting. Thanks!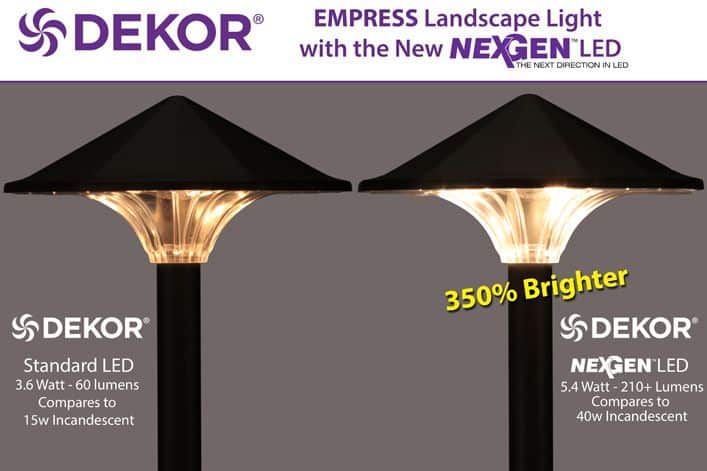 We take great pride in our innovations in LED technology. The NexGen product line showcases our dedication to delivering the best possible LED products for our customers.