With the holiday season quickly approaching, we're thrilled to share some festive holiday lighting ideas that'll have your home shining brighter than a Denver star on a clear night! When it comes to creating that warm and welcoming holiday atmosphere, there's no better way to do it than with colored LED lighting. Today, we want to discuss high-quality LED lighting solutions for the holiday season and show you how to transform your space into a winter wonderland. So grab a cup of hot cocoa and let's get started!
Front Porch Elegance
First impressions matter, especially during the holiday season, and your front porch is the perfect place to start. DEKOR offers a range of colored LED lighting options that will make your porch the envy of the neighborhood. Consider the DEKOR Colored LED Recessed Down Lights for a soft, inviting glow. These lights are small in size yet provide a lot of light– and are perfect for porches and railings. From classic red and green to frosty blue or amber, you can choose which color best suits the ambiance you're after.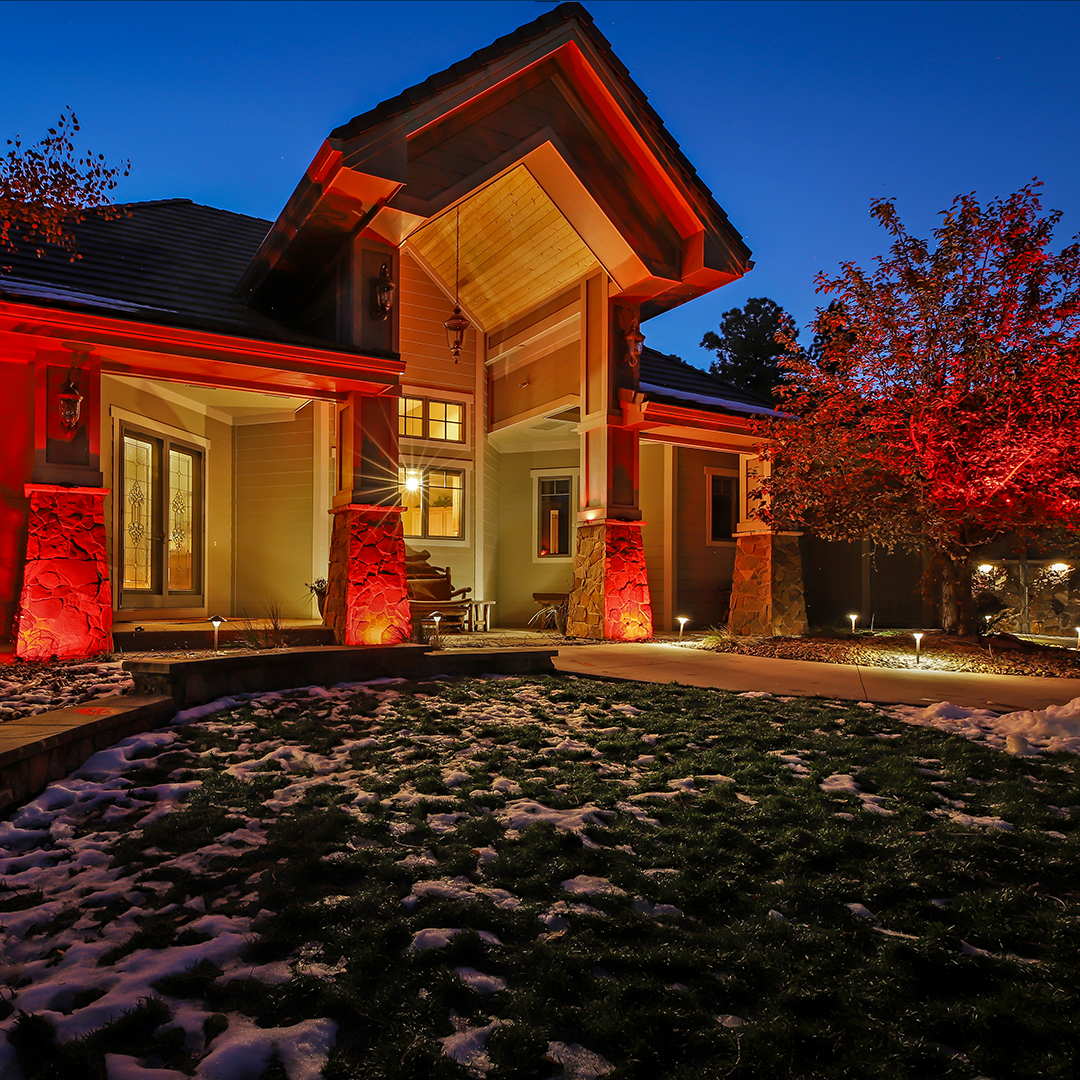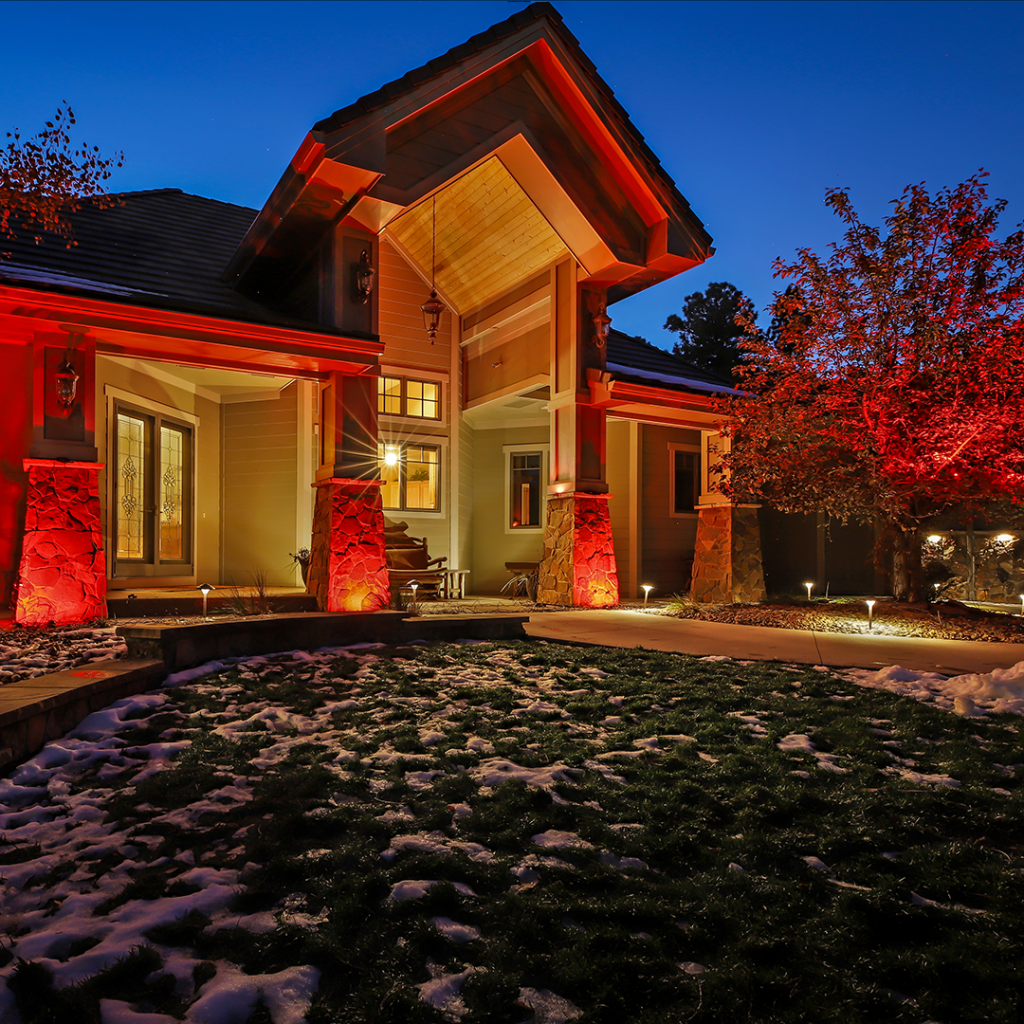 Curb Appeal Magic

To give your home that "Home for the Holidays" charm, don't forget about the outside spaces. DEKOR offers "Puck Colored LED Landscape Lights" that are perfect for illuminating your home's exterior. They can be strategically placed along walkways and architectural features, creating a captivating display that's sure to impress your guests. These lights are durable and designed to withstand the elements, so you can enjoy them for many holiday seasons to come.
A Dazzling Pathway
Nothing sets the holiday mood like a well-lit outdoor space. Consider incorporating DEKOR's "Sidewalk Pathway Light" for a magical entrance. These versatile and stylish pathway lights are designed to not only enhance the aesthetics of your outdoor area during the holidays but also provide safety and guidance to your guests. The sleek and modern design of these lights adds a touch of sophistication to your landscape while emitting a warm, inviting glow. Made with durable materials, they can withstand various weather conditions, ensuring that your pathway remains beautifully illuminated throughout the holiday season.
Festive Foliage
Let's not forget the greenery! DEKOR's "LED Colored Outdoor Driveway Lights" are perfect for lining your walkways or driveway. They're available in four different colors, so you can match them to your overall color scheme. The soft, inviting glow of these lights will guide your guests to your front door and create a whimsical atmosphere. You can even get creative by placing them in planters or among your outdoor holiday decorations.
Magical Mantels
Now, let's head inside for some indoor holiday magic. The mantel is the heart of any home during the holidays, and DEKOR's "Recessed LED Down Lights" are an ideal choice for creating a cozy, warm ambiance. With a range of different finishes, you  can install these LED lights below your mantel to accentuate your holiday décor. They even come in a convenient four pack to ensure you have the perfect amount of illumination to make your holiday space truly enchanting.
Holiday Tablescapes
For an unforgettable holiday dinner, consider adding some twinkling charm to your table settings. DEKOR's "LED Puck Lights" are small, portable lights that can be tucked among your table centerpieces or scattered around the room. These are colored LED lights– no lens or filter– to ensure the truest hue of the color possible. Imagine the delight on your guests' faces as they dine by the soft, colorful glow of your holiday table.
Bedroom Bliss
Extend the holiday spirit to your bedroom with DEKOR's "LED Dek Dots". Though they can be used for many outdoor areas, bring the holiday lighting indoors! These lights can be installed beneath your bed frame, creating a warm and inviting atmosphere that's perfect for winding down during the holiday season. Whether you're enjoying a quiet evening by the fire or reading your favorite holiday book, these lights will add a touch of magic to your space.
Conclusion
There you have it, folks – holiday lighting ideas that are sure to make your home the talk of the town this season. DEKOR's range of colored LED lighting solutions offers endless possibilities for transforming your space into a winter wonderland that any homeowner who appreciates a "Home for the Holidays" curb appeal, would be proud of. So, whether you're decorating your front porch, sprucing up your mantel, or creating a festive dining experience, remember to infuse your home with the warmth and charm of colored LED lights. Happy holidays!