CREE LEDs Branding Partner
DEKOR® has partnered with CREE Inc., the most trusted name in the LED industry to promote the adoption of quality LED Lighting. As a CREE LEDs branding partner, DEKOR will be using CREE's latest LEDs in all its products.
Industry-Leading LED Lighting
With more than 20 years in LED technology, CREE sets the standard by which all other LEDs are measured. CREE leading-edge technology offers:
Superior performance
Superior energy efficiency
High quality
Long life
Super bright light
Mercury-free
A higher L Value ( less "light loss" over time )
A higher CRI or Color Rendering Index than typical LEDs (better color reproduction compared to an ideal or natural light source.)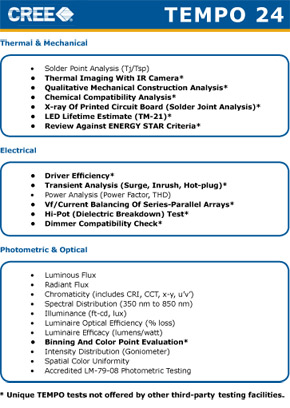 Verified By CREE Tempo 24 Testing
CREE is very selective in allowing companies to use their LEDs and the CREE LEDs brand. To be named a CREE LED Branding partner, DEKOR products were subjected to CREE's rigorous TEMPO 24 (Thermal Electrical Mechanical Photometric Optical) testing. The photometric and performance tests are highly comprehensive, exceed industry standards, and include tests not available elsewhere such as lifetime projection testing. All testing is conducted at the Cree Durham Technology Center, accredited by The National Voluntary Laboratory Accreditation Program (NVLAP). As a CREE LEDs Branding Partner, DEKOR's product quality has been confirmed by CREE so "you don't just hope that it is good, you know it is good". Rely on DEKOR. Robust products. Better value. Peace of mind. DEKOR's LED Under – Cabinet Lights and LED Landscape Lights use CREE LEDs. Effective August 31, 2013, all of DEKOR's new products will use CREE LEDs.