LED Landscape Spotlight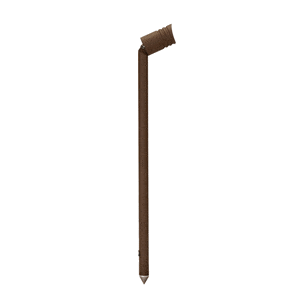 DEKOR® has carved out a niche market of producing products that are small in size but large in ability. The new DEKOR® Spotlight follows that same philosophy. This light is incredibly small for a landscape spotlight. The light's housing measures a mere 1.7" in diameter and is slightly less than 3" in length making it one of the smallest landscape spotlights on the market. One would not expect this small light to produce 300 lumens of light output but it does with ease. What's truly remarkable about this light, is that with all that light output it runs virtually at ambient temperature. No other light can make this bold and true statement. Most Landscape lights that produce this amount of light are very hot to the touch almost to the point of a person being burned by touching it. Not DEKOR®'s spotlight, which results in a very safe and efficient light to operate. Remember, heat is always wasted energy. Less heat, greater effeciency.
CREE XLamp Technology.  We use CREE's latest second generation XLAMP technology which has only been available in recent months. With DEKOR® and CREE's branding partnership we have access to the latest LED technology from what we consider the "best in class" LED innovator. This LED may look like a single LED but is actually a cluster of 82 individual leds on a single chip. Truly, a feat of engineering LED design now housed in DEKOR®'s new Landscape Spotlight.
Full Angular and Rotational Articulation  The light housing can articulate a full 130° about it's pivot point and the housing itself will rotate 45° in both directions further allowing you to put the light where you want it.
Waterproof.  The light is waterproof so rain or sprinkler systems are of no concern. Each light is subjected to a water test to make sure the light is impervious to water as well as an extensive bench testing to make sure the light performs to the highest standards.
Robust Construction.  The Spotlight is made from die cast aluminum components which are powder coated in our own facility and assembled using all stainless steel fasteners. We use a high output lens on the light which intensifies and focuses the light.
Waterproof
Warm white light
Dimmable CREE LEDs
Minimal installation
Direct bury Heavy Duty (HD black) wire lead
Robust construction
Rugged, long lasting, and durable,
backed by our 5 year / 30 year warranty
Made in USA
DEKOR® Lighting features Cree LEDs at a precise 3200 Kelvin. This color temperature strikes the perfect balance of warm and cool, creating an elegant white light that makes any home shine. DEKOR® Lighting uses 3200K Cree LEDs in most of our lighting creations, making our collection comprehensive and unified.