If you're planning a new lighting project for your home, you're probably wondering which types of lights will work best for your space. You may have heard of uplights and downlights, some of the most common, broadly available types of lighting fixtures. But which one is better? We'll walk you through how both uplighting and downlighting work and the best uses for each. 
What is Uplighting?
Uplights are usually installed at the ground level and shine upward. Usually, they are installed to illuminate a specific feature, whether that's a tall tree or an architectural feature of your house. They add a sense of depth to your landscaping at night because they create shadows against the walls and surfaces around your yard. 
Uplights are ideal for areas where you want to emphasize a specific architectural or landscaping feature. Uplighting is usually not the best option for seating areas or lighting walkways. It has a dramatic effect and shines brightly upward, which could create glare in certain situations. 
Types of Uplights
Not every uplight is the same. There are many types of lights that qualify as uplights, including well lights, directional lights, and recessed lights. A light fixture is considered an uplight as long as it is installed near the ground and shines upward to create a focal point, so there is a significant amount of flexibility in the effects you can achieve with these lights. 
Well Lights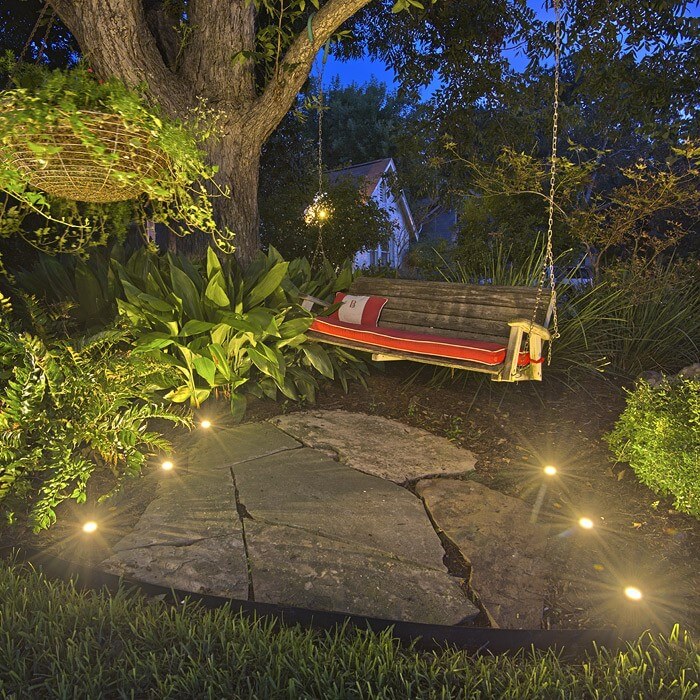 ​​
A well light is a small, puck-like light that can be installed directly on landscaped surfaces like grass, dirt, and gravel. DEKOR®'s Well Landscape Uplight Kit lights up small features and structures, so it's perfect for bushes, flower beds, small trees, retaining walls, and any other short structures you can think of. Well lights are subtle, blend in with their environment, but don't usually cast light very far, so if you are looking to uplight columns on your house or a tall tree, you may want to look at one of our other suggestions. 
Directional Spot Lights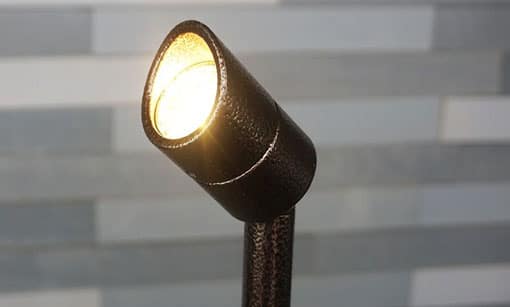 If you're looking for something that will cast light on a tall structure, directional lights may be your go-to. Powerful directional lights can bring architectural features to life, add dimension to tall trees, and light up the beautiful details of your outdoor space at night. For example, the Telescoping Landscape Spotlight Kit from DEKOR® adds warm, natural light to your yard with a telescoping attachment that helps you control the direction of the light.
Recessed Lights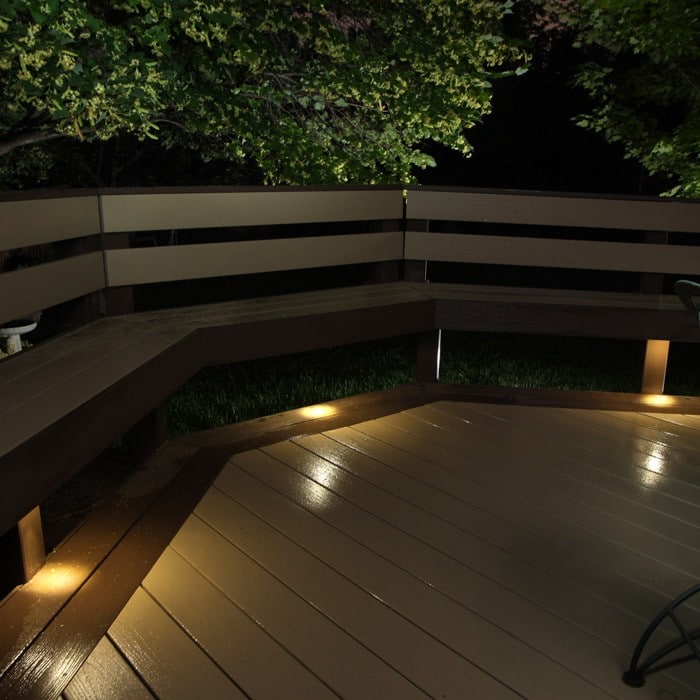 Recessed lights are incredibly versatile. So much so that in this instance, they can be used for either uplighting or downlighting. DEKOR®'s Outdoor Recessed Up/Down Lights are the ideal purchase if you're trying to add some uplights to your deck or patio area. This type of lighting is usually meant to be installed in wood, composite materials, concrete, or stone. They are not meant to be landscape uplights, so keep this in mind when planning your project.   
What is Downlighting?
Downlighting (also sometimes referred to as soffit lighting) shines downward to add visibility to your yard and outdoor living spaces. A downlighting effect is achieved by installing a light at a high vantage point, like in a tree, on a ceiling, or beneath the eaves of your roof. 
Unlike uplighting, downlighting is the ideal type of light to use in social gathering spaces. It also can light up short landscaping features – like flowers, shrubs, etc. – which brings to light the detail in your favorite garden accents. 
Types of Downlighting
A light installed high up will provide landscape lighting for larger spaces. A trendy option for downlighting is called moonlighting: install a light high up in a tree to mimic the natural light of the moon as it casts light on your patio or landscaping. Downlighting can also add security and safety to your yard with directional flood lights and spot lights. 
Recessed Downlights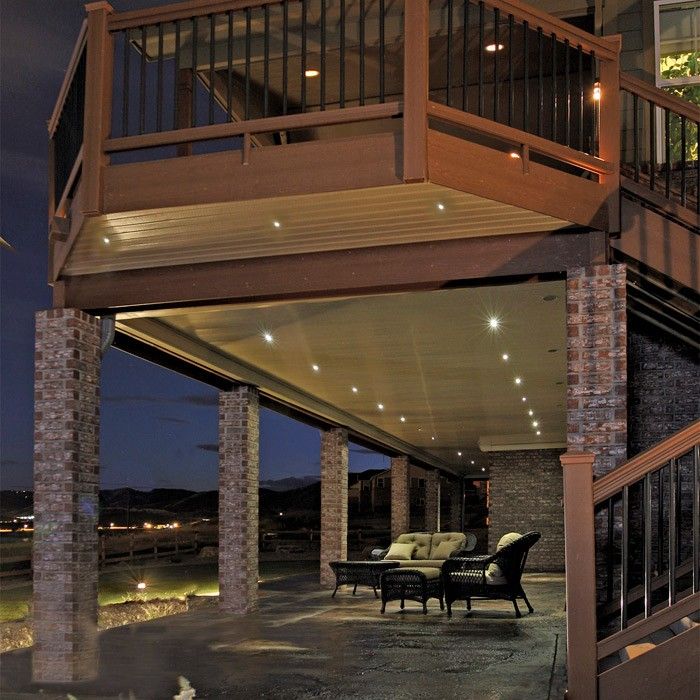 Recessed lights can do anything, from uplighting to downlighting. The only difference is the place where you install the light and the resulting effect. Use the same DEKOR® Outdoor Recessed Up/Down Lights we mentioned in the uplighting section of this article, but install them on the ceiling of an overhang or under the eaves of your roof for warm, comfortable downlighting on your deck, patio, or front porch. 
Flood Lights and Spot Lights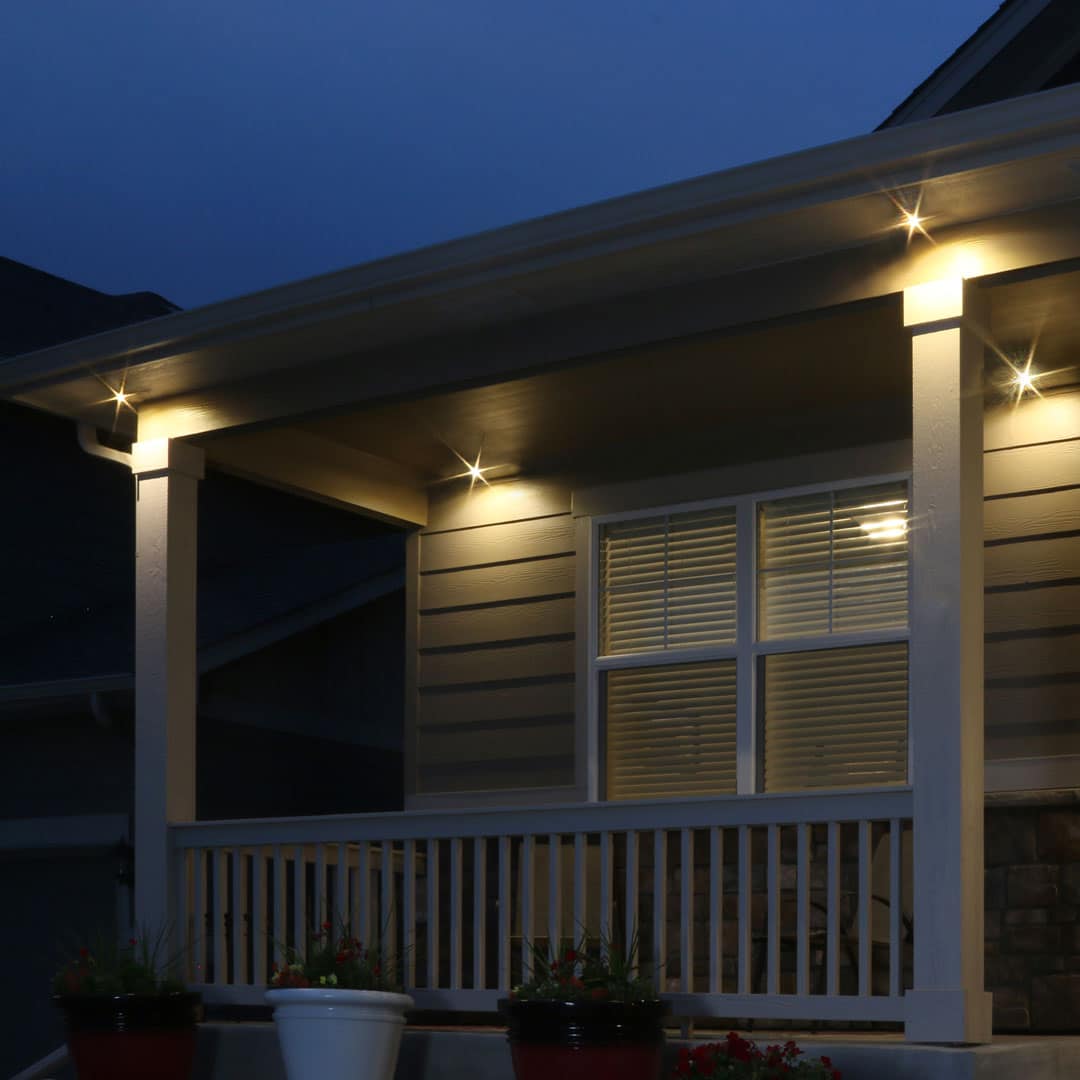 Flood lights shine at a broad angle from above, so they add a soft glow to a wide area outside your home. Spot lights, on the other hand, provide a much more concentrated, narrow stream of light. Both are great options to provide light to the front of your house or dark corners that need illumination. For this type of downlighting, we recommend either the LED Soffit Flood Light Kit or the LED Soffit Spot Light Kit.
Indoor Downlighting
We've been discussing outdoor lighting this whole time, but downlighting is also a common and important type of interior lighting. Most varieties of outdoor downlights are suitable for inside use as well, but the most useful and versatile are the Recessed Down Lights offered by DEKOR®. Very similar to the recessed lights we've already mentioned (but designed for indoor use as well as outdoor), these fixtures are meant to be installed in the ceiling, in cabinets, or in closets. Find more ideas for indoor downlighting here.
Combine Uplights and Downlights for the Ultimate Outdoor Lighting
Hopefully, now that you've read this article, you understand that uplights are not better than downlights (or vice versa). They simply have different uses. You may also be guessing that the best way to light up your property is not with one or the other, but with both uplights and downlights installed in specific areas for strategic exterior lighting. When combined in the same space, uplights and downlights create unique shadow effects that may actually look more natural than just using one or the other because it mimics the ways in which sun and moonlight shine from multiple angles. If you're looking for more downlighting ideas, check out our blog post about the best soffit lighting ideas.