Soffit lighting is one of the most popular ways to light the outside of a house. These lights can be installed into soffits (i.e. any space below an overhang), roofs, eaves, and porch overhangs to create a downlighting effect. Soffit lighting can also be installed inside your home and makes for useful indoor accent lights or under-cabinet lighting. But, in this article, we are going to focus on how soffit lighting fixtures can brighten the exterior of your home, as well as landscaping and other outdoor features.
We put together several outdoor soffit lighting ideas to give you inspiration for your next landscape lighting redesign. You will not need to hire contractors to install any of these lights from DEKORⓇ: they all can be easily installed without professional help.
Flood Lights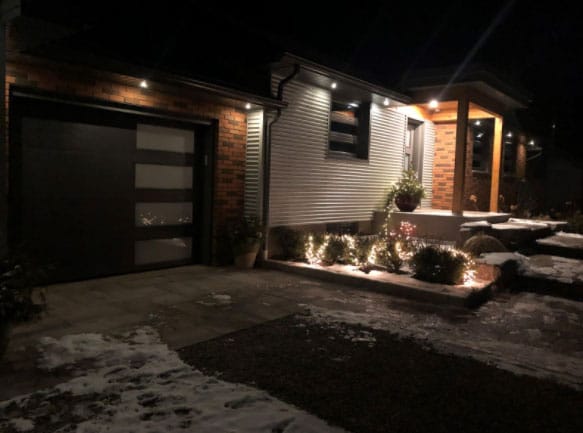 Soffit flood lights are a fantastic option if you want to add security and visibility to your outdoor lighting scheme. They include a 120 degree beam angle, so they light a wide section of your house or yard. These lights are perfect for brightening the front exterior of the house, so visitors can see your house from the street, and so you can keep an eye on the parts of the driveway and yard closest to your house. Soffit flood lights also add ambiance to your yard at night.
Spotlights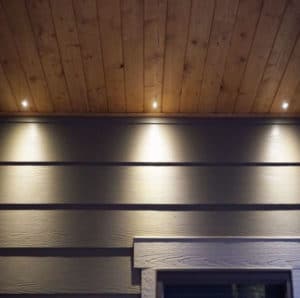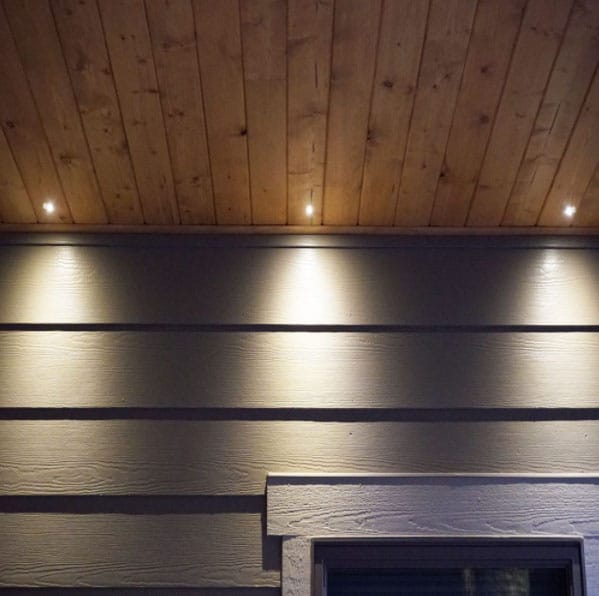 Soffit spot lights are the sister solution to soffit flood lights. They are similar in size, look, and technology, but spot lights have a much tighter beam angle than flood lights: 20-30 degrees. This means there is a narrow band of light illuminating your landscape, house exterior, etc. It also means these exterior soffit lights are powerful white lights that can brighten dark corners or create a clear focal point around the outside of your house. Use them too to bring security to your driveway or the area just outside of your garage. DEKORⓇ sells spot lights in 4 packs or kits with all of the supplies you need to install.
Recessed Soffit Lights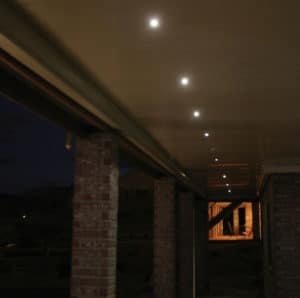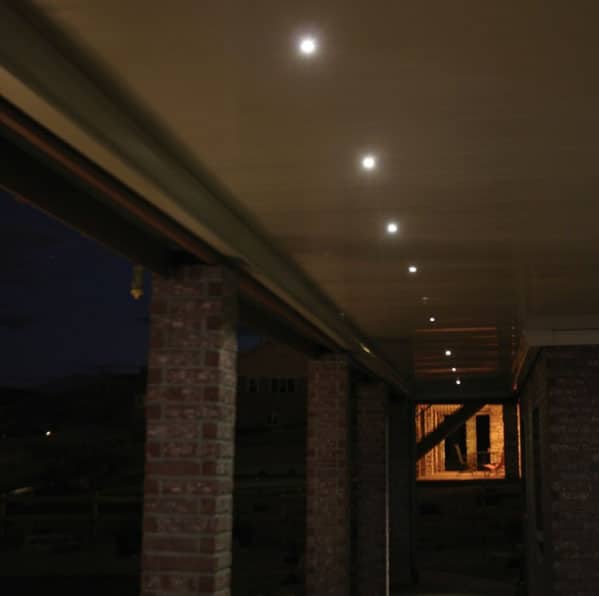 Recessed lights are one of the most popular types of soffit lighting, both for indoor and outdoor use. These lights are perfect for under porch ceilings, deck lighting (if your deck has an overhang), under railings, and more. While still powerful, these ceiling lights are not as direct as the spot light, so they add warm white indirect lighting, perfect for outdoor spaces where you expect people to gather socially at night. DEKORⓇ's recessed soffit lights can be used inside or outside and are some of our best-selling lights.
Colored Soffit Lights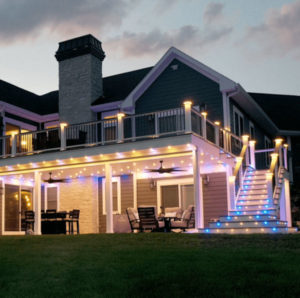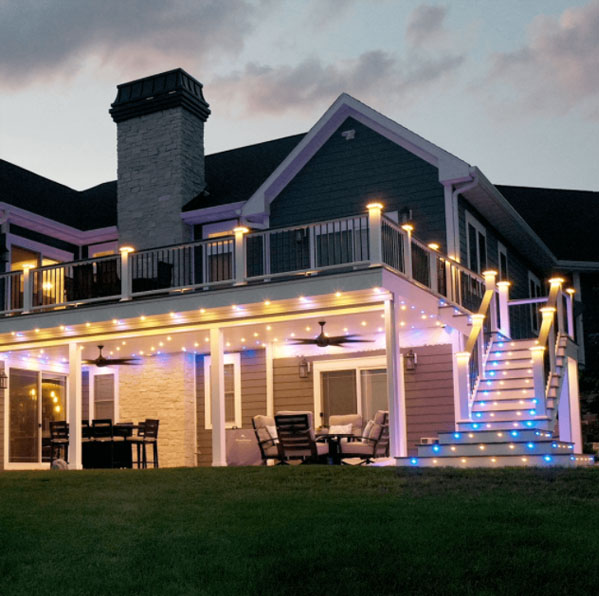 Soffit lights don't just come in classic white. DEKORⓇ offers recessed soffit lights in four additional colors: red, amber, green, and blue. If you're adding new lights to your home, why not spring for colors to create a pattern or draw the eye with visual interest? These colored LEDs have the same capacity to light the exterior of your home as our other soffit lights, but also add some personality to your outdoor light design.
Soffit Lights for Decks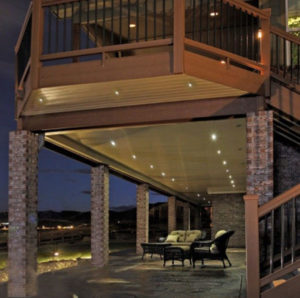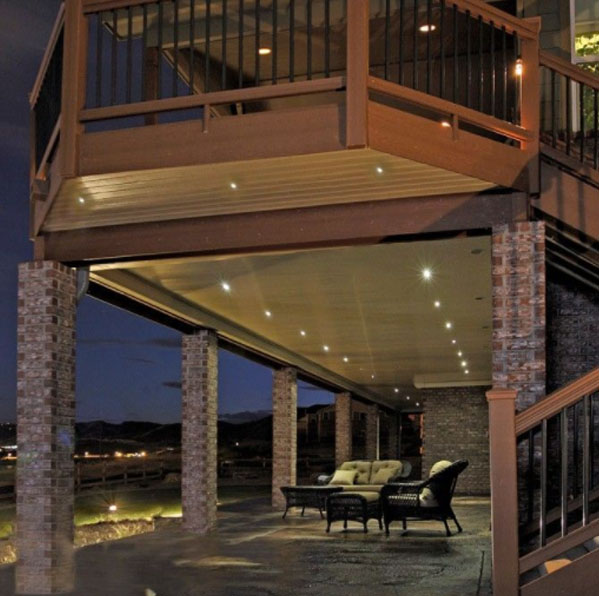 Does your deck have an overhang or ceiling of any kind? Do you have a pergola in your yard? These are both picture perfect options for soffit lighting, especially outdoor recessed lighting. Maybe you have a deck on your second floor and a seating area below. Attach soffit lights to the ceiling and you have subtle, built-in lighting for your seating area. DEKORⓇ uses LED light bulbs that are long-lasting, so once you install your deck lighting, you won't need to worry about replacing it for a long time.
For more deck lighting ideas, see our guide to deck lighting here.
Spotlighting Landscape Features

Exterior soffit lighting can be used to spotlight different features in your yard. Although some features may be better lit by uplighting – like trees – downlighting can bring attention to features that are close to the ground, like flower beds, or features attached to your house's exterior.
Lighting Dark Corners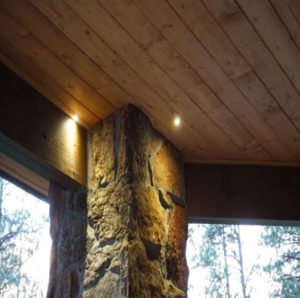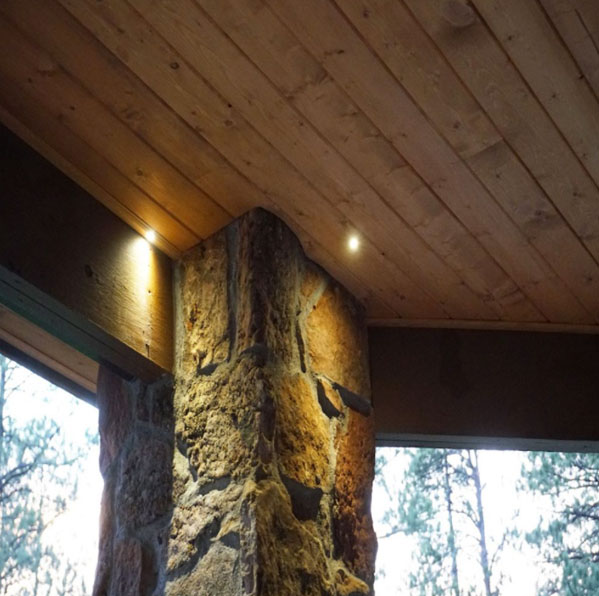 One of the great benefits of installing small light fixtures and lamps with a powerful shine is that you can use them to light up corners of your house that get very dark. Using soffit light fixtures, install lights under the eaves around the whole exterior of your house. With another type of lighting – let's say a larger light fixture or an uplight with limited reach – it is hard to illuminate every area of your house's exterior, especially tight corners.
We recommend using a spotlight kit to add light to every inch of your house's exterior: bright, direct light will illuminate the hard-to-reach corners.
Creating Focal Points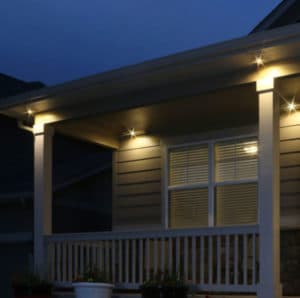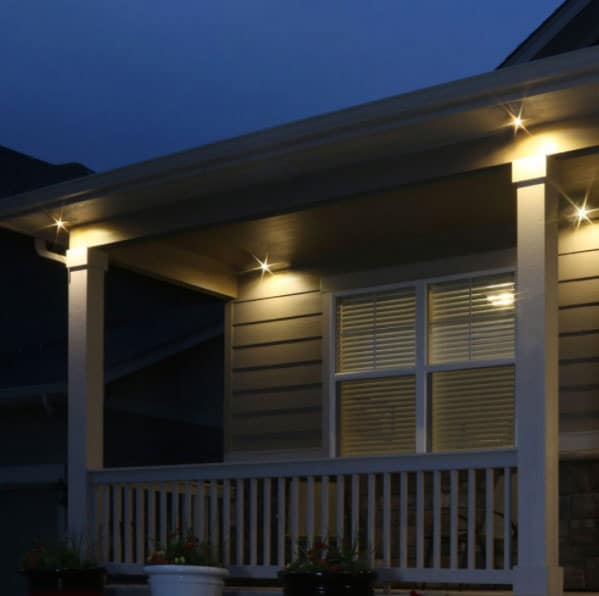 It may be important to create focal points around the exterior of your house and in your yard. Other types of lights can help with this too, but you can plan your soffit lighting so that certain aspects of your exterior are highlighted.
Perhaps you want to draw attention to your driveway and garage. Maybe you have a hot tub under an overhang or a fire pit on the patio. Or, you may want to emphasize your front door and porch so it is clear where visitors should go when they arrive at your house. All of these are possible with soffit lighting – spot lights will do the trick, but you can also achieve this effect with the strategic placement of flood lights or recessed lights. Colored recessed lights too will draw the eye because they add visual interest.
Spruce Up Your Exterior With Soffit Lights From DEKORⓇ
We hope this article helped you find inspiration for your next outdoor lighting project. DEKORⓇ has a wide selection of soffit lighting available – as well as many other exterior and interior lighting options. Our LED lights and accessories are top-quality, long-lasting, and easy to install. Browse our soffit lighting offerings here.