20 Ways to Light Up Your Outdoor Deck
Your deck provides an amazing opportunity to make the most of the great outdoors — but how often do you actually take advantage of it? If you regard this as an exclusively daytime setting, you could be missing out on a lot of fun. Why not enjoy your beloved outdoor living space after sunset?
A few simple outdoor deck lighting solutions could be all that stands in the way of evening or nighttime hangouts. Proper illumination will make your deck easier and safer to navigate, while also creating additional ambiance.
Deck Lighting Ideas
There are many options for lighting your deck. From subtle recessed solutions to statement fixtures that instantly draw the eye, a variety of approaches allow you to personalize your space as you see fit.
Many of the best decking light options are DIY and can be completed at minimal cost. A creative idea and the proper products could be all that it takes to get started. This is one of the easier home improvement projects you can pursue.
Not sure where to begin? Check out these outdoor lighting ideas for inspiration:
Recessed Lights Throughout the Floors
With floor-based solutions, lights go beyond aesthetic considerations to also serve a functional purpose. Carefully integrated recessed fixtures throughout the floor makes it easier for people to navigate this setting without detracting from the unique nighttime ambiance that only a dim location can provide. These work wonderfully for floating decks, where options for lighting may otherwise be limited.
Stair Lighting for Each Step
Stair lights are also highly practical for making decks accessible after dark. Recessed options can be embedded within wood, concrete, and other types of deck stairs to light the way as people ascend or descend. These can be added beneath handrails for a unique look, or placed to your liking.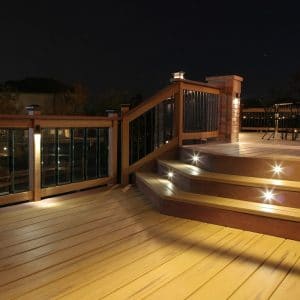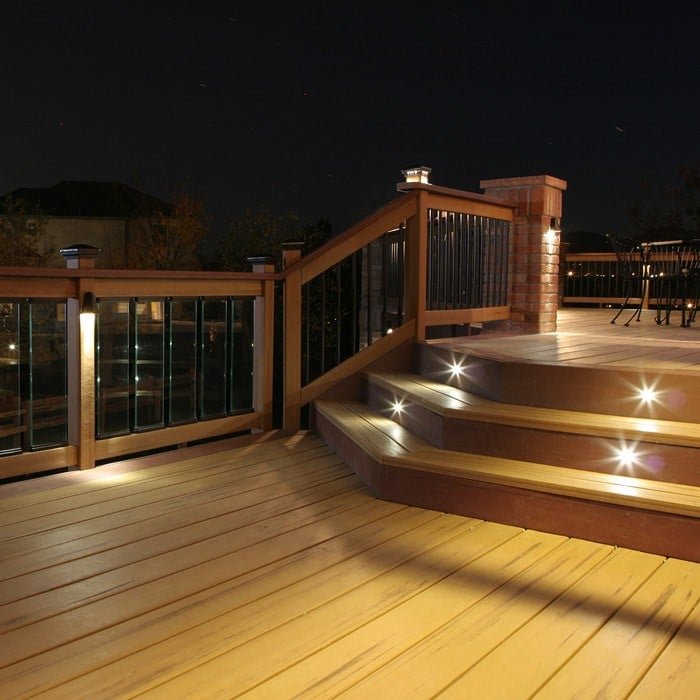 Rope Lights on a Pergola or Deck Overhang
During the day, your pergola blocks out sun to make your deck a more pleasant environment. It can be just as useful at night if you add rope lights. Sleek and subtle, this option adds contemporary vibes.
Retaining Wall Lights
If you have a retaining wall near your deck, lights can add an appealing sense of dimension. While hardscape lights are far easier to install during the initial construction process, they can sometimes be added after the fact. Keep them in mind if you're planning on overhauling your outdoor living area.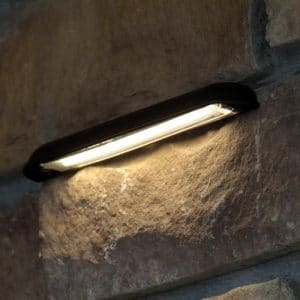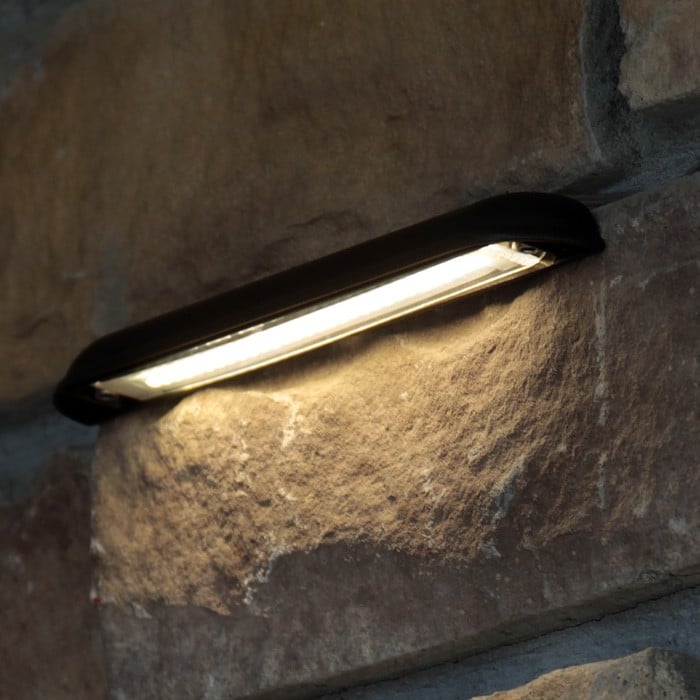 Lined Deck Perimeter
If you prefer a simple and straightforward approach to deck lighting, you can line the entire perimeter. This will lend a lovely glow to the entire space, as well as plenty of definition.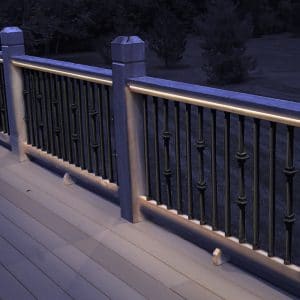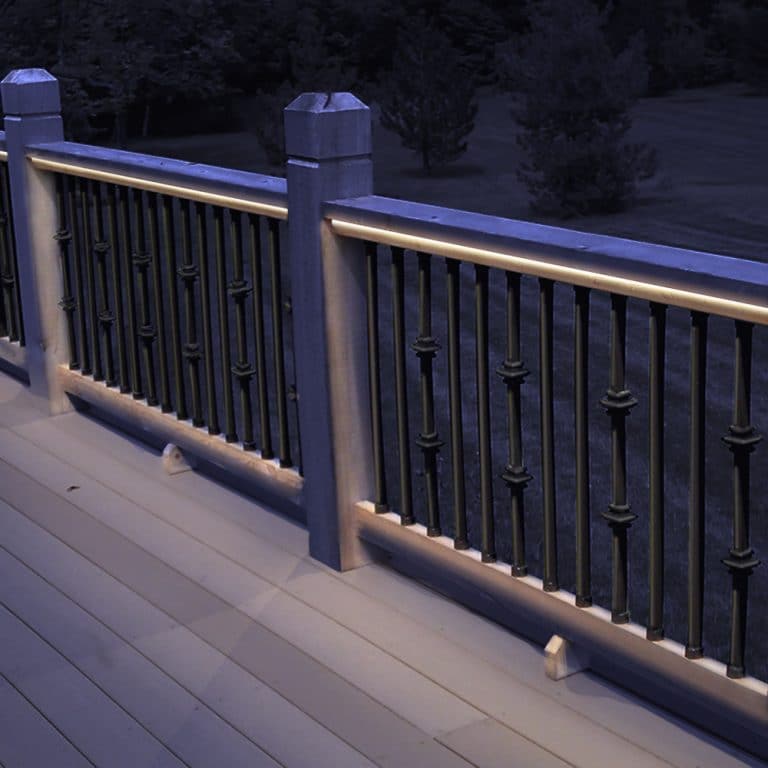 Lighting for Grill and Dining Areas
If your deck largely serves as an outdoor food prep and dining space, you'll want plenty of light to ensure the perfect nighttime meal. The rope option referenced above works wonderfully when your outdoor kitchen features an overhang, but wall and under-counter options are also excellent choices.
Strip Lighting for the Bar
Perhaps your deck includes a bar, where you and your loved ones can gather for a nightcap. Level up the ambiance with strip lighting, which can be added below the bar to create a unique sense of atmosphere.
Lighted Post Caps
Add a little twinkle to your deck with LED post cap lighting. These weather-proof, durable caps provide the protection you need, along with a low-key source of shine. They are also surprisingly versatile, bringing a great opportunity for adding personality to your deck.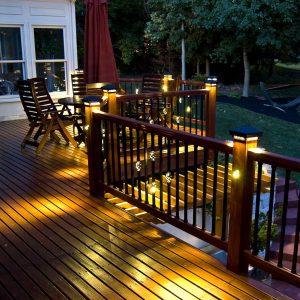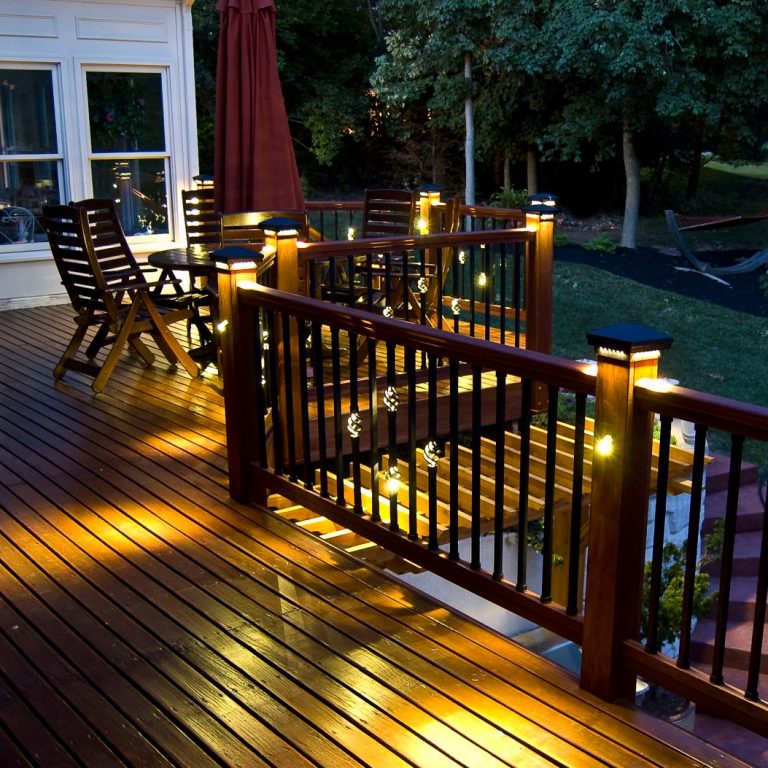 Different Colors for LED Lighting
Add a festive feel to your deck by swapping your standard white bulbs for colorful LED lights. These are great for outdoor parties but can also make quiet evenings outside more enjoyable. Recessed and paver options are especially well-suited to color variations.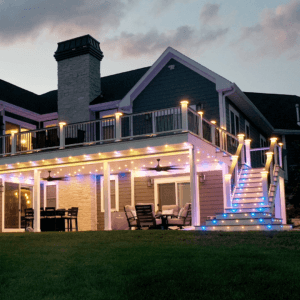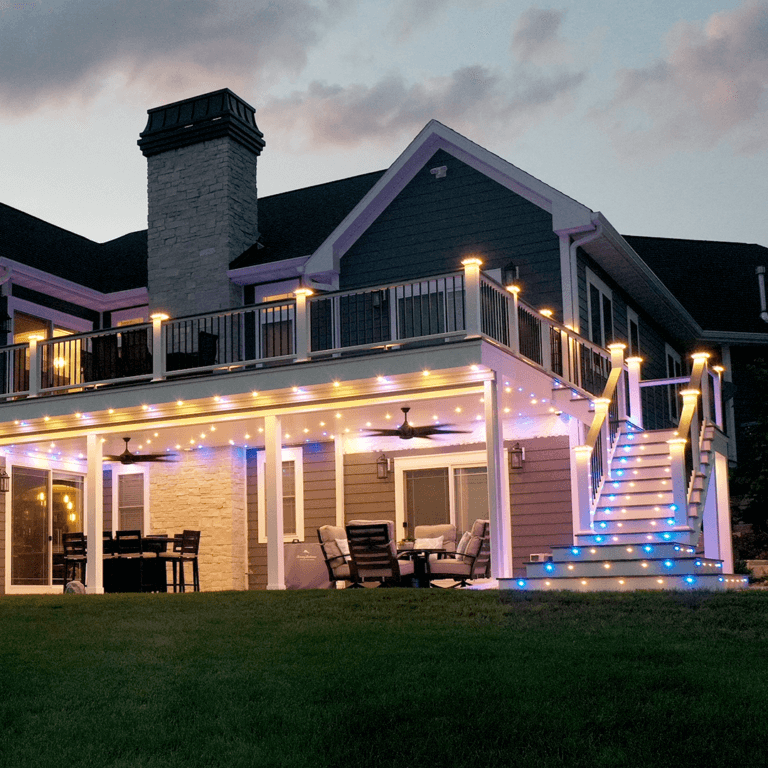 Recessed Soffit Downlighting
The space underneath your deck warrants consideration — especially if it includes a second seating area. Enter recessed soffit downlighting, which causes the lamp to cast light directly down. This option could also be considered if your deck features overhead protection.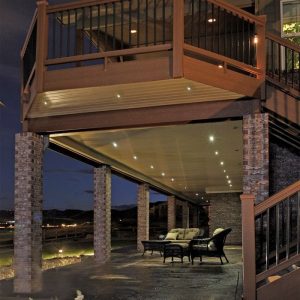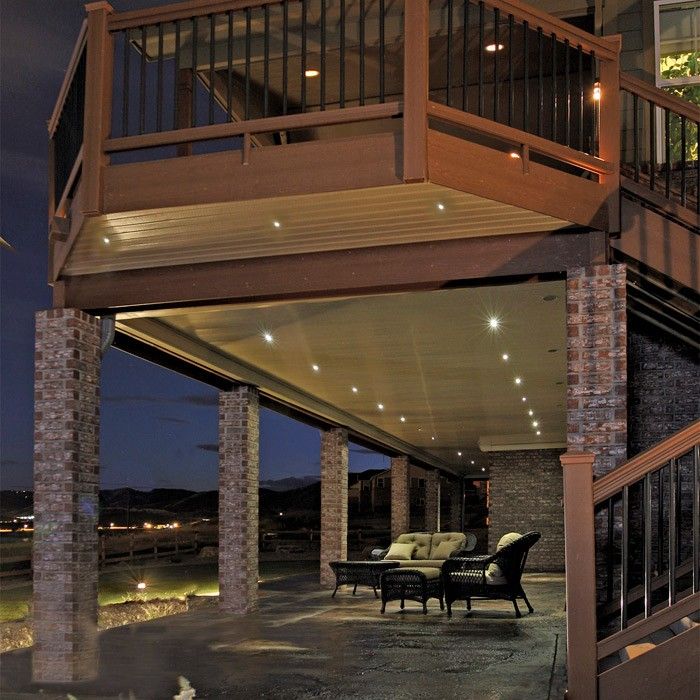 Soffit Flood Light
One of the most commonly utilized forms of outdoor illumination, flood lights provide enhanced security for outdoor areas. This type can also promote safe footing as loved ones and guests approach your deck. Their 120° beam angle casts plenty of shine where it's needed. Soffit spotlights can also be added to deliver visibility to hidden corners.
Highlight Nearby Landscaping
Are you proud of your garden or the general landscaping in your backyard? Trees, shrubs, and flowers are easy to show off during the day, but this becomes more complicated after dark. Light fixtures can be incorporated near the base of your deck to highlight nearby landscaping features.
Additionally, lights located near plants situated further away will provide a lovely view from afar. Many products are specifically designed for landscape, so you should have no trouble finding something that shows off your space.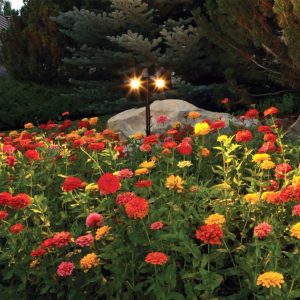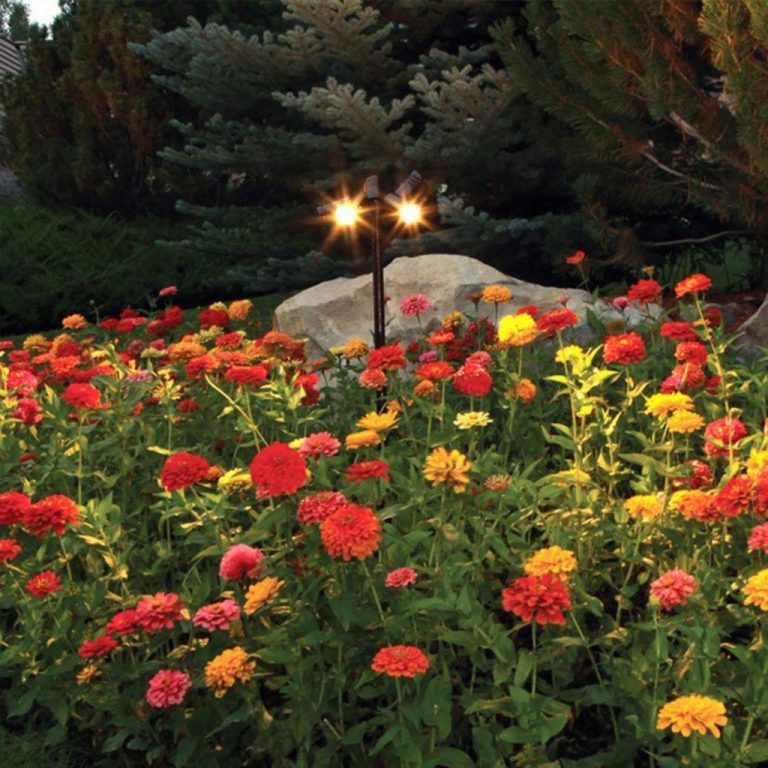 Balusters
While the primary function of balusters involves safety and support, they also make for a great lighting opportunity. For a stunning source of light, choose balusters with built-in baskets, where LEDs can easily be installed. Single and double-basket configurations are available for extra versatility.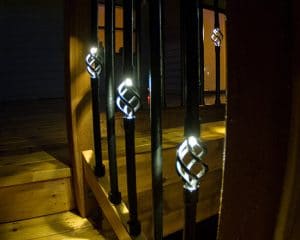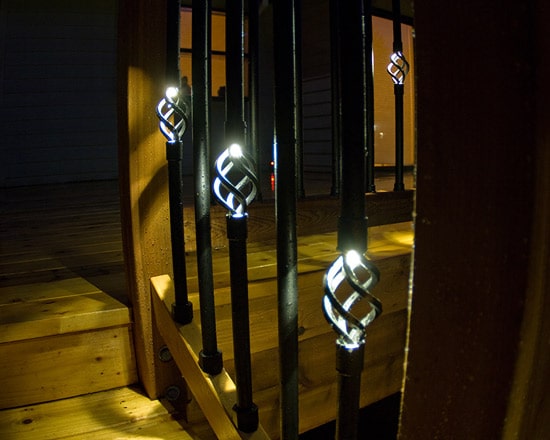 LEDs Embedded in Aluminum Railing Panels
Whether combined with balusters or used on their own, aluminum railing panels can instantly bring a refined look to your deck. They're even more impressive when LEDs are incorporated.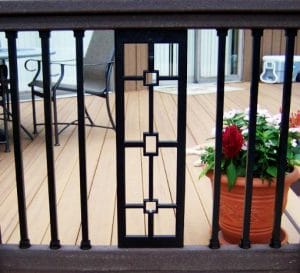 Etched Glass Railing Panels
Add an element of artistry to your deck with etched glass railing panels, which can incorporate a personalized monogram or other design. LED bars can be added to make these etchings not only visible, but downright breathtaking at night.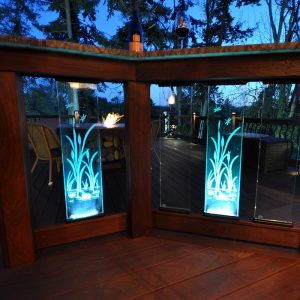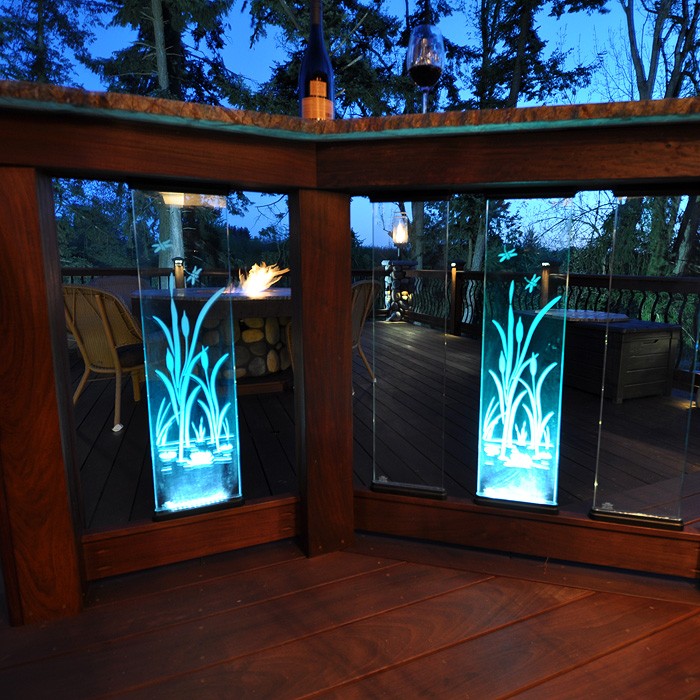 Rope Lights Around the Deck Railing
Another great solution for your deck's railing, rope lights are a highly efficient and practical solution for bringing illumination to your entire deck. This approach may be simple, but it works wonders for adding style and visibility to your outdoor space.
Accent a Centerpiece
Does your deck feature any noteworthy elements such as sculptures or plants? Why not show them off? Accent lighting helps direct the eye towards centerpieces, which makes them stand out while also bringing a cohesive feel to the entire deck.
Showcase the Pool
What centerpiece could be more impressive or inviting than your pool? If your deck was primarily installed as a means of enjoying the pool, there's no need to limit the fun or the beauty to the day. Whether functional or aesthetic-oriented, pool lighting encourages you to have fun in or near the pool after the sun goes down.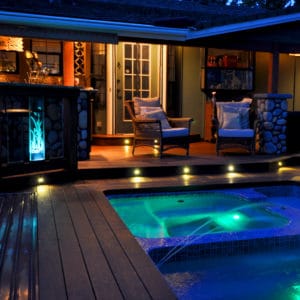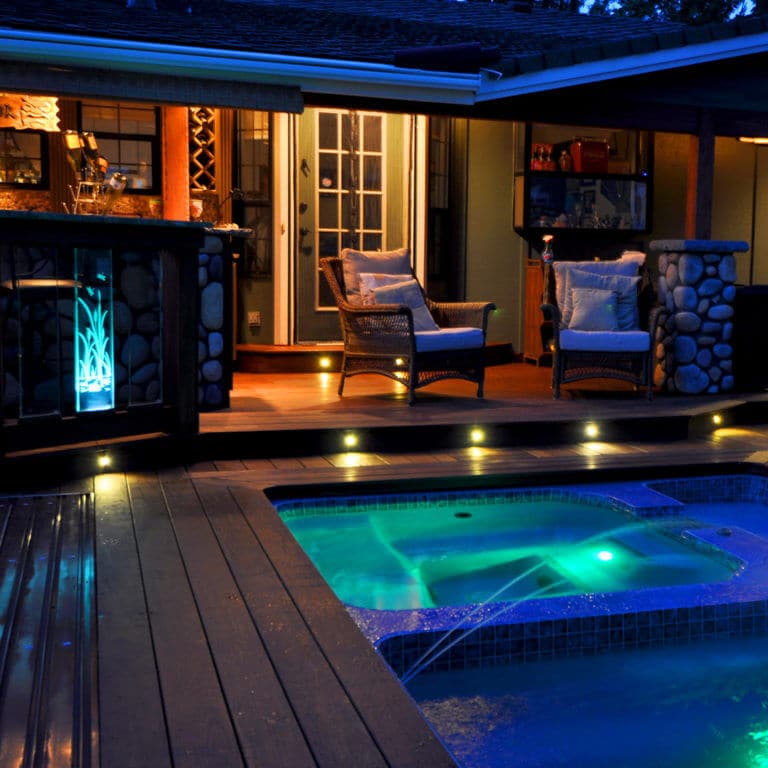 Surround the Deck Fire Pit
You'll love the soft glow that a deck-based fire pit or fireplace provides, but proper illumination is also essential for safety. Floor lights can be great for this purpose.
Create Your Own Space
Morning, noon, and night, deck lighting allows you to adapt your space as you see fit. This is your opportunity to accent the areas you love most, while also making your deck as safe and secure as possible. No one solution is ideal in every situation; the best approach is to create a plan that will fit your unique preferences.
We're pleased to provide a variety of low voltage LED deck lighting options at DEKOR. Contact us today to learn how our solutions can level up your next outdoor project.