8 Pergola Lighting Ideas to Decorate Your Outdoor Space
Few outdoor features blend beauty and functionality quite like a pergola. These vertical pillars provide support for cross-beams, which, in turn, deliver shade during the day. A pergola brings a sense of purpose to an outdoor area, providing a focal point to show where, exactly, people should hang out. Lighting allows your pergola to better fulfill these functions whenever you need it — day or night.
Why Light Up Your Pergola?
During the day, your pergola provides a much-needed break from direct sunlight. This added shade allows you to make better use of outdoor space that you might otherwise neglect for fear of sunburn. If your pergola is not lit, however, you may not be able to use that outdoor space at night.
At a minimum, pergola lights serve a functional purpose: making it possible to navigate your outdoor living area when the sun goes down. But safety must also be considered. Without proper lighting, the risk of injury can be considerable — even in spaces that appear to have few obstructions.
Pergola lighting can also boost the appearance of your deck or patio. The best patio lighting draws attention to your preferred aesthetic, regardless of whether you like contemporary, rustic, or elegant design. Depending on where your pergola is situated, your lights can also show off your garden or landscaping features.
Pergola Lighting Ideas & Design Options
Pergola lights can be dim, colorful, or housed within bold fixtures. With so many excellent choices, however, it can be difficult to know where to start. In this guide, we'll define today's top options and help you choose the ideal pergola lights for your space.
Whether you prefer a sleek, contemporary look or something a bit more laid-back, you'll quickly fall in love with at least one of the outdoor lighting ideas highlighted below: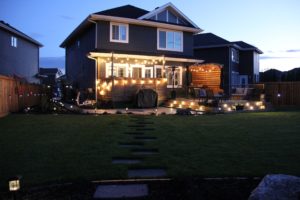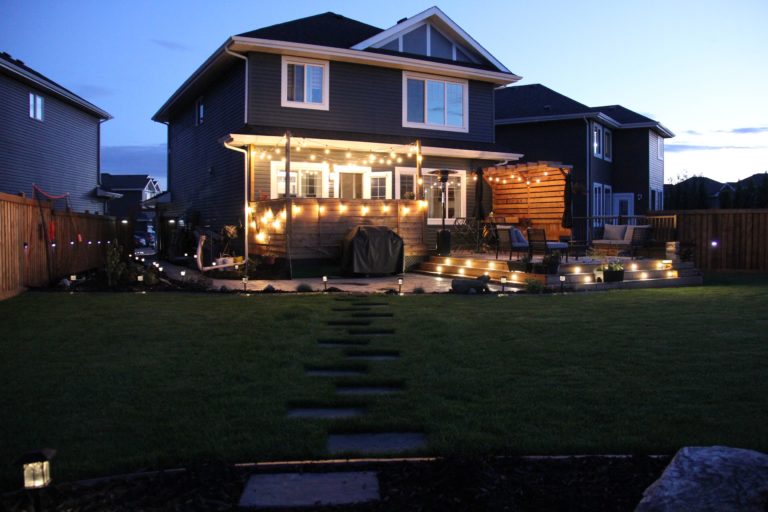 Outdoor String Lights
As one of the most popular options for today's pergolas, string lights are easy to hang. They instantly create a warm, festive atmosphere. These lights are far more varied than many people realize. Favorite options include:
Fairy.When you think of string lights, chances are, you imagine classic fairy lights. These serve more of a decorative function than a practical one, so they're best used in areas that already have other sources of lighting available. These lovely lights add a cheerful twinkle to make any deck or patio feel cozy.
IcicleOften used for holiday parties, icicle lights hang down in short, vertical strings. These, in turn, are attached to a longer, horizontally-oriented string. While many people prefer to use icicle lights as accents along rooflines, they can also work nicely with pergolas and elsewhere in a deck or patio environment.
Light Fixtures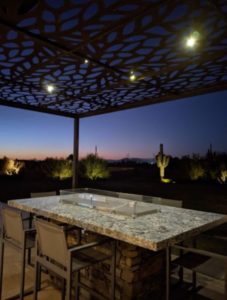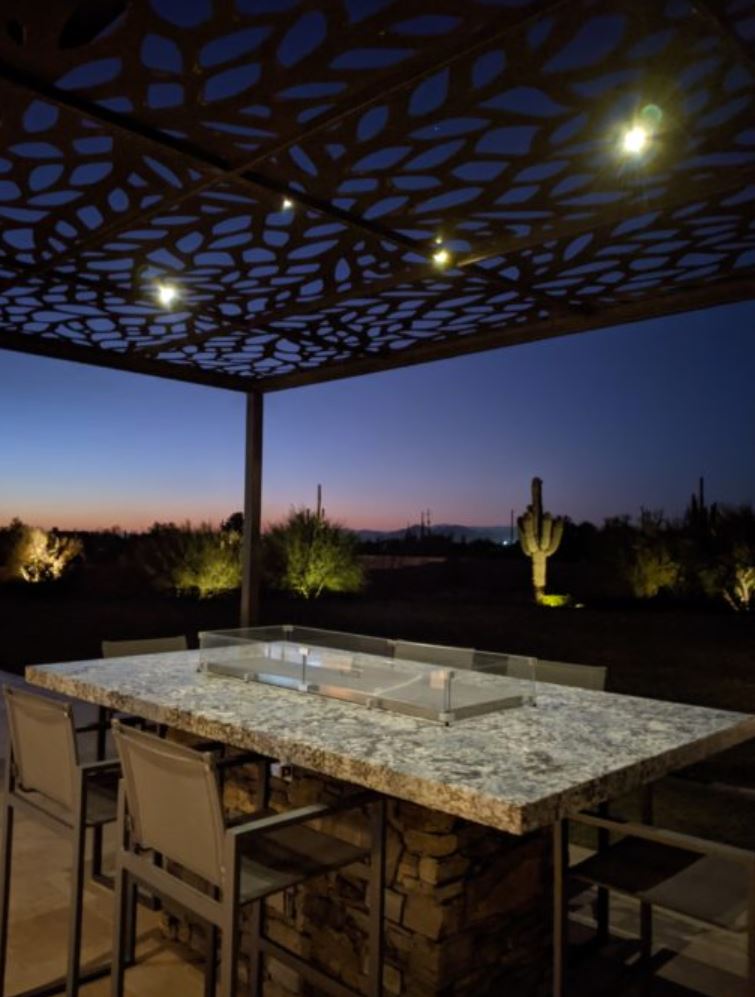 If you prefer to spend time in a well-lit area, you'll need more luminosity than most string lights can provide. Therein lies the value of mounted lighting fixtures, such as soffit LED floodlights. Delivering a cascading effect that forces guests to take notice, these lights provide a beautiful glow. They also serve a practical purpose: bringing visibility to corners that might otherwise be out of reach after the sun goes down.
Empyrean. Situated in an L-shaped housing, these flush-mount pergola lights are sometimes referred to as the "lights from above." They are among the most effective options for pergolas because they are specifically designed for overhead structures. Inconspicuous during the day, these are among the most effective solutions for avoiding tangles and other issues that sometimes accompany string lighting systems.
Remote Control. You may want remote control options for your backyard lights, so you can turn them on from anywhere and don't have to worry about finding a switch in the dark. DEKOR offers the DEKORKONNECT Wifi Light Controller, which allows you to program your lights the way you'd like and turn them on from your phone.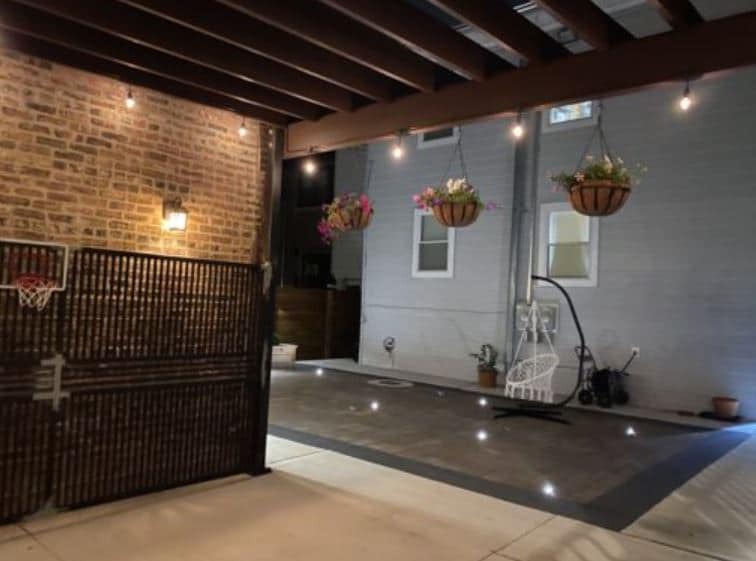 Hanging Lights
The terms 'hanging' and 'string' are often confused when applied to outdoor lighting. These approaches hold much in common, and, technically, string lights are hanging lights. That being said, not all hanging lights qualify as string lights. Essentially, hanging lights are any fixture suspended from your pergola.
For an enhanced effect, try colorful hanging lights, which go beyond a conventional soft glow to bring your favorite hues to your deck or patio. Keep in mind that most hanging lights you select will be visible during the day, so you should love their appearance regardless of whether or not they're lit at any given point in time.
Decorative Lights: Mason Jars & Paper Lanterns
On the hunt for a rustic chic look that will add instant visual interest to your pergola? Mason jars should give your favorite outdoor areas a memorable look, adding flair in a delightfully low-key manner. These lights used are typically LED lights, which provide long-lasting, bright light. Colorful Mason jar lights further defy expectations by bringing bold and bright hues to your outdoor patio.
Paper lanterns add unique style to your outdoor living space – either strung up in a row like fairy lights or hung individually around your pergola. Just keep in mind that both of these lighting solutions prioritize style over safety: mason jar lights and paper lanterns alone are likely not enough to illuminate your full outdoor space.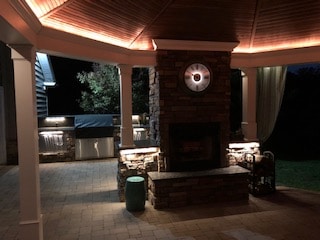 Strip Lights
From a distance, strip lights resemble the effect of string lights. They offer many benefits above and beyond other lighting solutions, however, as they can be cut to preferred lengths and customized based on the specifics of the environment in which they're used. They can take multiple forms, such as:
NOSEEEM. These LED strip lights are ideal when you want a discreet, subtle option for illuminating the space beneath your pergola. Other perks include waterproof construction and robust strength, which allow these lights to stand up to the elements.
Infinite Lights.

Named for the infinite opportunities they provide,

infinite LED strip lights

are thin and flexible. While they are sold individually, they can be attached as needed to create custom strips of lights. Silicone casing means that a variety of surfaces can accommodate these lights. 

Rope.

While these lights look spectacular when attached beneath deck rails, they're also a perfect fit for

pergolas

.  They can bring the perfect sense of

ambiance

to an

outdoor dining room

.

Rope lights

are flexible enough to deliver steady output near curves and angles. If you want a steady, unbroken string of light for a contemporary space, rope lights may be your preferred solution.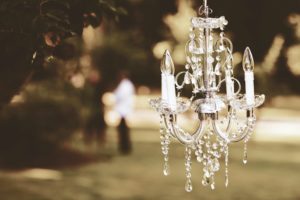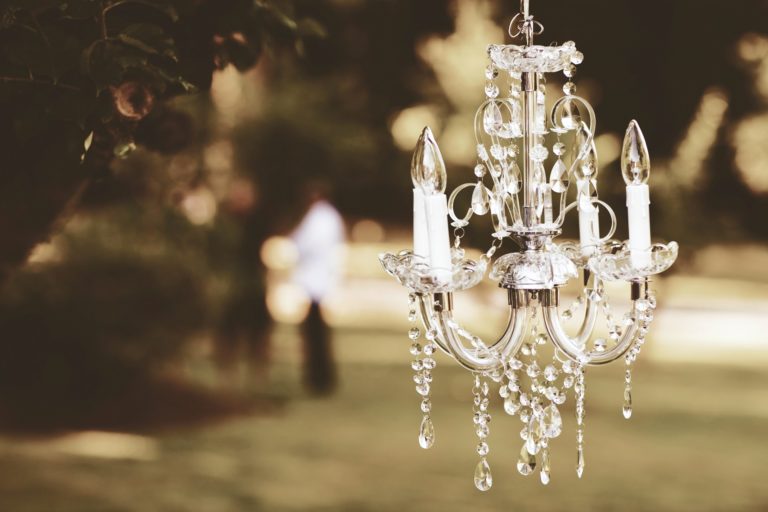 Chandeliers
Nothing classes up a room quite like a sophisticated chandelier. This is true regardless of whether gorgeous chandeliers are suspended from inside ceilings or outdoor pergolas. Depending on their design, they can bring elegance or quirky vibes to your pergola. They also offer varying levels of light. To make a statement, try these kinds of chandeliers:
Drum Lights.

This modern style does wonders when incorporated into minimalist designs. As pendant lights, they are hung from chains or stems. The term 'drum' derives from the shape of the shade.

Glass.

Play up the luxury outside with a glass

chandelier

. These are inherently elegant, but can also be risky outside — so be sure to stick with the most durable models available.

Mini.

Small

pergolas

can quickly be overwhelmed by excessively large

chandeliers

. If you want the effect of a

chandelier

without overdoing it, try a mini design instead. This provides all the aesthetic appeal of a conventional

chandelier

but also leaves room for other decor or

lighting solutions

.
Lights in the Floor
Your deck or patio area covered by the pergola doesn't just have to be lit from above. Especially if you want soft, decorative lighting around the overhang of your pergola, but you don't want to compromise the safety, recessed lighting in the ground can be an effective solution.
DEKOR's Dek Dots are the ideal outdoor recessed lighting for any deck, patio, or pergola area. They are designed to be walked on, waterproof, and easy to install. The light bulbs are also dimmable, so it's still possible to set the mood and adjust the brightness of your lights.
Stair Lights
Some pergola areas are accessible by stairs, especially if the pergola structure covers a portion of your deck or patio. If this is true, you'll need to make sure that those stairs are included in your pergola lighting design plans. In fact, stairs are potentially the most important part of your outdoor area to light up from a safety perspective.
DEKOR offers a range of stair lights specifically designed for outdoor use, but for pergolas, we recommend an outdoor recessed stair light with faceplates. The faceplates add some design and personality to your stair lighting: you can choose your faceplate design from 8 options and the color of the faceplate from 3 different options. Make your stair lighting dramatic or subtle, according to your taste.
Transform Your Pergola With DEKOR
Why let a sophisticated pergola go to waste after sunset? When you apply the best lighting solutions from DEKOR, your outdoor room becomes far more functional and attractive after hours. This is one of the easiest home improvement options imaginable, so don't hesitate to get in DIY mode as you add the lighting styles highlighted above to your deck or patio. Contact us today to learn more about our products — and to discover which lighting options are best capable of leveling up your pergola.