No garden is complete without outdoor lighting. Garden lights can be used both for safety purposes – to illuminate walkways through your garden at night – and to highlight your favorite flower beds, water features, and trees. Plus, garden lighting creates an ambiance that brings personality to your yard. You likely spend time and money making sure your garden is well-kept and cared for: why not do the same for your garden lighting?
We've put together some of our favorite garden lighting ideas, along with recommendations for DEKOR's own garden lights. We hope these suggestions inspire a new look for your outdoor space.
Landscape Spotlights
If you're looking for a way to highlight specific features or bring bright lights to your garden, spotlights are the best place to start. While some spotlights look small, they are not like dainty fairy lights or string lights. No, they instead function as a focal point for your garden, lighting a specific feature. They can even work as discreet security lights or floodlights if you want to add more visibility to your yard.
Spotlights are utilitarian, but DEKOR's offerings are subtle and sleek. We offer several different types of spotlights, so you can choose which one works best for you: the Telescoping LED Landscape Spotlight or the High Output LED Landscape Spotlight.
Uplights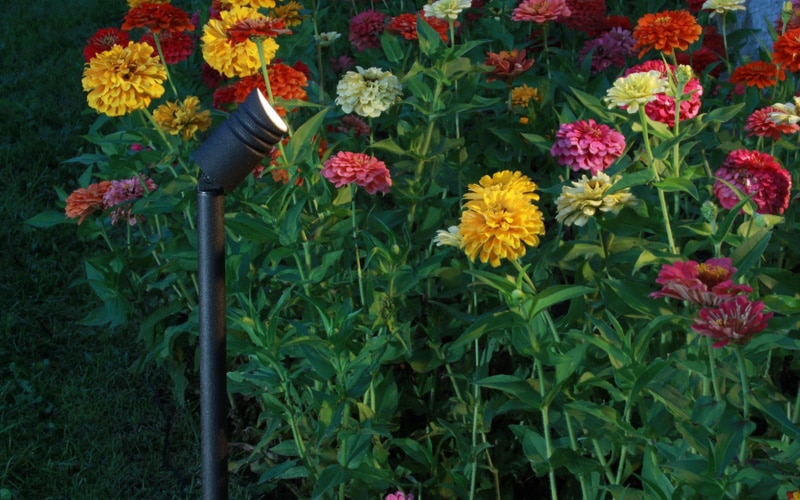 Uplighting simply means lights that are directed upward to highlight a specific feature, like a tree or even the exterior of your house. Uplights can be bright lights, meant to draw attention to a specific part of your yard, but they can also be softer lights to add ambiance. If you want, you can even add festive colored uplighting to your garden, perfect for the holidays (or year-round, if you're so inclined).
Many of DEKOR's garden lights are uplights. Some of our most popular include our Well Uplights and our Puck Uplights, both small lights that can be positioned on any yard surface to provide a minimalist lighting feature for your garden.
Multipurpose Garden Lights
Some lights do it all: give your garden dimension and depth and swivel so you can change the light's focus. When you're putting together outdoor lighting ideas, it's always useful to build in options that you can use in different ways, depending on how your garden looks from season to season (or year to year).
DEKOR's multipurpose garden lights are the perfect illumination solution. The Radiance Directional Landscape Light and the Ginny Landscape Light both swivel 180 degrees and allow for their own unique positioning options to bring light exactly where you want it in your garden space.
Garden Path Lights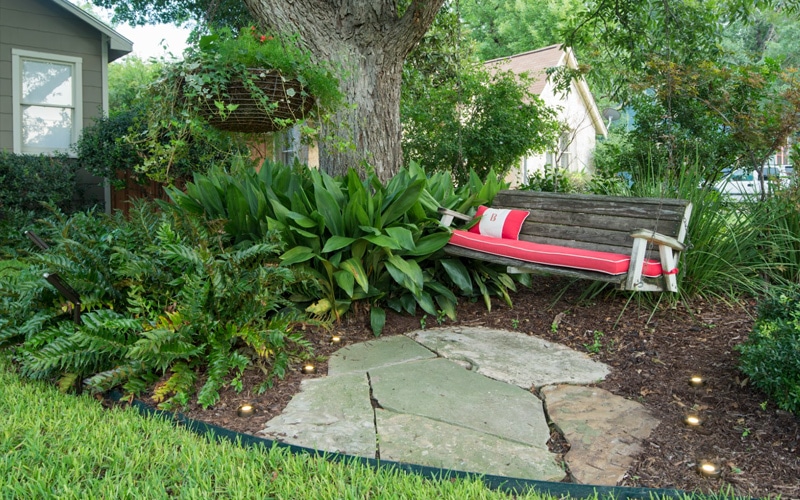 Path lighting is a critical safety feature in your garden if you have a sidewalk or path running through your backyard: it angles downward so the path is visible to people walking on it at night. But, you don't have to choose these lights with only safety in mind. Path lights come in a variety of styles, so they are a great way to dress up the design of your outdoor lighting.
DEKOR offers several different path lighting options, but one of our favorites for gardens is the Sidewalk Pathway Light. The color temperature for this light is the perfect balance between warm and cool, illuminating your path with an inviting glow.
If you want to learn more about pathway and driveway lighting, check out our blog post about the best path lighting ideas.
Outdoor Recessed Lighting
You probably usually think of recessed lighting as an indoor feature, but there are outdoor options for recessed lighting as well that can look quite attractive as part of your landscaping. Some outdoor recessed lights will need to be mounted as wall lights or hardscape lighting, but it's possible to nestle small puck lights in pebbles or stones for a recessed or flush-mounted look.
DEKOR's Puck LED lights easily create the appearance of recessed lighting and highlight key features in your garden.
Colorful LEDs
Are you bored with traditional outdoor lighting? Do you want a more festive lighting scheme for holidays (or year-round)? Then add some color to your garden lighting features! These are not your traditional holiday string lights: these are fixtures in your yard that are easy to install – so you can put them in place or move them without fuss – but can be permanent if so desired.
DEKOR offers Puck Landscape Lights and Well Landscape Lights with colored LEDs in red, amber, blue, and green. Use them to bring your favorite colors to your garden, and cast light on trees, flower arrangements, your house, or any of the other features you would normally highlight with outdoor lighting.
Tree Lighting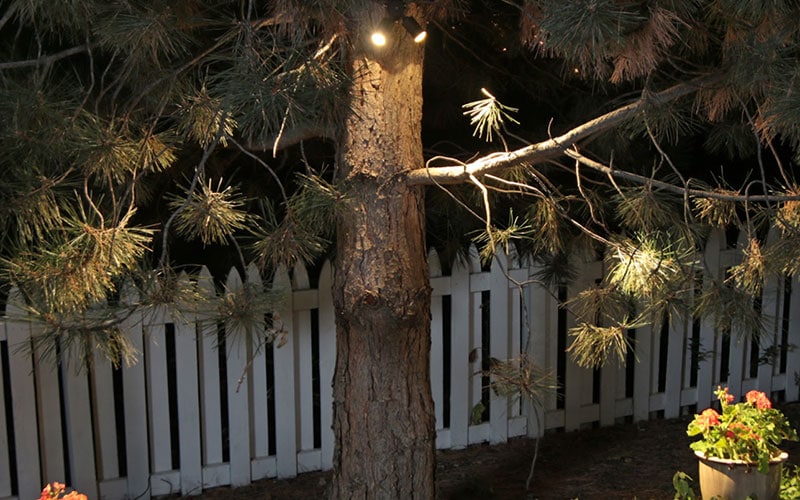 Tree lighting is the pinnacle of garden lighting. If tall trees are a central part of your garden, surely you'll want to illuminate them in the dark. Spotlights and uplights can do this just fine, as we've already discussed, but sometimes you have multiple trees or features in one area that require a powerful, multi-directional fixture to properly light up. Gang lights are perfect for this: they have multiple independent spotlight fixtures, so lighting two, there, or even more trees in one area becomes easy.
DEKOR has several tree gang lighting offerings, including our Spot Gang 2 LED Landscape Spotlight Fixture, the Spot Gang 3 Fixture Landscape Spotlight, the Tree Gang 2 Fixture Landscape Spotlight, and the Tree Gang 3 Fixture Landscape Spotlight.
Install Your Own Garden Lights
All of the garden lighting ideas in this article do not require professional assistance to install: just follow the instructions included, and your garden will be beautifully lit in no time. For some installation tips, read our post about installing garden lights. We hope you find inspiration for your landscape lighting and garden among these suggestions.