15 Deck Lighting Ideas to Upgrade Your Space
Your deck provides an amazing opportunity to make the most of the great outdoors — but how often do you actually take advantage of it? If you avoid your deck at night due to poor lighting, you're missing out on the best your outdoor living space has to offer. Proper illumination will make your deck easier and safer to navigate, while also creating ambiance.
There are many options for lighting your deck. From subtle recessed solutions to statement fixtures that instantly draw the eye, a variety of approaches allow you to personalize your space as you see fit.
Many of the best decking light options are DIY and can be completed at a minimal cost. Find all of the supplies and light fixtures you need at DEKOR lighting, and see our suggestions for which products will help you achieve each look below.
Recessed Lights Throughout the Floors
With floor-based solutions, lights go beyond aesthetic considerations to also serve a functional purpose. Carefully integrated recessed fixtures throughout the floor bring visibility to your deck without compromising the ambiance. These lights work wonderfully for floating decks, where options for lighting may otherwise be limited.
DEKOR's Dek Dots are the perfect recessed lighting option for the floor of your deck. These small but powerful lights are made to be walked on and are ideal for outdoor use.
Stair Lighting for Each Step
Stair lights are also highly practical for making decks accessible after dark. Recessed options can be embedded within wood, concrete, and other types of deck stairs to light the way as people ascend or descend. These can be added beneath handrails for a unique look, or placed to your liking.
DEKOR makes a version of the Dek Dot specifically for stairs. This light sits at precisely the right angle to illuminate each step, so you will never have to worry about tripping on deck stairs in the dark again.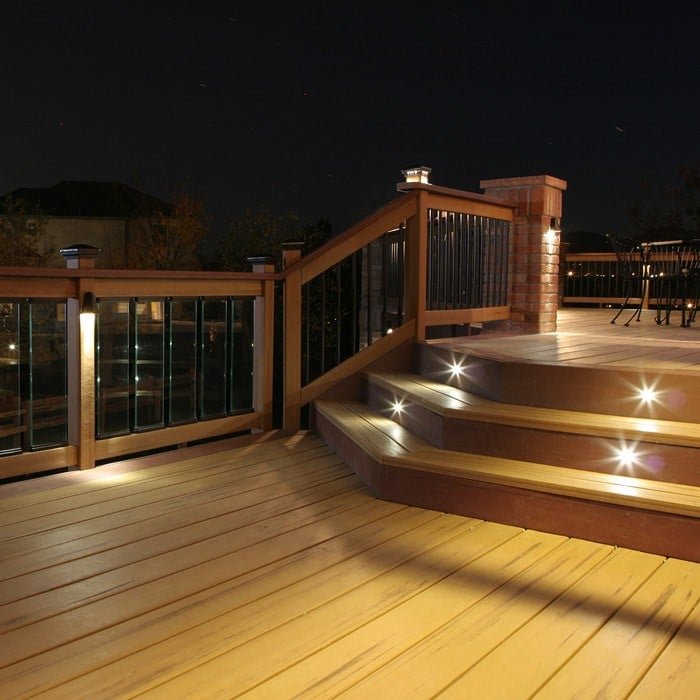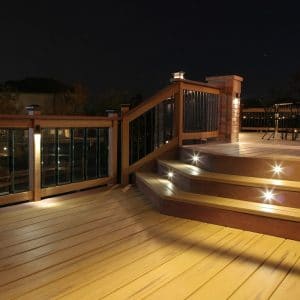 Retaining Wall or Privacy Wall Lights
If you have a retaining wall or privacy wall near your deck, lights can add an appealing sense of dimension. While hardscape lights are far easier to install during the initial construction process, they can sometimes be added after the fact. But hardscape lights are not the only solution for outdoor wall lighting. Here are several options for both hardscape and softscape lights to add depth to the walls around your deck:
Radiance Multi-Function Lights (RADML). Mounted on a variety of vertical surfaces, these outdoor lights are great for brick and other materials that might otherwise lend themselves poorly to post-construction lighting adjustments. Installation is easy, but robust construction ensures that RADML products are just as durable as the walls on which they're mounted.
Puck lights. These uplights can be placed at the bottom of privacy walls where they blend in effortlessly with help from die-cast aluminum housing. They are available in warm white or in a variety of vibrant colors. These LEDs use less energy than many products, making them a great option if you prioritize energy-efficient solutions.
Well lights. Well designs provide an excellent opportunity for uplighting near privacy walls. Removable spikes help to keep these in place, while a discreet design locks attention on the wall and its warm glow, rather than the fixture that provides this illumination. This subtle approach has long made these fixtures a top option for landscape lights.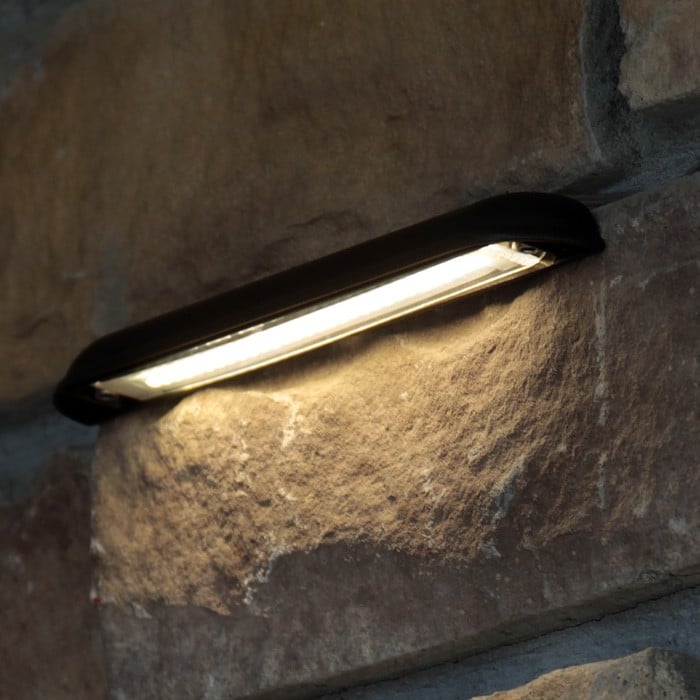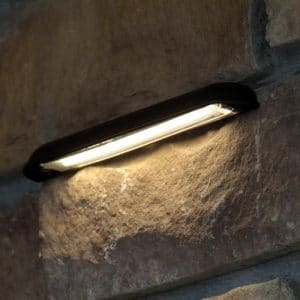 Lined Deck Perimeter
If you prefer a simple and straightforward approach to deck lighting, you can line the entire perimeter of your deck with Dek Dots. This will lend a lovely glow to the entire space, as well as plenty of definition.
Colored LEDs — available in red, amber, green, and blue — can be excellent for this purpose. If you prefer something a bit simpler and more uniform, try warm white lights, which can be dimmed to create the perfect ambiance.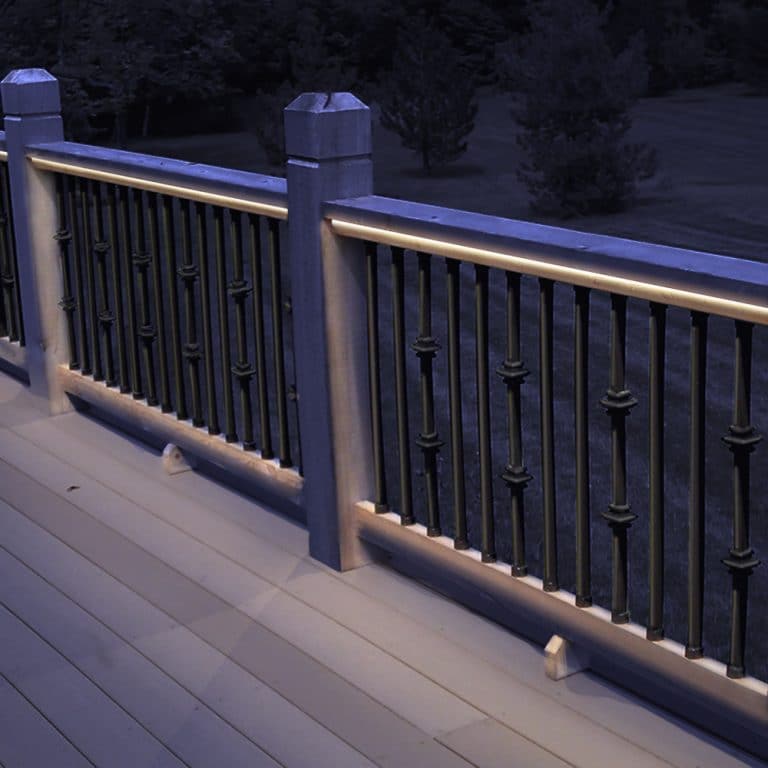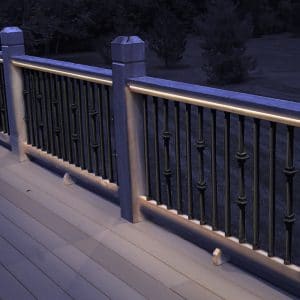 Strip Lighting for the Bar
Perhaps your deck includes a bar or outdoor counter space, where you and your loved ones can gather for a nightcap. Level up the ambiance with strip lighting, which can be added below the bar to create a unique sense of atmosphere. This lighting can be especially useful if you want the bar to be a focal point of your deck: strip lights draw attention to the bar without blinding the people sitting nearby.
Lighted Post Caps
Add a little twinkle to your deck with LED post cap lighting. These weather-proof, durable caps provide the protection you need, along with a low-key source of shine. They are also surprisingly versatile, bringing a great opportunity for adding personality to your deck.
DEKOR offers several different types of illuminated post caps, including a solar-powered one. Our post caps come in several different powder coat colors, so you can match the look and feel of the rest of your deck.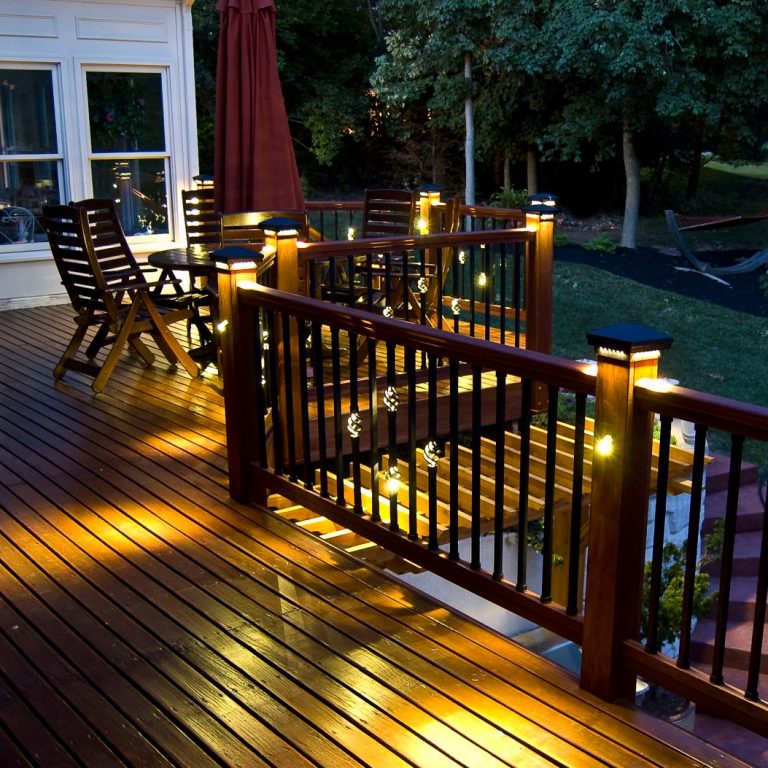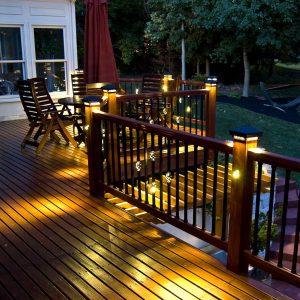 Different Colors for LED Lighting
Add a festive feel to your deck by swapping your standard white bulbs for colorful LED lights. These are great for outdoor parties but can also make quiet evenings outside more enjoyable. Recessed and paver options are especially well-suited to color variations.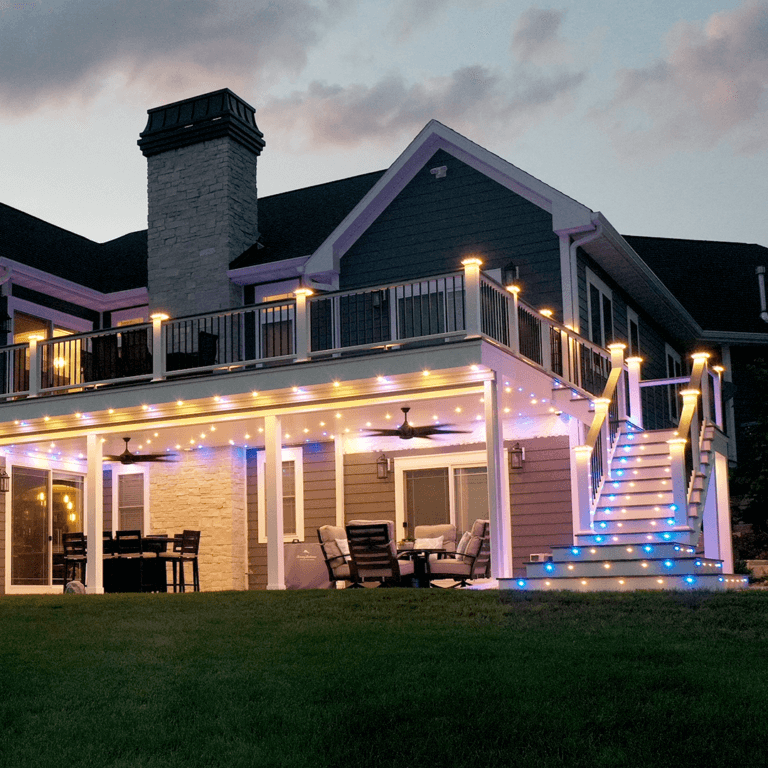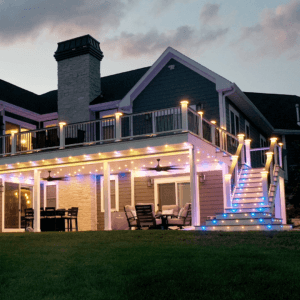 Recessed Soffit Downlighting
Is your primary deck space elevated? Then the space underneath your deck warrants consideration — especially if it includes a second seating area. Enter recessed soffit downlighting, which causes the lamp to cast light directly down. This option could also be considered if your deck features overhead protection.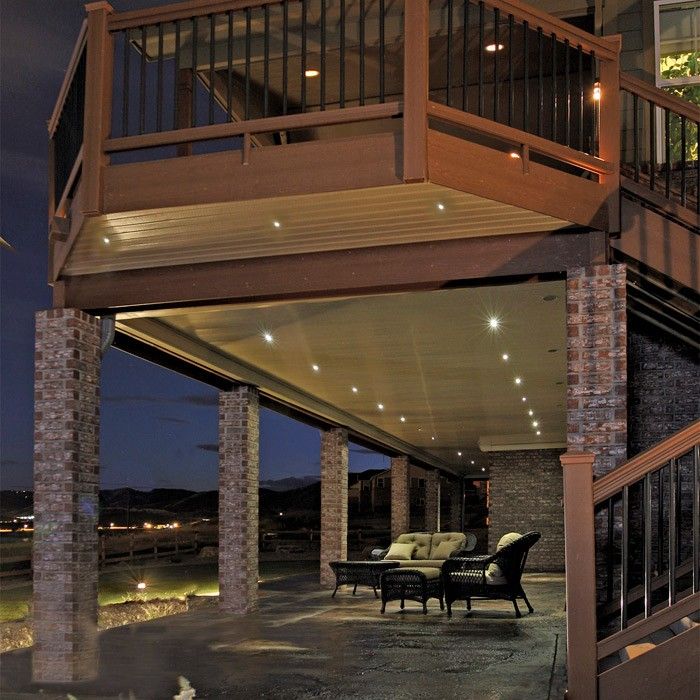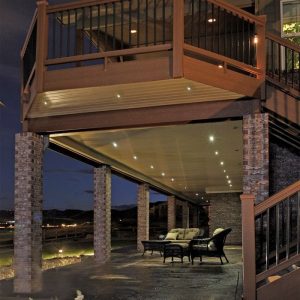 Soffit Flood Light
One of the most commonly utilized forms of outdoor illumination, flood lights provide enhanced security for outdoor areas. This type can also promote safe footing as loved ones and guests approach your deck. While you likely won't want to use flood lights to illuminate the deck itself, their 120° beam angle casts plenty of shine where it's needed. Soffit spotlights can also be added to deliver visibility to hidden corners.
Colored Dek Dots in a Pattern
If you have a large deck and are struggling to come up with creative ways to organize the space, try using Dek Dots to deliver a much-needed sense of structure. Colored Dek Dots, in particular, work well for this purpose, as they add instant visual interest.
These light fixtures can be placed in a pattern near the center of your deck to break up the space and illuminate areas with flexible furniture or decor arrangements. These can be installed flush with the surface so that they can be walked upon. Plus, they come in four different colors – red, amber, green, and blue – so you can use the color(s) that you prefer.
Highlight Nearby Landscaping
Are you proud of your garden or the general landscaping in your backyard? Trees, shrubs, and flowers are easy to show off during the day, but this becomes more complicated after dark. Light fixtures can be incorporated near the base of your deck to highlight nearby landscaping features.
LED puck lights and landscape spotlights can both be highly effective for this purpose. These can be integrated into a small backyard or used to draw attention to vast expanses of lawn.
Additionally, lights located near plants situated further away will provide a lovely view from afar. Many products are specifically designed for landscape, so you should have no trouble finding something that shows off your space.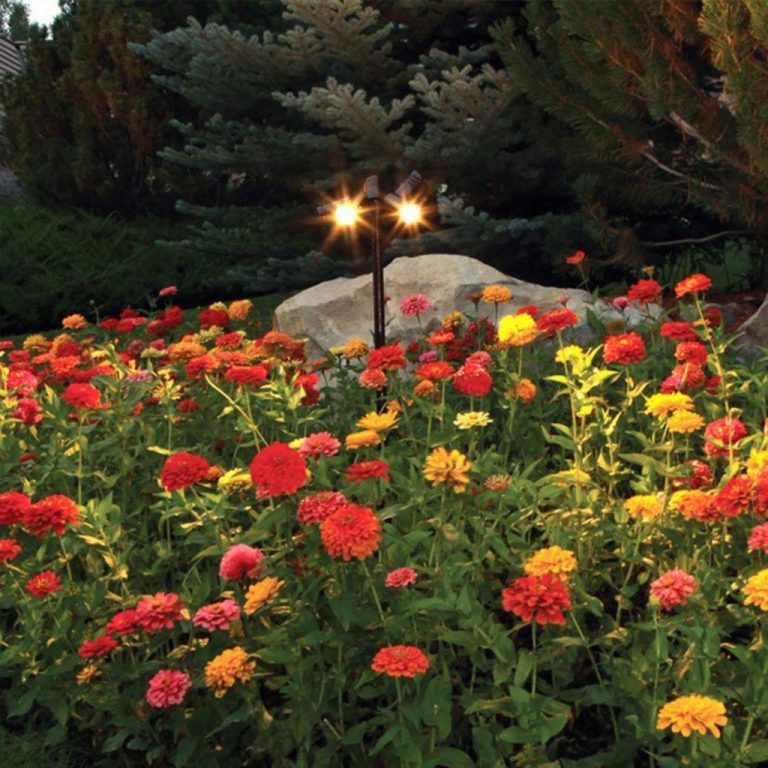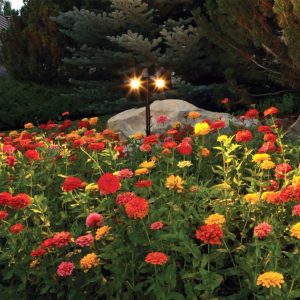 Balusters with Built-in Lights
While the primary function of balusters involves safety and support, they also make for a great lighting opportunity. For a stunning source of light, choose balusters with built-in baskets, where LEDs can easily be installed. Single and double-basket configurations are available for extra versatility.
Balusters can also be combined with aluminum railing panels to instantly bring a refined look to your deck. They're even more impressive when LEDs are incorporated.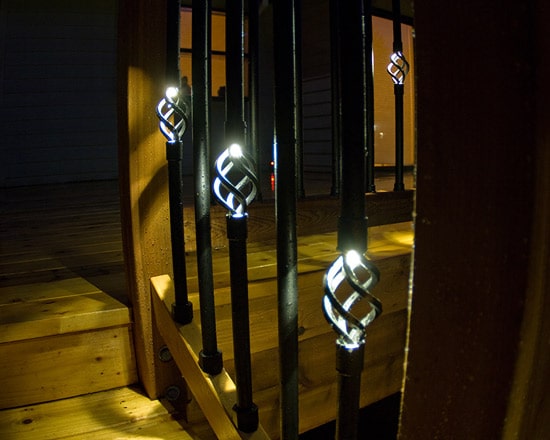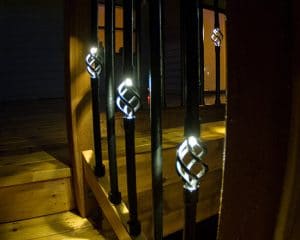 Etched Glass Railing Panels
Add an element of artistry to your deck with etched glass railing panels, which can incorporate a personalized monogram or other design. These panels offer unobstructed views during the day and a lovely source of lighting at night.
Surprisingly simple to install, these panels require only two wood screws per end cap. Following a quick and easy installation process, your deck will instantly take on the upscale appearance you crave.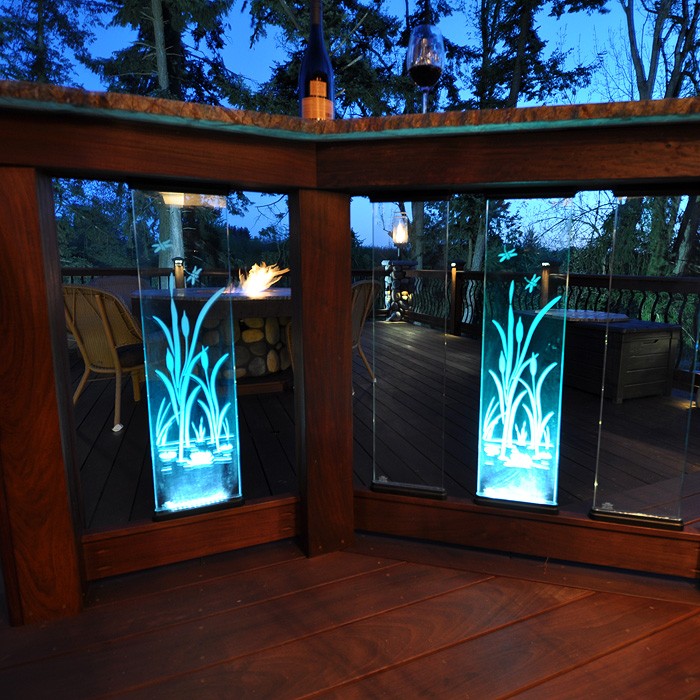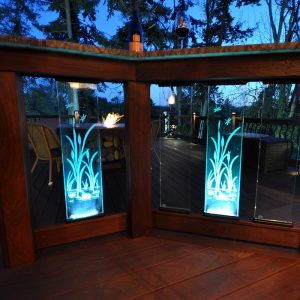 Accent a Centerpiece
Does your deck feature any noteworthy elements such as sculptures or plants? What about a fire pit? Why not show them off? Accent lighting helps direct the eye towards centerpieces and creates focal points, which makes them stand out while also bringing a cohesive feel to the entire deck.
Showcase the Pool or Hot Tub
What centerpiece could be more impressive or inviting than your pool? If your deck was primarily installed as a means of enjoying the pool, there's no need to limit the fun or the beauty to the daytime. Lights bring much-needed visibility to features such as steps, ladders, safety equipment, and more.
In addition to improving safety, pool deck lights serve an important aesthetic function. Depending on how they're directed at the water, light beams can bring alluring visual effects to your outdoor space.
For a hot tub, safety is still key, but lighting must be carefully implemented to preserve privacy. A hot tub can be a romantic, peaceful place, but not if it's surrounded by harsh lighting.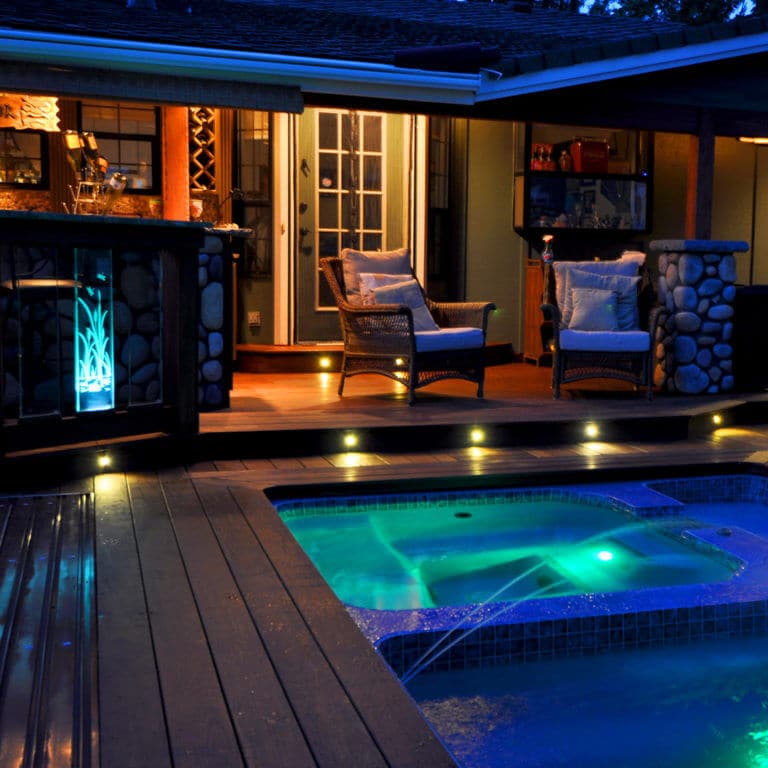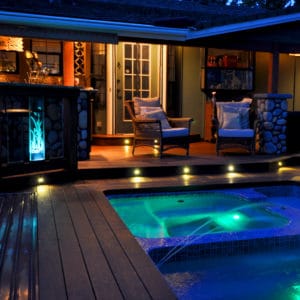 Create Your Own Space
We hope these deck lighting ideas have given you the inspiration needed to brighten your own outdoor space the way you like best. This is your opportunity to accent the areas you love most, while also making your deck as safe and secure as possible.
We're pleased to provide a variety of low voltage LED deck lighting options at DEKOR. Contact us today to learn how our solutions can level up your next outdoor project.