CHOOSING LED DECK LIGHTING FOR YOUR OUTDOOR LIVING SPACE
LED deck lighting can add a visually impressive touch to your outdoor living space. DEKOR® is here to help you fully execute your next LED home improvement project. Our products are designed to take the tedium out of projects and allow for ease when revamping your home. This is especially beneficial when it comes to outdoor lighting.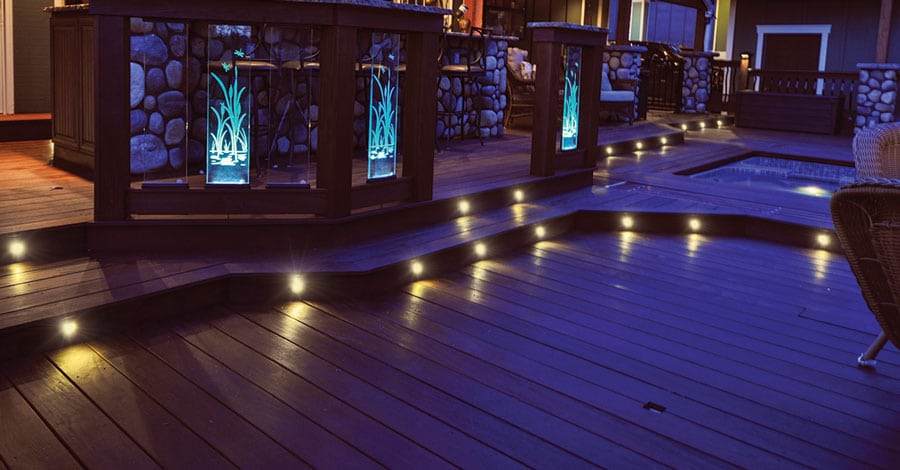 The first step when starting your home improvement project should be choosing the right deck lighting. What overall look and feel do you want your finished design to have? You want to keep it looking as sharp and as clean as possible. Ultimately, the best and cleanest option is a visually unseen option.
Did you know that you can speak to a Dekor design professional by phone during normal business hours?
You want the effect of illuminating your deck, but you don't want to take the spotlight off the deck itself. That spotlight should never be on lighting equipment that sticks out. DEKOR® has designed the Dek Dot LED recessed deck light to give you an eye-catching look. The Dek Dot highlights and outlines the features of your deck, while keeping the deck light itself out of sight.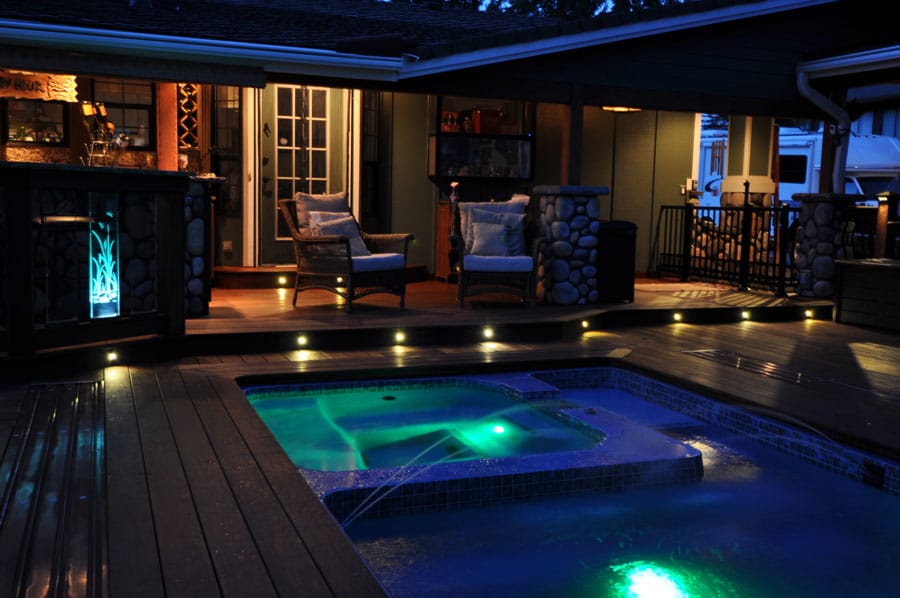 AN INTUITIVE DESIGN ALLOWS FOR YOUR DECK LIGHTS TO BE UNFELT AFTER INSTALLATION
DEKOR® LED Dek Dot recessed deck lighting system was featured on Animal Planet's Treehouse Masters for a reason. The unique simplicity of the Dek Dot makes it ideal even for installation in a treehouse. The "dot-like" tiny design for these recessed deck lights make them versatile and give you the ability to place them in your desired location. 
The recessed design style is not plated with metal or plastic. There is no lift with a half-moon shape. They aren't hanging, mounted, or placed over anything. They are simply flushed with the surface. This design allows for the deck lights to blend into the wood. Whether you're standing over them or standing against them, they are unfelt. This helps you avoid the constant caution when being around places such as your deck's steps or posts.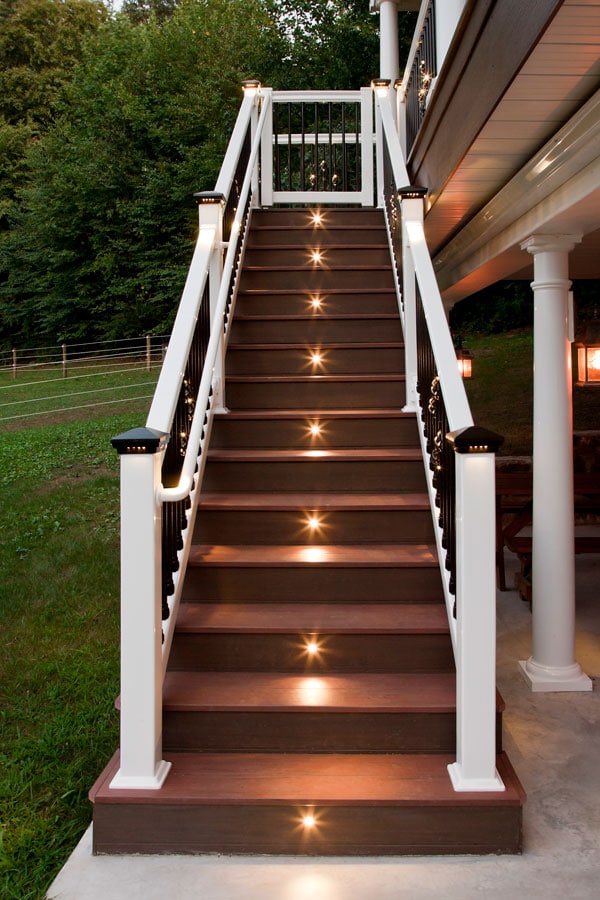 The Size of Your LED Deck Lights Matter.
DEKOR®'s "dot-like" tiny design gives you the unlimited ability to create a design that fits your style and satisfies your ambiance. The Dek Dot recessed LED deck lights are designed to be tiny, yet powerful. Give your home the power of LED, but leave the excessive size out.
When the size is too big, it puts a limit on the amount of lights you should use before raising a red flag for being overwhelming. This is especially important if you are trying to achieve a clean look. DEKOR®'s Dek Dot's specific design of the recessed style allows for a customization and unique finish to be accomplished.
ILLUMINATING HARDSCAPEs with Paver LED LIGHTING
Integrating LED lighting into your hardscape can not only add safety, but it can also be the finishing touches needed for a polished outdoor living space. DEKOR®, a trend-setter in LED lighting products, believes that one of the greatest benefits of recessed hardscape LED lighting is its ability to discretely accentuate your home's best outdoor features. It can also add an emphasizes on areas of your outdoors that may otherwise be left in the dark.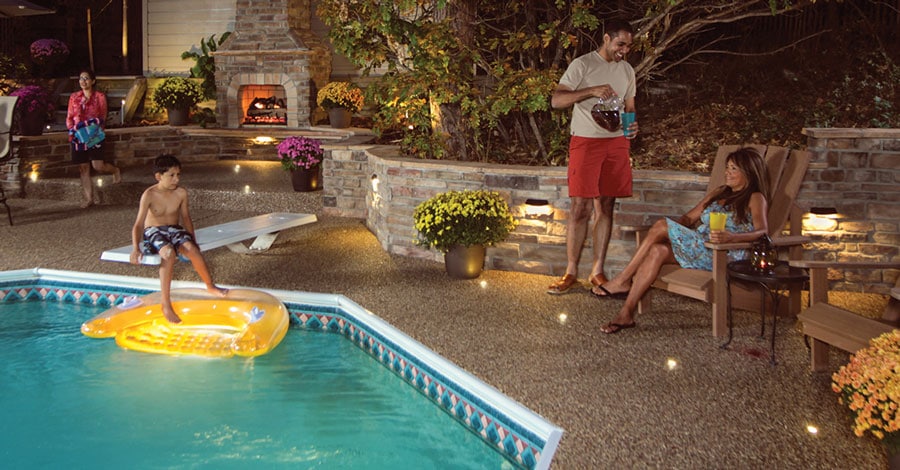 Ideas for Your Next Project
Before you start on your next DIY project at home, DEKOR® wants to give you some ideas on how we've added character to homes using our PAVERDOTs for recessed LED lighting on hardscape. PAVERDOTs are designed to flush with the surface and are used on hardscape such as concrete, stone, pavers, or brick.
Accenting the Water Features in Your Backyard
Recessed lighting can beautifully illuminate your backyard. Outlining the pool or jacuzzi with PAVERDOTs, adds a stunning touch to an already eye-catching feature. It also increases safety around the pool. Places such as a garden or pond are also areas to draw attention to.
If you're no rookie to recessed lighting but just looking for your next DIY, we can help. Add recessed lights under a waterfall. You can make water look impressive by simply adding an LED light under it. It doesn't matter if it's the waterfall leading into your pond or pool, the striking improvement will show. You might also want to try adding lights around the fire pit, under the outdoors bar, or around the gazebo.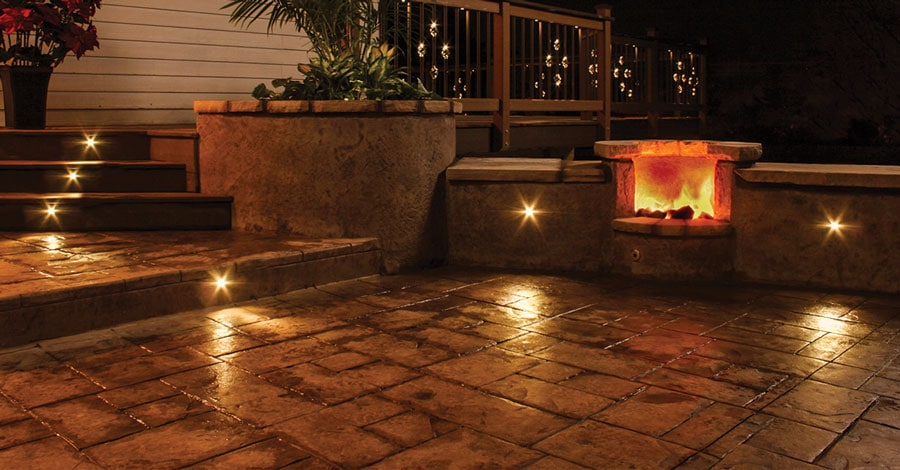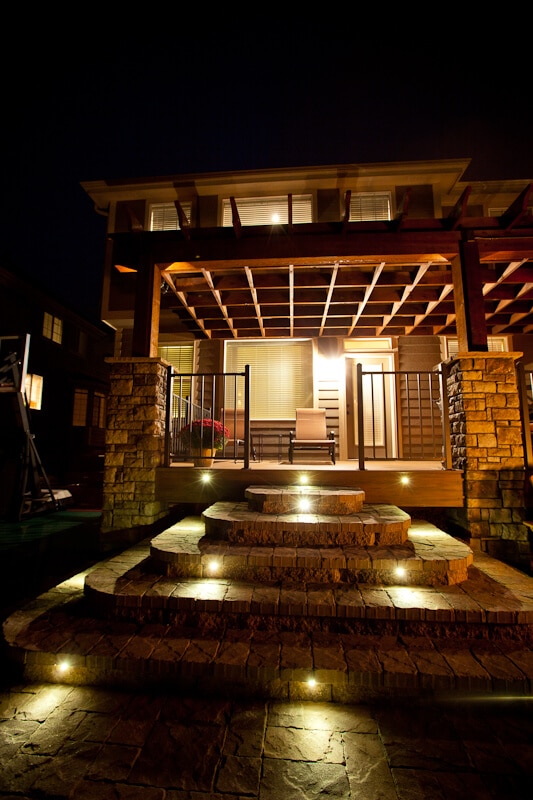 Making Your Home Feel Inviting
First impressions are everything. When your guests approach your home, you want it to feel warm and inviting. DEKOR® creates this feeling by placing the PAVERDOTs in certain areas of the front of your home. These areas include places such as the patio, under trees in the front yard, or along the brick that outlines your landscaping.
Add Safety to Your Home
Safety at home is always a priority. When you contour features of your home, you also add preventive measures. This includes shedding light to places such as the driveway, walkway, pathway, steps, or curbside. It allows you to be aware of your surroundings. You can do this by outlining the parallel sides of your walkway or driveway. You can also add lights directly onto pathways—or vice versa. This allows you to see what is in your way or what you may be headed towards.
GUIDE TO PLANNING YOUR NEXT RECESSED LED LIGHTING PROJECT
At some point, you decided that adding recessed LED lights to your outdoor space was right for you. You may even already know what areas of your home you want to highlight. Incorporating LED lighting into your home adds value, while giving you astonishing features. But just like any other project, it involves planning.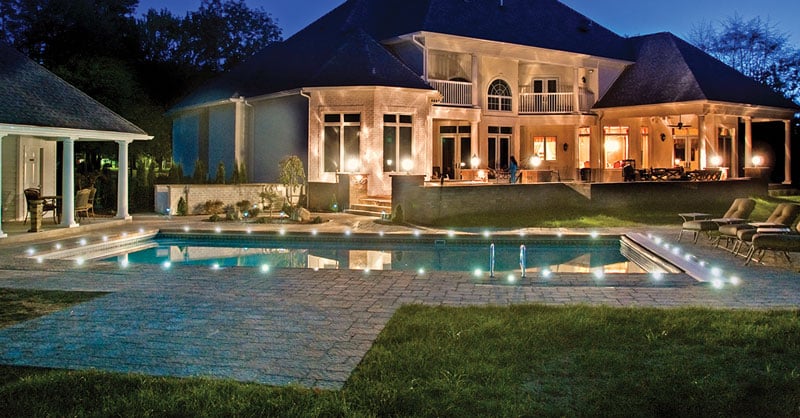 The Purpose of Your Project
The first step of planning for your recessed lighting project involves understanding your objective.
Are you trying to highlight a feature of your home such as a pool or deck?
Are you trying to increase visibility at night for safety purposes?
Are you adding "lightscaping" to your already beautiful landscaping?
Knowing what you want to achieve allows you to calculate the amount of LED lights your project requires. The type of recessed LED lights needed depends on the environment you will be working with. (i.e. pavers, ground, decks etc.)
Remember:

DEKOR® makes two different recessed lighting products – Dek Dots for deck lighting and PAVERDOTs for brick pavers, concrete, and stone.
Create a Blueprint of the Area
This is where you'll get to put your drawing and graphic skills to good use. You don't need to be an artist. The purpose of the drawing is to help you visualize your idea. Using grid paper can help you draw a scalable and relatively accurate sketch without being a pro architect. 
Using a measuring tape of at least 100ft, measure your outdoors project area. When drawing the blueprint, be sure to include any object that surrounds the area you are working with. This includes a pool, fire pit, posts, etc. Make sure to scale in the distance of all the elements.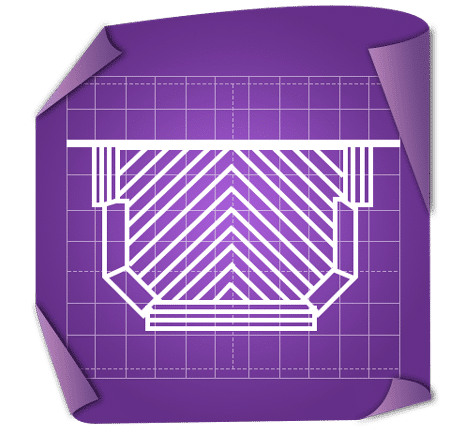 Choose Your Recessed LED Lights
You should now understand the area you are covering, the design you want to achieve, and the hardscape material you are working with. It's now time to choose your recessed LED lights. The size of your LED lights matter, as well as the design, number of watts, and cable length.
DEKOR®, for instance, has it's Dek Dots and PAVERDOTs designed to be flush with the surface you are working with. This allows them to be unfelt if walked on or touched. We also have different cable sizes to choose from.
The wattage of your LEDs help determine how many you need. Are you using a dimmer, such as DEKOR®'s EZ Waterproof Dimmer? Or a brightener, such as NexGen LED Technology that gives you 3x brighter lights?
Spacing Your Recessed LED Lights
Now that you have selected the right LEDs for your project (including the scaling of the cable and size of LED light into your blueprint) you should have an accurate idea of the spacing required for your desired effect. The suggested spacing with respect to the LED light and cable size is on the packaging of the product.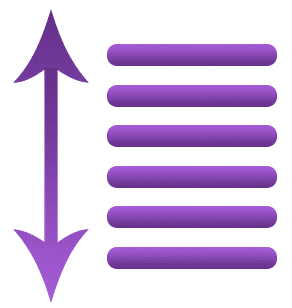 Begin Your Project!
With guidance from your blueprint, it's time to order the right kit for your project.
Make your outdoor steps "pop" with RECESSED LED LIGHTs
How else can you make safety look so elegant and extraordinary than with the use LED lights? When outdoors, DEKOR® wants to help you prevent accidents as much as humanly possible. If at dusk you find yourself still enjoying the outdoors, recessed LED lights on your steps can help guide you through the night.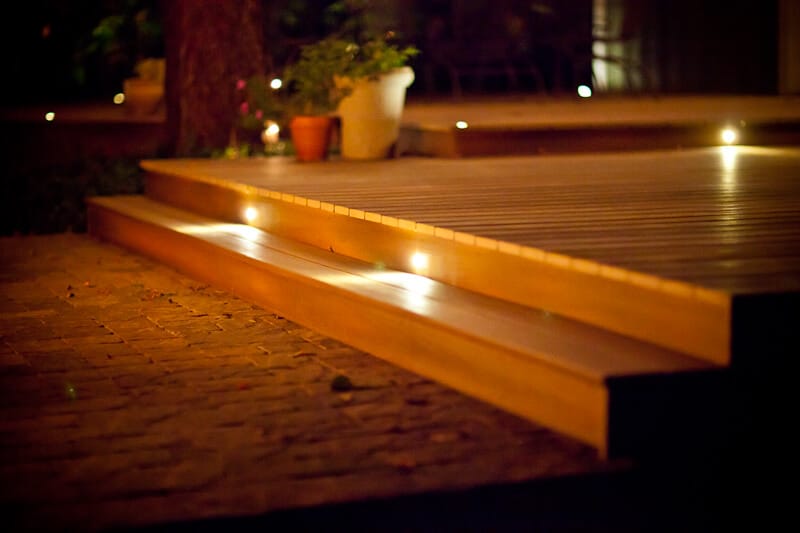 On Surface of Step
PAVERDOTs and Dek Dots are flush with the surface, so putting a light on the surface of your step will not intervene or be felt. Place an LED light in the center of your step for simplicity. For a better visual of your steps, place a recessed light on each end of the step.
On the Step Riser
Adding a recessed light onto the step riser is more discreate, but equally as effective. Depending on the width of your step, you can add one PAVERDOT or Dek Dot at the center of the riser or you can add a few to create a line that runs across from one end of the step to the other.
Wall Adjacent to the Steps
This is a great way to show an impressive incline of your steps. Either in the mid-section or at the bottom of your wall, add recessed lights that are evenly spaced mirroring your steps incline.
Posts or Columns Adjacent to the Steps
No wall? No problem. Placing one recessed light on each post or column adjacent to your step adds a similar and equally dramatic effect. To avoid an overwhelming look, only using one light per post or column is recommended.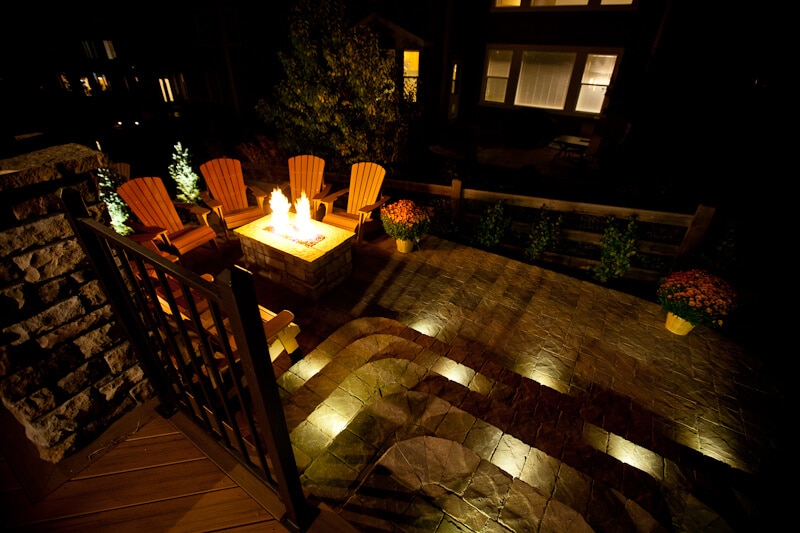 4 WAYS DEKOR® Revolutionized OUTDOOR LIGHTING
Creating an ambiance for your outdoor space involves more than just installing LED lights. DEKOR® uses technology and innovation to enhance its LED lighting systems. While doing so, we bring convenience to our consumers. These add-ons and capabilities set DEKOR® apart from the rest.
WIFI Controller & WIFI Remote App
You can now control your outdoor lighting system from inside your home or by the pool—if you're simply too relaxed to get up. The WIFI Controller add-on works with your WIFI network and with all of DEKOR®'s controllers to give you remote access control.
By downloading the WIFI Remote App from the Apple app store or Google Play, you can manage and control your lights from your iOS or Android smart device. The app allows you to have scalable lighting options, the ability to set scheduled times on customized days, and an on/off feature. You are in control of your network, and the unlimited number of lights and zones you wish to have.
Buy It Now
NexGen LED Technology
Your PAVERDOT and Dek Dot recessed lights may be tiny, but they pack a whole lot of economical power. The NexGen LED Technology add-on allows you to get 3x brighter LED lights with 80 milliamps, which is just under 1 watt/volt with Dekor's 12vdc system.
The lights might be brighter, but they are still energy efficient and cool to the touch. They don't always have to be so bright of course, a dimmable capability is included if you desire a softer hue.
DEKOR®'s LED DIMMER
The EZ Waterproof Low Voltage LED Dimmer with Teachable Remote add-on is meant for outdoor use. It allows you to create an ambiance that suits your mood. It also ranges from zero to a maximum of 10 amps. The remote has a distance of 70 feet, but can also be controlled directly from the unit. Although it's designed for outdoor use, the EZ Waterproof Low Voltage LED Dimmer is reliable for indoors where water may be present. .
Plug-N-Play
The Plug-N-Play connector system was created for the DIYer. It allows you to connect your LED lights fast and easy, without the need of an electrician. The Plug-N-Play Splitter allows for you to attach as many as 4 lights onto one device. All you do is plug the male connector into the female connector. These self-sealing connectors bypass the inconvenience of stripping wires, wire nuts, cutting, etc. This feature will have you done installing your PAVERDOT and Dek Dot recessed LED lights in no time.